Best Certificate of Insurance Tracking Software
An easy-to-use, cloud-based solution developed and supported by our team of insurance professionals
Trusted By
Best Certificate of Insurance Tracking Software
Protect Your Business
From Costly Claims
Ask your CFO or Risk Manager just how much claims and lawsuits can cost your business. If you are collecting certificates just to confirm they were received, you have no guarantee that your requirements are being met. myCOI Central is built on a foundation of insurance industry logic to ensure you remain protected with the appropriate coverage.
Automate Your COI Tracking
There's no more need to worry about stacks of certificates cluttering up your office or hours of frustrating phone calls and emails to chase down certificates. myCOI Central provides your company with a solution to automate your insurance certificate requests, collection, and compliance resolution, while also giving your team a single, centralized repository to view compliance.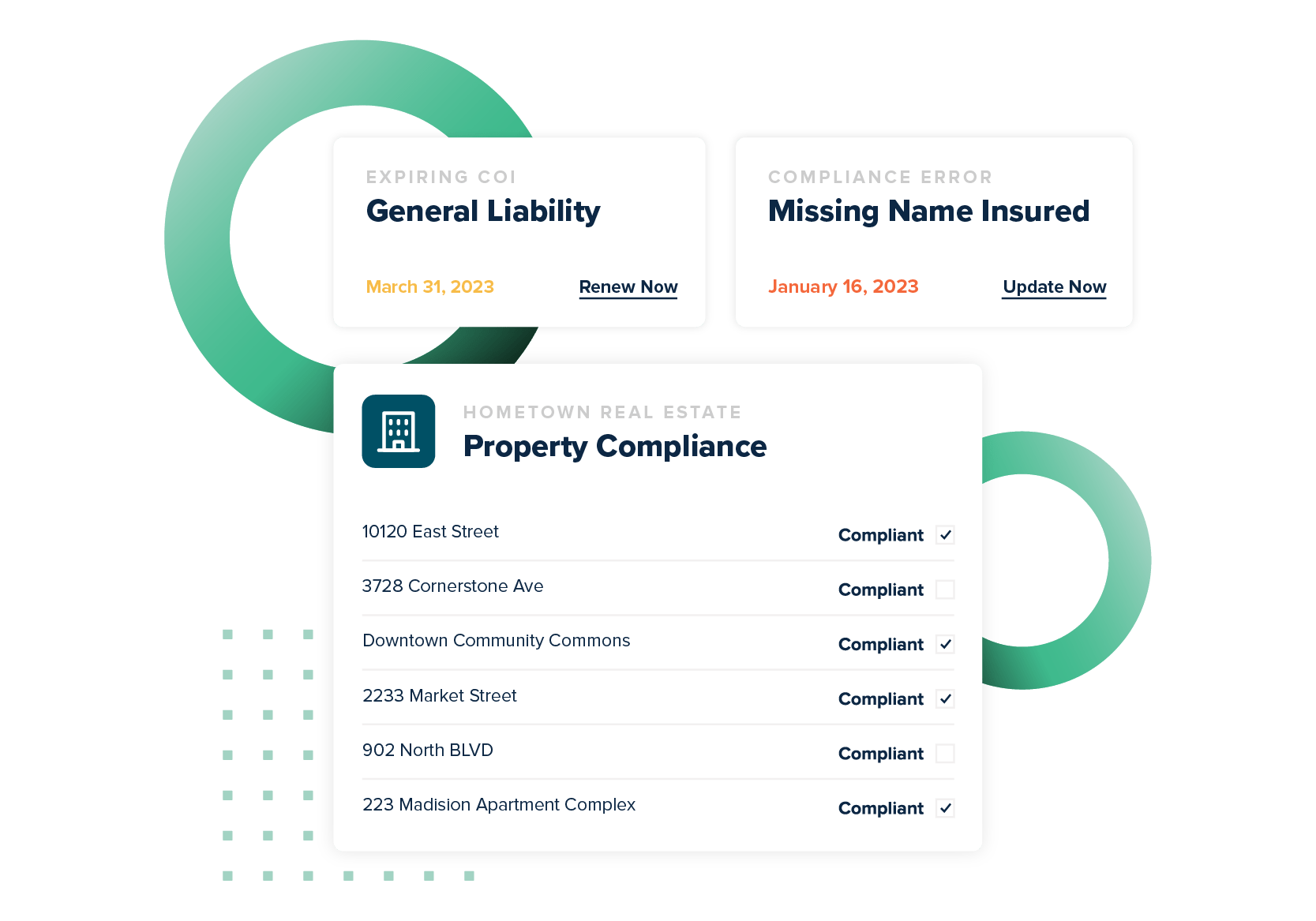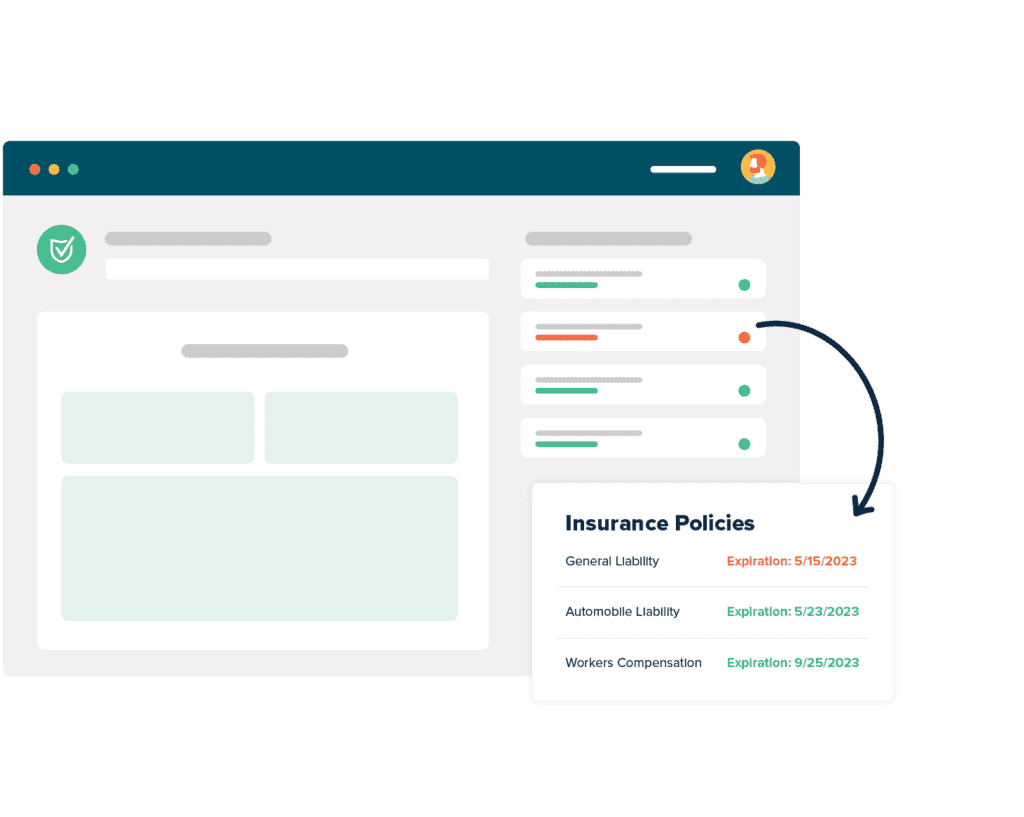 For Agents & Brokers
Win business and boost retention by providing agency branded, industry leading insurance tracking software to your insureds. Offer software only or add on your own compliance review services.
Reduce Your Liability Exposure with myCOI
Protecting your business from costly claims starts with finding the right partner to help you identify gaps and resolve them quickly. Request a demo and see how myCOI can help you erase your exposure and your worries.
What Our Customers Say
OUTSTANDING!! In my opinion, this has been the best program I've had the pleasure of using. From all the services provided within the program and the exceptional customer service, this has made my job duties very manageable. I cannot say enough good things about this program. I highly recommend it!
Having one place for our customers to upload their insurance certificate makes tracking insurance certificates much easier. We use to internally file and collect insurance certificates from customers and it was a challenge to collect all of that paper and to effectively track the insuarnce certificates.
We switched to myCOI from another insurance tracking system because we were looking for a more involved vendor that could do more for us than just track certificates. We needed help with compliance and having a system that could contact vendors and keep on them until they became compliant with insurance. myCOI does this for us and we have very few non-compliant vendors compared to the number we had in our last system.
The product has met our expectations in that it has allowed us to regain some time that was previously spent doing all of the administration of insurance cert requests, reviews and acceptance. With that, we have been able to reallocate resources to more pressing business needs rather than insurance certificate management.
Our clients are thrilled with myCOI and how their compliance levels have been elevated beyond expectations. The reports and analytics are so valuable in measuring activity and compliance achievements. The system functionality is easy to use. The team are true partners.
MyCOI is a very great portal, a space where to keep organized all our certificate of insurance for our vendors. With the advantage that are online, always accessible and no paper backup is needed.Once you learned how to navigate into the portal and how to use the report tab you will have a world opening to you. In just one place you can access all the vendor information, policy expiration date, non-compliant policy line and see the last date when a document was updated.Our Senior Client Success Manager, [sensitive content hidden], she is always on top of our requests, and she replies promptly.
MyCOI has been a fantastic partner for our company. With frequent meetings with our dedicated account manager, ongoing communication, and the ability to customize our insurance needs with precision, we've seen exceptional outcomes throughout our portfolio. [sensitive content hidden] has provided invaluable assistance, and the review team is exceptionally competent and amicable, even when we inundate them with urgent requests. Overall, it's been an excellent experience, and we're eagerly anticipating our continued collaboration with them.
myCOI has helped our company go from drowning in unreviewed cois to getting our insurance review under control. Their team has been an amazing support and resource, and helped us to navigate the Essentials program, later transitioning to Concierge service as the workload was more than our team was able to manage. The beauty of this platform is that it provides a single, central hub for clients, agents and vendors to access, update and communicate. Every myCOI team member with whom I have worked has provided excellent service, been pleasant, knowledgeable, and provided quick response times. The quarterly meetings are beneficial to recap what is going well, where we need to improve and have questions answered. I highly recommend myCOI.
myCOI provides amazing custom support and they make the platform very easy to navigate. The myCOI team is always very helpful and quickly responds to my questions or goes out of her way to direct me to the correct team member who is able to assist me.
myCOI has amazing customer support. Our account representative meets with us quarterly to keep up-to-date on how our group is feeling about utilizing the system and interfaces with us day-to-day, as needed, to address any issues we encounter with agent notes, reviews, etc. It has been an incredibly efficient and beneficial relationship since day 1.
The myCOI platform has been so easy to work with from multiple angles. Because there are multiple stakeholders, we are all notified and kept in the loop if there are any COI tracking issues that need to be revised.
Best Certificate of Insurance Tracking Software
If you're in construction, real estate, or any industry where you have to deal with insurance policies from multiple parties and vendors, one of your many priorities is to manage the various certificates of insurance, or COIs, that you receive. This includes manually verifying that information about the vendors, contractors, franchisees, etc. is correct. You also have to fact-check things like dates.
Each time you work with a new vendor or add a new third-party to your company who could be liable, your team has to obtain, verify, store, monitor, and track a COI. This process means continuously reviewing for errors and updating the relevant spreadsheets or software. It is vital to know the exact expiration dates of certificates and coverages.
This process can be time consuming. The good news is that it's never been easier to implement a certificate of insurance tracking software.
What Is COI Tracking Software?
In this starter guide to insurance software, we'll talk about the benefits of COI tracking software, considerations for picking the best certificate of insurance tracking software for your needs, as well as how to consider free insurance software options. Let's dive in.
What Are The Benefits of COI Software?
COI tracking software is a digital program designed to help businesses and organizations manage their insurance certificates. It ensures data accuracy and on-time renewals while freeing up hours that would be used in manual tracking. By utilizing a digital certificate of insurance tracking solution, companies can more effectively meet their insurance compliance regulations and protect themselves from risk.
Let's begin by talking about why anyone would want COI-tracking software. There are many overwhelming aspects of working in and around insurance, with lots of pressure being placed on accurately maintaining various certificates from various parties. A lot of this work is manual, which leaves room for small mistakes that have the potential to make a big impact on your bottom line.
Insurance software aims to help automate many of these processes to make your work more efficient, hands-off, and error-free. Ultimately, it can help businesses and organizations streamline their insurance management and certificate of insurance management processes, reduce administrative costs, and improve compliance and risk management.
Here are some of the reasons why you should consider using COI tracking software:
Enjoy a single, centralized source of truth.
A good COI tracking software solution allows you to store all of your insurance certificates in one centralized location, making it easy to access and manage your certificates rather than having them spread out across multiple files and systems.
Stay on top of things with automated reminders.
Most COI tracking software can set automated reminders in place to notify you when certificates are due to expire, helping you to stay on top of your insurance coverage and avoid any lapses. Many platforms offer other helpful automated features as well that can assist in the overall insurance management process. For example, myCOI proactively stays on top of renewal dates and pursues getting them renewed for you, so you don't have to do it manually.
Simplify insurance compliance management.
As you know, many businesses and organizations are required to maintain certain insurance coverage levels or provide proof of insurance to third parties. COI tracking software can help ensure that you remain compliant with these requirements and allow you to quickly provide proof of insurance for any party.
Save money.
Utilizing efficient and scrupulous software can save time and money. For example, instead of hiring talented individuals only to have them doing manual work, you can ensure that your employees have more time to focus on the meaningful work you hired them to do. Software like myCOI empowers employees to be more efficient with their time, ultimately saving the company money. COI management is a great place to try out a high-performing automated solution.
Save time (which is, of course, money).
Manually managing COIs can be a task that's both tedious and time-consuming, especially for businesses that deal with a large volume of certificates. Software can automate many of the tasks related to COI management, freeing up your time for other important work.
Manage your risk more effectively.
Beyond all of the manual daily tasks, COI tracking software can also help identify potential risks and gaps in insurance coverage. By providing an overview of your insurance coverage, you can identify areas where additional coverage may be necessary to protect your business.
COI management software is an excellent way for businesses to ensure they're protected from liability. It also frees up some valuable working hours for any compliance team.
Best Certificate Of Insurance Tracking Services
A feature-rich tool, myCOI's software suite gives you the power to move faster and close compliance gaps quickly. Let's take a look at a few of those features.
Certificate Hub
The myCOI Certificate Hub allows you to manage all of your certificates, requirements, vendors and other insurance documents in a central repository, eliminating the need for paper trails and manual filing.
Communications Director
Our automated online workflow tool, myCOI Communications Director, is a rules-based engine built on a foundation of insurance industry knowledge. It allows you to streamline the entire COI communications process for all of your third-party relationships.
Risk Insights
The myCOI Risk Insights solution leverages insightful, centralized dashboards, as well as detailed reports and application features that allow you to increase your liability awareness and quickly gain an understanding of your organizational compliance status.
Insurance Agent Portal
The myCOI Agent Portal allows you to streamline renewals and ensure timely responses to insurance requests. The platform automates informative, personalized emails and reports directly to your agents, complete with the action items they need to make sure they provide compliant COIs (which can be uploaded directly to the myCOI platform for easy review).
Compliance Manager
This intuitive self-processing feature provides guided assistance to make it simpler to review incoming certificates and quickly eliminate any errors. With myCOI Compliance Manager, you can guarantee insurance compliance and manage certificates the smart way.
myCOI Care Team
While not a feature of the COI tracker itself, our best-in-class customer support team is equipped to handle any support needs and questions that may arise as you use our platform. We provide tiers of servicers, so you can enjoy the flexibility of choosing the right level of support for your organization.
Insurance Pro
Our team of insurance industry experts is always there for you with myCOI Insurance Pro. With warranted decisions so you know you're making the right ones, we will act as your extended compliance team regarding more complicated insurance questions and needs.
What Are COI Tracking Systems?
COI tracking systems offer numerous advantages to insurers, businesses, and third parties. They are tools that anyone can use to more efficiently manage insurance certificates.
From an insurer's perspective, COI systems can help reduce administrative costs and improve customer service. By automating the process of collecting, validating, and tracking COIs, insurers can save time and resources that would otherwise be spent on manual systems. Additionally, COI systems can improve the accuracy of COIs, reducing the risk of errors that could lead to disputes or claims.
COI tracking systems can also be helpful for businesses that need to provide proof of insurance coverage to their customers or partners. By using a COI management platform, organizations large or small can easily manage collecting and verifying COIs. This lessens the time, effort, and mental load typically required when providing proof of coverage. Businesses using COI tracking systems are more efficient and have a lower chance of having coverage gaps and oversights regarding their COIs.
Finally, for third parties (such as clients, subcontractors, vendors, etc.), COI tracking systems provide a streamlined way to verify insurance coverage. By requesting a COI from a business or individual through a COI management platform, third-parties can quickly and easily confirm that the necessary coverage is in place. This helps them reduce the risk of disputes caused by coverage not being accurately verified in a timely manner.
Free Insurance Tracking Software
With the numerous costs that add up in terms of business and legal expenses, many organizations attempt to track their certificates of insurance "for free" by doing so in-house. However, it is not actually "free" when done this way, as it still consumes the work hours of one or more team members who could otherwise be working on revenue-generating activities.
Other businesses try to find a workaround for their COI tracking, such as with spreadsheet templates or even creative solutions like tracking their COIs within Quickbooks – but for the most part, these are temporary, rather than lasting, solutions, and they don't scale. Therefore, savvier businesses tend to look for cost-effective certificate of insurance tracking solutions.
There are a few free options that organizations can use to handle their COI management needs (and some solutions offer free trials for prospects to try a solution without paying for it upfront). However, it's important to note that although a free system sounds great for reducing costs, it usually comes with some kind of hindrance, such as lacking important and exclusive paid features.
Even for general contractors, real estate developers, leasing companies, or anyone else in need of a way to track COIs, free software doesn't always provide the highest quality performance. It's important to really weigh your options and pick a solution that best solves your pain points and fits your business goals. It will save you money in the long-run by reducing work hours and ensuring that compliance is maintained.
Which Software Is Used By Insurance Professionals?
We can break down most insurance company software into three categories: accounting software, marketing platforms & agency management systems (AMS), or policy management systems (PMS).
Additionally, there are many specialized offerings catered to the specific area of insurance that people deal with, such as health insurance companies, life insurance companies, auto insurance companies, and insurance SaaS companies.
The best insurance agency software is designed to help insurance agencies and brokerages automate their repetitive tasks, streamline workflows, and monitor how well they're performing through analytics. As we've mentioned, COI tracking systems often offer impressive features such as automated reminders, compliance monitoring, and general COI management.
With the growing number of COI tracking software solutions available, we recommend that businesses carefully evaluate their options to find the solution that best meets their needs. It's crucial that you assess what you're wanting out of a solution like this and consider the features you'll need for your area of insurance, as well as factors such as pricing and social proof (reviews and case studies from people who have tried the product.)
When you are on the hunt for the best insurance platform, be sure to consider myCOI. There are many insurance software providers out there, but myCOI stands out for a few reasons.
We're led by a team of insurance experts, with industry experience and knowledge baked right into the product. The platform is simple to learn. It allows developers, contractors, and project managers to review multiple COIs at once and manage various policies and clients – without any of the typical manual work. Learn more about our services and what our easy-to-use software can do for you.
What Is The Best COI Tracking Software?
It's time to lose the COI tracking spreadsheets, the workbooks, and the countless hours spent on manual tasks. Whatever your specific COI needs are, finding a platform that helps you manage and confirm coverage across clients and vendors is paramount. Using a platform like myCOI can help you navigate insurance software and make smart, informed business decisions.
myCOI's cloud-based solution protects your organization with an industry-leading COI tracking system and a dedicated team of insurance professionals. Our specialized staff has a deep understanding of legal frameworks, contract language, and the exact issues that you are facing. They can even incorporate manual checks and balances into the software, so that your team can weigh in at key decision points. Insurance language is complicated. Having real human experts who can help you make the right decisions along the way is paramount.
We ensure end-to-end compliance with smart technology that's easy to use and a team that's always here for you – it's what makes us the best COI tracking software on the market. But of course, we recommend that you do your own research to find a solution that best fits your needs. If you're not sure what your needs are yet, or if you just want to talk to an expert, request free a demo to learn more.
Why myCOI Is The Best COI Tracking Software of 2023
There's a reason myCOI has been an industry and customer favorite for years. Our software offers one place to view your COIs, compliance rates, and risk reporting. It frees you from manual tracking and protects you from compliance issues with a simple, easy-to-learn interface. It can be customized to meet the needs of almost any company.
Whether your business is small or large and no matter what your industry, myCOI can help simplify your insurance tracking process. Connect with our team of insurance professionals and learn why myCOI is the industry's leading COI tracking software provider in 2023 and beyond.
Subscribe to the newslette