Certificate of Insurance Services
Managing your downstream risk is hard work. It's time-intensive. It takes a team. To do it quickly and know it's right, you need people who know the industry and its pitfalls and, more importantly, how to keep you out of them. Certificate of insurance services take the headache and the liability risk out of managing COIs.
White Glove Service, Industry-Leading Tech
Don't Just Think You're Protected
Know you're protected. With myCOI's team of industry experts helping you make decisions that protect your bottom line, you can rest assured that your interests are preserved. Our services are built on insurance industry logic that keeps risk out of your books and fast-tracks your insurance compliance efforts quickly and effortlessly. With the right tech and people behind you, it's simple.
Automated, Warranted COI Tracking
If your COI tracking efforts aren't automated, your time is being wasted. With myCOI, gone are the days of manually chasing down compliance-related docs. Our software tracks, verifies, and fixes compliance issues for you. When issues arise, our people-backed team fixes them on the spot. The best part? It's all warranted so you know each and every move made is the right one.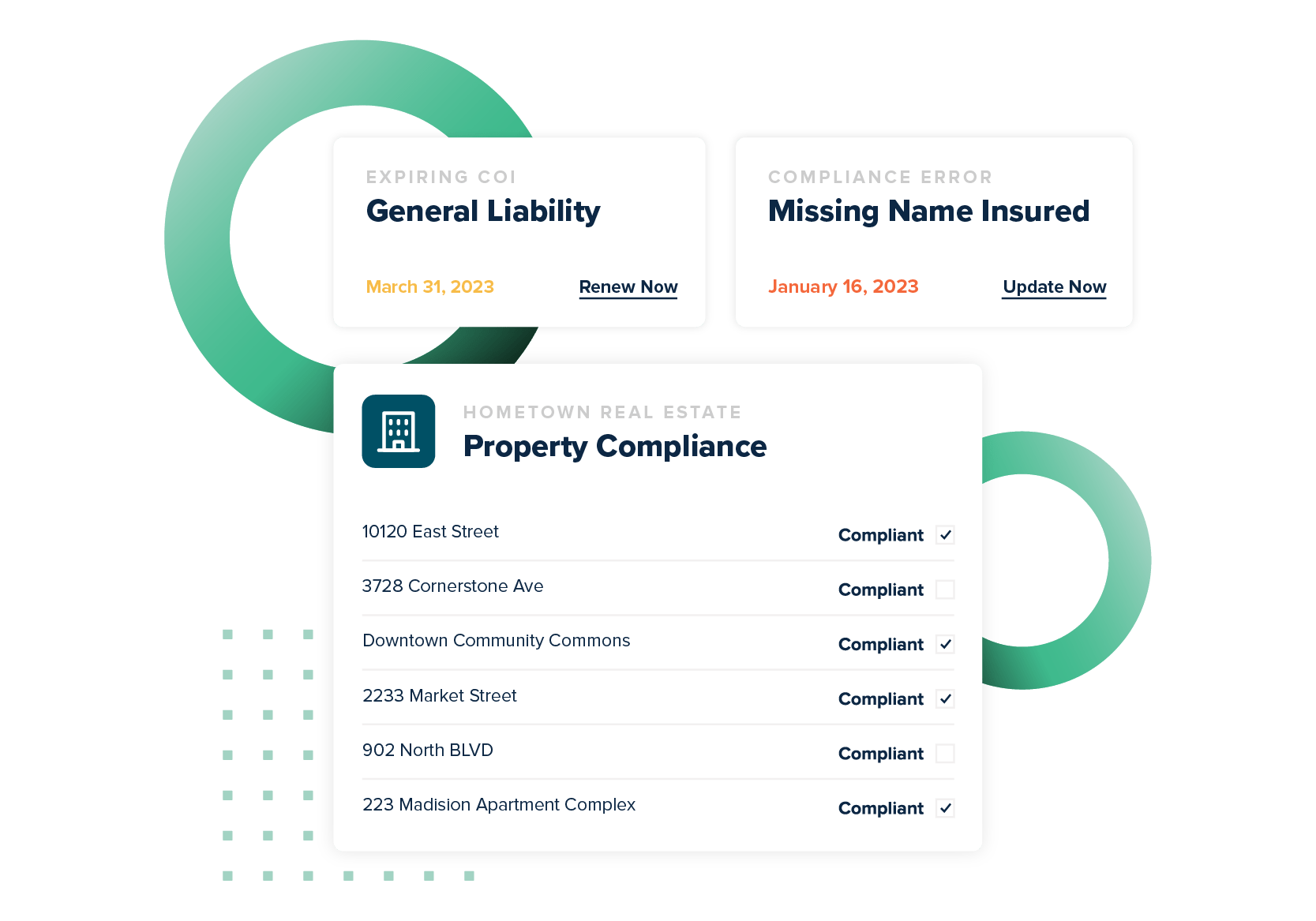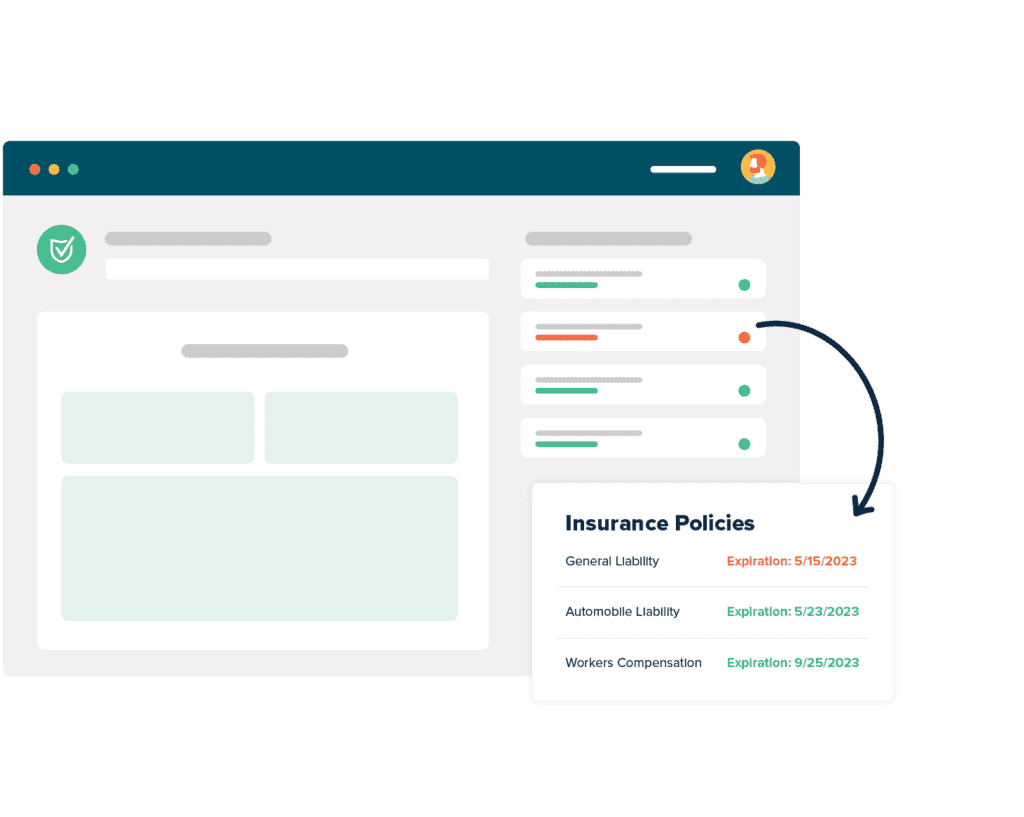 Proactive Policy Review
myCOI's Quarterly Policy Verification feature checks every COI to make sure those policies are still active, so you can rest easy knowing the risk is mitigated and off your plate. Keep things from falling through the cracks without lifting a finger. Tracking insurance compliance is hard, but it doesn't have to be. Embrace simplicity and efficiency with myCOI—the unrivaled companion for your risk management needs.
What Our Customers Say
OUTSTANDING!! In my opinion, this has been the best program I've had the pleasure of using. From all the services provided within the program and the exceptional customer service, this has made my job duties very manageable. I cannot say enough good things about this program. I highly recommend it!
Having one place for our customers to upload their insurance certificate makes tracking insurance certificates much easier. We use to internally file and collect insurance certificates from customers and it was a challenge to collect all of that paper and to effectively track the insuarnce certificates.
We switched to myCOI from another insurance tracking system because we were looking for a more involved vendor that could do more for us than just track certificates. We needed help with compliance and having a system that could contact vendors and keep on them until they became compliant with insurance. myCOI does this for us and we have very few non-compliant vendors compared to the number we had in our last system.
The product has met our expectations in that it has allowed us to regain some time that was previously spent doing all of the administration of insurance cert requests, reviews and acceptance. With that, we have been able to reallocate resources to more pressing business needs rather than insurance certificate management.
Our clients are thrilled with myCOI and how their compliance levels have been elevated beyond expectations. The reports and analytics are so valuable in measuring activity and compliance achievements. The system functionality is easy to use. The team are true partners.
MyCOI is a very great portal, a space where to keep organized all our certificate of insurance for our vendors. With the advantage that are online, always accessible and no paper backup is needed.Once you learned how to navigate into the portal and how to use the report tab you will have a world opening to you. In just one place you can access all the vendor information, policy expiration date, non-compliant policy line and see the last date when a document was updated.Our Senior Client Success Manager, [sensitive content hidden], she is always on top of our requests, and she replies promptly.
MyCOI has been a fantastic partner for our company. With frequent meetings with our dedicated account manager, ongoing communication, and the ability to customize our insurance needs with precision, we've seen exceptional outcomes throughout our portfolio. [sensitive content hidden] has provided invaluable assistance, and the review team is exceptionally competent and amicable, even when we inundate them with urgent requests. Overall, it's been an excellent experience, and we're eagerly anticipating our continued collaboration with them.
myCOI has helped our company go from drowning in unreviewed cois to getting our insurance review under control. Their team has been an amazing support and resource, and helped us to navigate the Essentials program, later transitioning to Concierge service as the workload was more than our team was able to manage. The beauty of this platform is that it provides a single, central hub for clients, agents and vendors to access, update and communicate. Every myCOI team member with whom I have worked has provided excellent service, been pleasant, knowledgeable, and provided quick response times. The quarterly meetings are beneficial to recap what is going well, where we need to improve and have questions answered. I highly recommend myCOI.
myCOI provides amazing custom support and they make the platform very easy to navigate. The myCOI team is always very helpful and quickly responds to my questions or goes out of her way to direct me to the correct team member who is able to assist me.
myCOI has amazing customer support. Our account representative meets with us quarterly to keep up-to-date on how our group is feeling about utilizing the system and interfaces with us day-to-day, as needed, to address any issues we encounter with agent notes, reviews, etc. It has been an incredibly efficient and beneficial relationship since day 1.
The myCOI platform has been so easy to work with from multiple angles. Because there are multiple stakeholders, we are all notified and kept in the loop if there are any COI tracking issues that need to be revised.
Manually managing and requesting COIs is taxing, time-consuming, and prone to human error. COI services, like those offered by myCOI, can help streamline the difficult duties involved in compliance and ensure that your business mitigates risk wherever possible.
What Is a COI?
A certificate of insurance, known in shorthand as a "COI," is an official document produced by a policyholder's insurance provider that serves as evidence of their insurance coverage. It summarizes important details of a policy and verifies that a policyholder has current, valid coverage. 
COIs are often used in business transactions, especially during the hiring process of third parties such as clients and contractors. They play a crucial role in risk management, contract compliance, and building business relationships on trust.
As a vendor, to get a COI, you simply request one from your insurance provider. You'll typically give them some information and the insurer will produce the COI for you that you can then use to verify your coverage to a requesting party. If you are upstream seeking a COI from a third-party, such as a vendor or subcontractor, you simply need to request one from them.
What Is Your Certificate of Insurance?
In the world of insurance and compliance tracking, confusion sometimes exists around whose COI is whose.
As explained above, your certificate of insurance is something that only you can request from your insurance provider. For example, if you're a contractor wanting to place a bid for a job, you'd want to request a COI from your insurer outlining key details of the pertinent policy, such as a certificate of liability insurance. Once you have this document, you can provide it to the hiring (requesting) party.
However, if you, like most of our clients, are doing the hiring and insurance verification for third parties—not for yourself—you will follow a slightly different course of action. You will not deal much with your own COIs (unless you are hired by other businesses), but rather with requesting, obtaining, and verifying certificates for third parties.
Who Is the Person Named on an Insurance Certificate?
There are a few names that appear on any given certificate of insurance. To clear up any confusion, let's walk through which names mean what.
The most important entity named on an insurance certificate is the policyholder, also known as the insured party; this will likely be the third-party service provider that you are hiring. Since a COI serves as proof of specific insurance coverage, it is produced for the individual or business that has purchased the insurance policy upon their request to their insurance provider, who will also have their name (or business name) printed on the certificate.
Another commonly named party on a certificate of insurance/COI is an additional insured. Additional insured parties are entities or individuals that have been added to a policy and are granted coverage under the policyholder's insurance. This can be important in cases where you, as the hiring party, also need to be covered by a vendor's policy in order to protect yourself from downstream risk.
Finally, the person or entity that requires proof of insurance coverage will be named on the insurance certificate as the certificate holder. Typically, you, as the entity hiring the service provider and verifying their coverage, will become the certificate holder and will receive that specific copy of the COI to verify that it meets your requirements. In most cases, you will also be the additional insured.
Why Is a Certificate of Insurance Important for Compliance?
A COI is crucial for compliance because it provides documented proof that someone has valid insurance coverage for the policies required of them. It's important to ensure that any hired third party meets your requirements (or their industry's obligations) for things like insurance type, policy limits, effective dates, and additional insured endorsements. 
Additionally, compliance with insurance requirements is often a legal or contractual obligation, so by requesting and obtaining COIs from relevant third parties, your business can demonstrate that you have taken the necessary steps to meet these compliance standards. As you're probably aware, failure to comply with these requirements could result in major legal consequences.
Finally, it's critical to determine that the vendor certificate of insurance that you receive is from a real insurer to prevent cases of fraudulent coverage. And even when a vendor's COI is real and meets your standards, it's important for compliance efforts that you ensure that there are no lapses in coverage due to expiring policies.
How Do I Generate a Certificate of Insurance?
In order to generate a COI—as the person providing proof of your own coverage—you can follow these steps:
Contact your insurance provider. Reach out to the insurance company or agent who handles your insurance policy who will assist you in obtaining a COI upon your request.
Provide necessary information. Give your insurance provider any required information, such as the name of the insured party (you or your business), your policy number, and any specific details or requirements you need to be included on the certificate.
Denote recipient (certificate holder) and purpose. Inform your insurance provider about the recipient of the COI (the party requesting proof of insurance) and what specifically you need the certificate for.
Verify accuracy. Once you receive the COI from your insurance provider, review it carefully to ensure that all of the information is accurate and meets the requirements laid out by the requesting party.
Share the COI. Provide the COI to the person or entity who requested it. This can be done electronically by sending a digital copy via email or a designated document-sharing platform or in-person with a printed copy.
On the hiring end, once the policyholder works with their insurer to generate the COI as you requested, they'll provide it to you. Then comes the verification process for each COI. It's essential that you get this piece right to ensure that your hired third parties meet your coverage requirements, but the manual labor of verifying each COI by hand can be both incredibly time-consuming and prone to error.
This is a case where certificate of insurance services can come in handy. With easy-to-use software, a centralized hub for documentation and tracking, and a team of industry experts at your disposal, managing COIs is a cinch with the right COI services provider.
Can I Issue my Own Certificate of Insurance?
As an individual or business, you cannot issue your own COI. Because it is an official document that is generated by an insurance company, or, more specifically, the insurance company that is providing you with coverage, they are the only party able to create it. Since COIs serve as proof of someone's required insurance coverage, they need to come from an insurer, not an individual.
Attempting to create your own COI without the involvement of your insurer is a misleading, illegitimate, and potentially fraudulent practice. You must rely on an official COI issued by a reputable insurance company, as only they can ensure provide the required coverage.
Self-generated COIs are not common, but they do happen and can cause major headaches for your business when they do. Services like myCOI can help you identify fraudulent attempts so you never have to worry about counterfeit certificates.
How Do I Request a Certificate of Insurance?
To request a COI from a third party you want to work with, you can send them a certificate of insurance request email. A sample request for a certificate of insurance to a third party from your business could go something like this:
[Date]
Dear Contractor:
Prior to beginning the work you will be bidding on [your business], the following insurance policies must be in force (as outlined in your contract):
[List the specifics of the policy you need, including coverage type and effective dates.]
Work may not commence, nor can payment be made, until evidence of the insurance coverage required by this contract is submitted to us. As evidence of the insurance coverage required by this contract, you must provide a Certificate of Insurance to [business]. This can be obtained from your insurance agent/broker. The certificate needs to specify and document all provisions within this contract, including naming [business] as additional insured [if this is relevant]. A renewal certificate must be sent to [business] [X] days prior to coverage expiration.
If you have any questions, please contact [your name or department] at [your phone number or email address] as soon as possible.
Thank you,
[Your name]
When Do You Need a Certificate of Insurance from a Vendor?
Asking for a COI from a vendor you would like to work with is generally seen as a sign of professionalism (although we'd argue that, in many cases, it is simply a necessary business practice).
Let's walk through a few cases where you need a certificate of insurance for vendors.
Before letting them begin work. When hiring contractors or subcontractors to start a construction project, it's necessary to obtain a specific vendor certificate of insurance from each of them. This will ensure that they have adequate insurance coverage in place to protect against any potential risks or liabilities that may arise throughout the project.
Before granting them access to your property. If you own or manage a property, it's likely that you'll at some point be hiring third parties to do things like repairs and maintenance. Before allowing them access to the property and opening up yourself and them to risk, you should request a COI from each service provider to ensure that they are adequately covered.
When contractual obligations mandate one. Many contracts, especially in the construction industry, require vendors to provide a COI upfront as a condition of the agreement. This is ultimately a good obligation as it helps protect all parties involved by ensuring that everyone has the necessary levels of coverage.
It can be difficult to stay on top of knowing which scenarios warrant a COI and which don't. No wonder a common complaint in the insurance industry is that 'you don't know what you don't know.' This is another reason why many businesses rely on COI services or professional industry help in order to maintain compliance across the many situations that could arise.
What Are Certificate of Insurance Services?
Certificate of insurance services can refer to providing official documents, (called COIs), that outline and prove insurance coverage for an entity or individual. Certificate of insurance services can also refer to services offered by companies that handle the acquisition and continual updating and management of multiple COIs. These third party vendors ensure that both the party requesting the COI and the party providing the COI are protected from liability issues down the line. They also save companies the time and effort it takes to obtain, sort, update, and manage multiple COIs.
When Do You Need Certificate of Insurance Services?
There are many benefits inherent to using certificate of insurance services. Here are some common situations where businesses might seek out COI services: they want to meet compliance requirements, they want to manage their risk, they want to save time and money, and they are doing business across state lines with different insurance requirements.
They want to meet compliance requirements. As we've mentioned, some industries have legal or contractual obligations that require individuals to provide proof of insurance coverage in the form of COIs. Businesses that deal with third-party COIs essentially do so in order to ensure compliance with insurance requirements—and to avoid the possibility of corresponding financial or regulatory ramifications. COI services help streamline the process of managing COIs, ensuring that documentation is available and complies with all provisions.
They want to manage their risk. At the end of the day, requesting COIs is a risk management practice that helps protect businesses and individuals from potential liabilities. By asking for a hired third party's proof of insurance, you can verify that they have adequate coverage in place to mitigate risks associated with accidents, property damage, or other unforeseen events that could happen on the job. COI services allow for the efficient gathering and reviewing of insurance information, making for better overall risk assessment.
They want to save money and time. COI services typically have a cost associated with them, but the savings they provide is in risk mitigation, fewer claims, and overall efficiency, as well as the streamlining of laborious tasks frees up your team's time for other work. Besides, a COI services fee is a whole lot cheaper than dealing with financial damages, fraud lawsuits, and many of the other situations that could occur if even one element of your compliance management slips.
They do business across state lines—and aren't sure they're maintaining compliance. There are different certificate of insurance requirements by state, and businesses operating in more than one state must attempt to maintain compliance across state lines with varying regulations. Hiring myCOI will ensure that industry experts, who are very familiar with the rules governing COIs nationwide, are always informing or double-checking your compliance decisions.
They want peace of mind. COI services protect you one step further—you don't have to worry about manually tracking when third-party certificates expire or whether your compliance strategy is the correct one in a given situation. myCOI, which is backed by a team of industry experts, offers white-glove support that can keep your business in the green and doing what you do best.
Who Needs Certificate of Insurance Services?
Certificate of insurance services streamline the process of collecting, verifying, and managing COIs, reducing the administrative burden and helping ensure compliance with insurance requirements. COI services can be beneficial for various industries and situations where proof of insurance coverage is necessary including for general contractors and subcontractors, for real estate agents and brokers and for property managers. Let's discuss some examples of who could benefit from COI services.
General Contractors
Contractors generally work on projects that require proof of insurance. GCs need to obtain COIs from all hired contractors to demonstrate that their workers have the necessary coverage in place (often through a certificate of liability insurance). Manually managing COIs from various workers can get messy, so COI services are ideal in this industry where high-risk projects could lead to big financial consequences.
Real Estate Agents and Brokers
Brokers involved in commercial real estate transactions often need to request COIs from tenants or property owners to ensure that the involved parties have adequate insurance coverage to protect against potential liabilities. Even managing certificates for more than a few tenants can become a major part of the day-to-day work. If compliance tracking is (understandably) not the job function you meant to sign up for, you can outsource the complex and time-consuming compliance tasks to a specialized COI services provider like myCOI.
Property Managers
Property managers who oversee multiple holdings may also require COIs from tenants to ensure they have appropriate liability coverage in place to help protect the assets and minimize potential risks and liabilities. Again, COI services can help centralize all certificate tracking efforts and make it so maintaining compliance is a service being handled for you, not something keeping you up at night.
What Is Included in Certificate of Insurance Services?
Certificate of insurance services can cover a wide variety of perks over doing everything manually in-house. Here are a few specifics that myCOI offers in our Essentials package:
Compliance Manager. This intuitive, self-processing feature provides guided assistance for making the processing of certificates simpler, faster, and more accurate.
Policy Reader. This tool scans COIs and eliminates the data entry of tracking policy dates, utilizing intuitive visual indicators to show when your insurance requirements are not being met.
Communications Director. Our rules-based engine is built on a foundation of insurance industry logic to automate the burdensome process of COI communications, eliminate the need to monitor COIs manually and ensure that you remain protected.
Risk Insights. Increase your liability awareness in real-time with myCOI Risk Insights, the solution that leverages insightful and centralized dashboards, reports, and application features to allow you to understand your organizational compliance quickly.
Insurance Agent Portal. Streamline renewals and ensure timely responses to insurance requests. Lose the paper trail by going digital and empowering insurance agents with real-time access to view your contract insurance requirements, the status of renewals, and pending non-compliance.
For enhanced protection and risk mitigation, consider the services offered by our Concierge package, which includes all of the above components as well as these premium features:
Insurance Pro. Leave the COI processing to an experienced team of insurance industry professionals. Ensure certificate of insurance compliance issues don't slip through the cracks as our team reviews the certificates and endorsements provided to confirm that primary and non-contributory, waiver of subrogation, additional insured on completed operations, and other critical requirements are being met.
myCOI Care. Our best-in-class, local team of myCOI Care experts is there for you to handle all of your support needs. Enjoy the flexibility of choosing the right level of support for your organizational needs and access to a helpful, industry-knowledgeable Customer Service Representative and a dedicated Account Manager.
Choose myCOI for Best-In-Class People, Software and Services
Avoid the hassles, costs, and inaccuracies of in-house compliance tracking with our COI services. Our large team of experienced industry professionals is well-versed in all of the nuances of insurance, meaning that we will learn your needs and prepare you for risks you might not have known about otherwise.
And unlike anyone else in the industry—we provide a warranty against the decisions we recommend.
Our white-glove customer service and comprehensive COI services packages can help you eliminate the manual labor involved in the COI management process, freeing up your team's time for other things. Give our COI services a try with the Essentials or Concierge package.