Certificate of Insurance For Business
If you're in construction, real estate, or an industry where claims and lawsuits are highly possible due to the nature of work being done, one of your priorities must be to make sure that the people working with you are maintaining an adequate level of insurance coverage.
Best Certificate of Insurance Tracking Software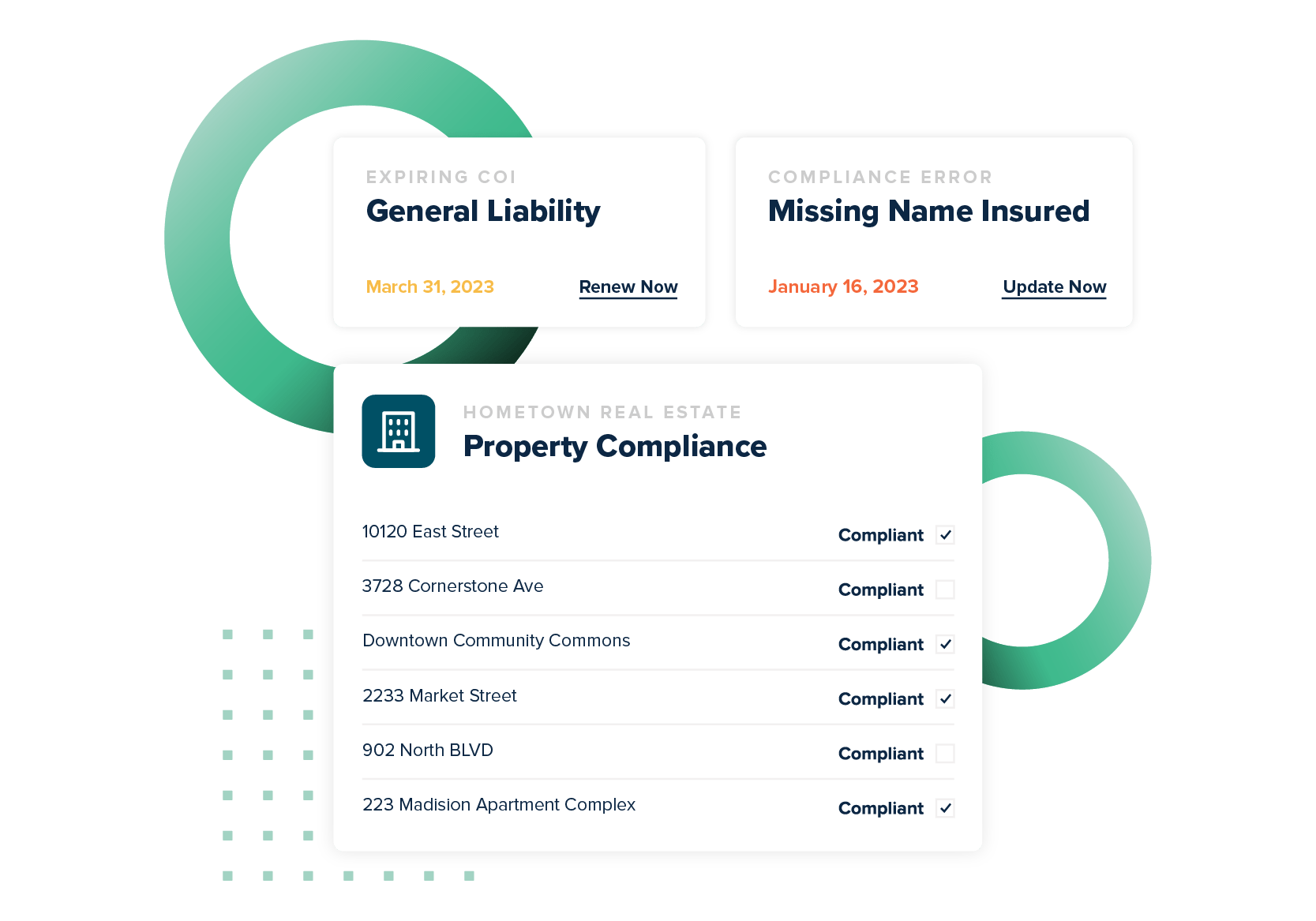 Automate Your COI Tracking
There's no more need to worry about stacks of certificates cluttering up your office or hours of frustrating phone calls and emails to chase down certificates. myCOI Central provides your company with a solution to automate your insurance certificate requests, collection, and compliance resolution, while also giving your team a single, centralized repository to view compliance.
Protect Your Business From Costly Claims
Ask your CFO or Risk Manager just how much claims and lawsuits can cost your business. If you are collecting certificates just to confirm they were received, you have no guarantee that your requirements are being met. myCOI Central is built on a foundation of insurance industry logic to ensure you remain protected with the appropriate coverage.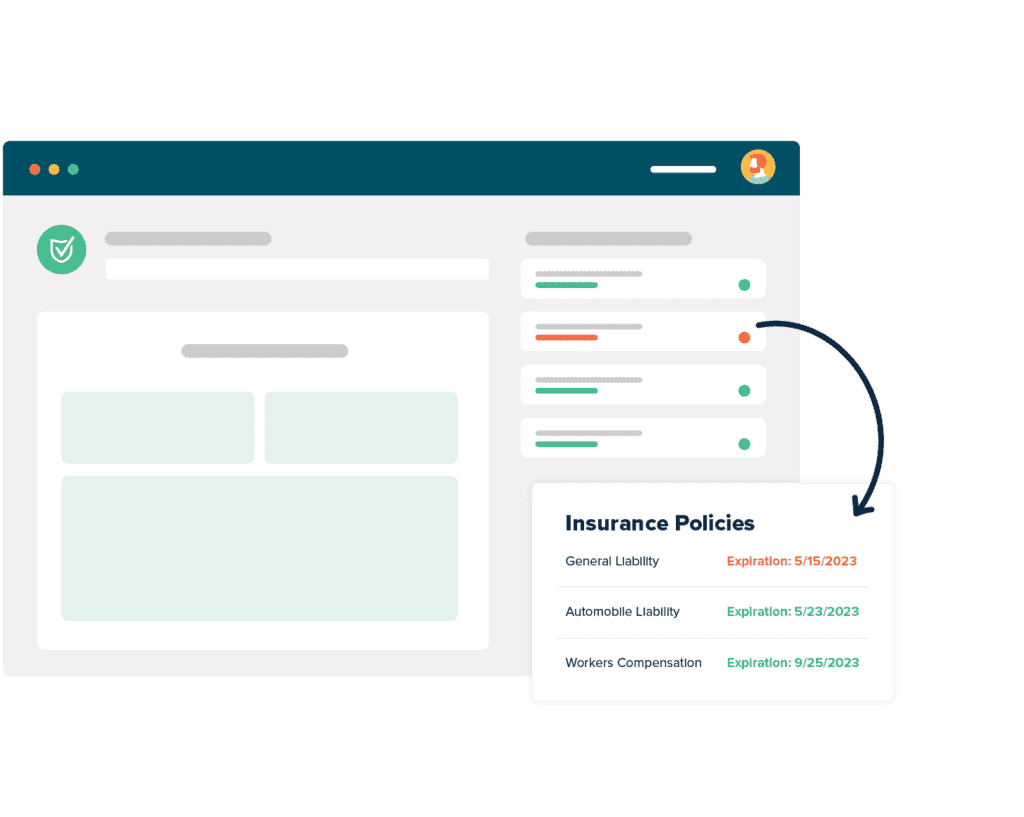 For Agents & Brokers
Win business and boost retention by providing agency branded, industry leading insurance tracking software to your insureds. Offer software only or add on your own compliance review services.
What Our Customers Say
OUTSTANDING!! In my opinion, this has been the best program I've had the pleasure of using. From all the services provided within the program and the exceptional customer service, this has made my job duties very manageable. I cannot say enough good things about this program. I highly recommend it!
Having one place for our customers to upload their insurance certificate makes tracking insurance certificates much easier. We use to internally file and collect insurance certificates from customers and it was a challenge to collect all of that paper and to effectively track the insuarnce certificates.
We switched to myCOI from another insurance tracking system because we were looking for a more involved vendor that could do more for us than just track certificates. We needed help with compliance and having a system that could contact vendors and keep on them until they became compliant with insurance. myCOI does this for us and we have very few non-compliant vendors compared to the number we had in our last system.
The product has met our expectations in that it has allowed us to regain some time that was previously spent doing all of the administration of insurance cert requests, reviews and acceptance. With that, we have been able to reallocate resources to more pressing business needs rather than insurance certificate management.
Our clients are thrilled with myCOI and how their compliance levels have been elevated beyond expectations. The reports and analytics are so valuable in measuring activity and compliance achievements. The system functionality is easy to use. The team are true partners.
MyCOI is a very great portal, a space where to keep organized all our certificate of insurance for our vendors. With the advantage that are online, always accessible and no paper backup is needed.Once you learned how to navigate into the portal and how to use the report tab you will have a world opening to you. In just one place you can access all the vendor information, policy expiration date, non-compliant policy line and see the last date when a document was updated.Our Senior Client Success Manager, [sensitive content hidden], she is always on top of our requests, and she replies promptly.
MyCOI has been a fantastic partner for our company. With frequent meetings with our dedicated account manager, ongoing communication, and the ability to customize our insurance needs with precision, we've seen exceptional outcomes throughout our portfolio. [sensitive content hidden] has provided invaluable assistance, and the review team is exceptionally competent and amicable, even when we inundate them with urgent requests. Overall, it's been an excellent experience, and we're eagerly anticipating our continued collaboration with them.
myCOI has helped our company go from drowning in unreviewed cois to getting our insurance review under control. Their team has been an amazing support and resource, and helped us to navigate the Essentials program, later transitioning to Concierge service as the workload was more than our team was able to manage. The beauty of this platform is that it provides a single, central hub for clients, agents and vendors to access, update and communicate. Every myCOI team member with whom I have worked has provided excellent service, been pleasant, knowledgeable, and provided quick response times. The quarterly meetings are beneficial to recap what is going well, where we need to improve and have questions answered. I highly recommend myCOI.
myCOI provides amazing custom support and they make the platform very easy to navigate. The myCOI team is always very helpful and quickly responds to my questions or goes out of her way to direct me to the correct team member who is able to assist me.
myCOI has amazing customer support. Our account representative meets with us quarterly to keep up-to-date on how our group is feeling about utilizing the system and interfaces with us day-to-day, as needed, to address any issues we encounter with agent notes, reviews, etc. It has been an incredibly efficient and beneficial relationship since day 1.
The myCOI platform has been so easy to work with from multiple angles. Because there are multiple stakeholders, we are all notified and kept in the loop if there are any COI tracking issues that need to be revised.
Certificate Of Insurance For Business
If you're in construction, real estate, or an industry where claims and lawsuits are highly possible due to the nature of work being done, one of your priorities must be to make sure that the people working with you are maintaining an adequate level of insurance coverage.
That can mean many things to you, but a surefire one is this: you'd better start getting comfortable with the concept of insurance certificates. Don't fret, however, if you're not sure what those are yet. This resource is the one you've been looking for.
In this article, we'll cover the major need-to-knows and answer common questions regarding certificates of insurance, including:
What does a certificate of insurance mean in business?
When do you need a certificate of insurance from a vendor?
How fast can I get a certificate of insurance (COI)?
What do I do if I need help managing my COIs?
Ready to master the basics of COI management and get your compliance on track? Let's dive in.

What Does Certificate of Insurance Mean in Business?
Certificates of insurance have become a big deal in the business world because they're related to contractual partnerships, especially between two businesses or between a business and a third party, vendor, or contractor.
To start, let's discuss the concept of insurance coverage for businesses.
Business insurance provides a company with protection. In exchange for paying premiums to an insurer, the insurance company agrees to cover any financial losses of that business if a covered situation happens. For instance, a contractor might get general liability insurance, an insurance policy that provides coverage in the case of property damage or physical injury, since they would otherwise be held financially responsible for common site accidents.
But anyone can say that they have insurance coverage. To prove it, businesses rely on the use of certificates of insurance.
Typically no longer than a page, certificates of insurance, or COIs, are documents that provide a summary of someone's business insurance. They're a quick way to prove that someone has the policy in place that they say they do. This is important because if a worker doesn't have the correct coverage, it could be your business held accountable for paying financial losses due to damages that happen on the job.
COIs are essentially insurance policy shortcuts. So, instead of a contractor providing you (and other prospective clients) with a dense, multi-page policy document, they can instead hand over a summarized certificate that hits the key points of their coverage. It's a win-win for everyone.
Once you verify that the COI is accurate and up-to-date and that their coverage meets your requirements for the project and timespan, you can have peace of mind as you begin your business partnership.
When Do You Need a Certificate of Insurance From a Vendor?
There are numerous situations where you could need a certificate of insurance from a vendor. Essentially, any time you're working with someone on a job where accidents or incidents could arise, you should obtain a certificate of insurance from the entity you're hiring – just in case.
Here are a few examples of situations where a company might require a COI from a vendor:
Hiring a contractor. This is a really common case where COIs are necessary. If you're hiring a contractor or subcontractor, you'll need to request a COI from them to ensure that they have appropriate insurance coverage in case of any accidents that could occur during the span of work.
Hiring a supplier. If you're purchasing goods or materials for your business from a supplier, it makes sense to request a COI from them. This will help you confirm that they have coverage in place to cover damages in the case of any accidents that could happen during the transportation and delivery of the purchased goods, or while they're on your property.
Hosting an event. When hosting a business event, you'll want to request a COI from all vendors and service providers involved to protect you from accidents or damages that could happen during the event.
It's common in many of these types of instances for the hirer of the third party to require a COI from the third party as a condition of doing business with them. Most vendors and contractors that you work with will know about the standard requirements for their industry and be prepared to procure a COI to provide to you as proof of their coverage ahead of beginning their work.
What Must Be Included in a Certificate of Insurance?
While certificates of insurance vary based on the type of policy they're providing evidence of, there are a few items that must be included in every certificate of insurance.
Here are some of the details you're likely to find on any given insurance certificate:
The insurance company's name. When discussing someone's insurance coverage, it's pretty important to know who is providing the protection. The insurance company is the entity that will be creating the actual contract, so this piece should not be an issue.
The policyholder's name. The third party you're working with – the one you are verifying coverage for – must provide their information on the certificate of insurance in order to indicate who is being covered.
The policy number. This references the actual insurance policy with a unique numerical identifier.
The type of coverage. It's important for you, as the certificate requester, to clearly state the type of protections your third party needs to have in place before beginning work with you. Some examples of common coverage types are general liability insurance and workers' compensation.
The policy limits. These specify the maximum amount of coverage provided by the policy. This is another key piece to pay attention to, as policy limits will give you an idea of the amount of coverage the third party has in case of any liability claims or damages that could arise during the course of your business relationship. You should ensure that the policy limits are adequate for the level of risk associated with the work they will perform.
The effective dates of coverage. These outline the time period that the policy is active. It's important that you confirm that the policy will be active during the time that the work will be performed and that all third parties involved maintain coverage for at least the entire duration in which they're working with you. If that duration is fairly long, it makes sense to verify active coverage throughout.
Additional information needed, such as additional insureds or other endorsements. In special cases, other information will be included in a COI. For instance, if their policy covers any additional parties, an additional insured endorsement would be reflected on the certificate. In fact, if you aren't named the additoinal insured on the COI, you aren't covered should a claim roll up to you.
Insurance agent contact information. Certificates must also relay the contact information of the specific insurance agent or broker providing coverage to the third party.
Certificate holder name. Your name (or business name) will be printed on the document under the Certificate Holder section. You'll also likely be notified about things like coverage changes, annual renewal, or cancellation of the policy.
How Fast Can I Get a COI?
The rate at which you can obtain a COI from a vendor depends on a few factors, some of which are, unfortunately, out of your control. As the entity hiring the third party and therefore needing to verify someone else's insurance coverage, you won't be the one headed to an insurance office to obtain a COI.
Instead, as the requester of the COI, you will become the certificate holder on the document. All you need to do in the case that you need to obtain a certificate from someone is to make a formal request in person or in writing to the third party you need to verify coverage for. You'll provide them with information such as the coverage type you need proof of and any specific requirements you have, such as a minimum length of coverage.
It typically takes 1–2 business days for an insurance company to generate a COI once the initial request has been made from the insured (the third party you are hiring). However, it can take up to a few weeks to generate, depending on the insurance company's standards and the complexity of the coverage, as well as if there are any errors or omissions that could slow down the process.
What Do I Do if I Need Help Managing My COIs?
Many businesses struggle to stay on top of managing COIs from various vendors, contractors and subcontractors, and other third parties. COI tracking software exists for this very purpose: to help you streamline your COI management. By utilizing a digital certificate of insurance tracking solution, companies can more effectively meet their insurance compliance regulations and protect themselves from risk.
myCOI can help your business automate COI management, so you never have to worry about your workers not being compliant, lapsing in coverage, or failing to meet your requirements. Our software is built on a foundation of insurance industry logic, and our team of experts is always here to help so you don't have to worry about managing COIs manually on your own.
Book a demo today to learn how a single, centralized repository to view compliance can save your business time, money and the threat of future financial scares.