Best Certificate of Insurance Tracking Software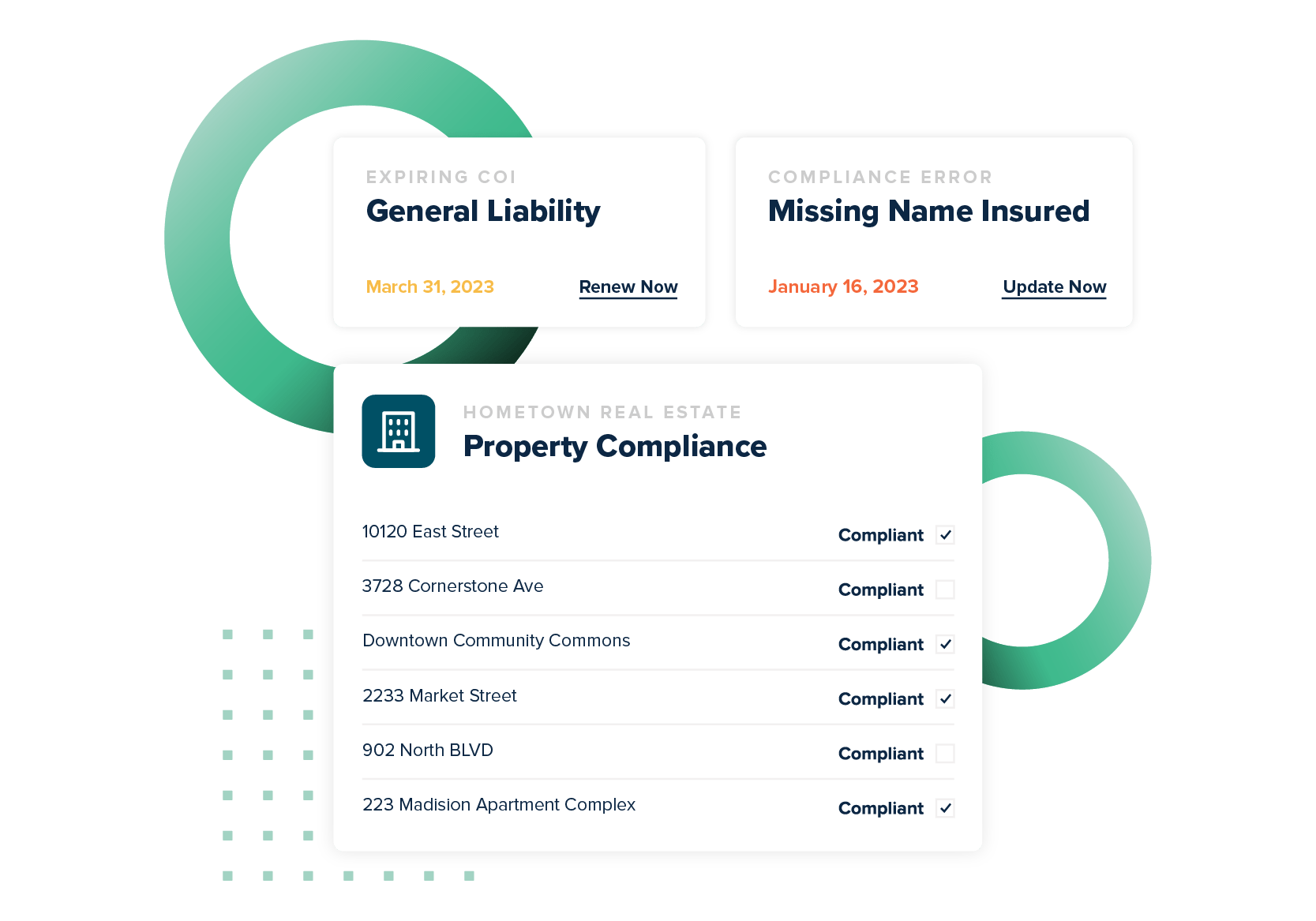 Automate Your COI Tracking
There's no more need to worry about stacks of certificates cluttering up your office or hours of frustrating phone calls and emails to chase down certificates. myCOI Central provides your company with a solution to automate your insurance certificate requests, collection, and compliance resolution, while also giving your team a single, centralized repository to view compliance.
Protect Your Business From Costly Claims
Ask your CFO or Risk Manager just how much claims and lawsuits can cost your business. If you are collecting certificates just to confirm they were received, you have no guarantee that your requirements are being met. myCOI Central is built on a foundation of insurance industry logic to ensure you remain protected with the appropriate coverage.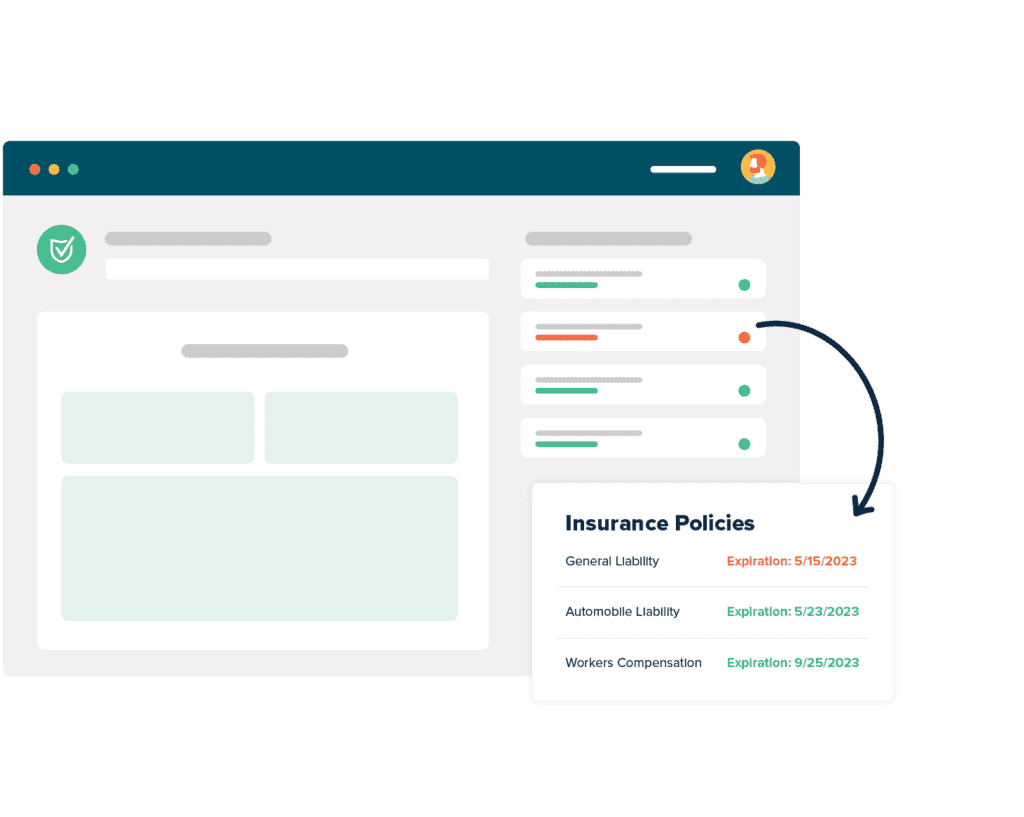 For Agents & Brokers
Win business and boost retention by providing agency branded, industry leading insurance tracking software to your insureds. Offer software only or add on your own compliance review services.
What Our Customers Say
OUTSTANDING!! In my opinion, this has been the best program I've had the pleasure of using. From all the services provided within the program and the exceptional customer service, this has made my job duties very manageable. I cannot say enough good things about this program. I highly recommend it!
Having one place for our customers to upload their insurance certificate makes tracking insurance certificates much easier. We use to internally file and collect insurance certificates from customers and it was a challenge to collect all of that paper and to effectively track the insuarnce certificates.
We switched to myCOI from another insurance tracking system because we were looking for a more involved vendor that could do more for us than just track certificates. We needed help with compliance and having a system that could contact vendors and keep on them until they became compliant with insurance. myCOI does this for us and we have very few non-compliant vendors compared to the number we had in our last system.
The product has met our expectations in that it has allowed us to regain some time that was previously spent doing all of the administration of insurance cert requests, reviews and acceptance. With that, we have been able to reallocate resources to more pressing business needs rather than insurance certificate management.
Our clients are thrilled with myCOI and how their compliance levels have been elevated beyond expectations. The reports and analytics are so valuable in measuring activity and compliance achievements. The system functionality is easy to use. The team are true partners.
MyCOI is a very great portal, a space where to keep organized all our certificate of insurance for our vendors. With the advantage that are online, always accessible and no paper backup is needed.Once you learned how to navigate into the portal and how to use the report tab you will have a world opening to you. In just one place you can access all the vendor information, policy expiration date, non-compliant policy line and see the last date when a document was updated.Our Senior Client Success Manager, [sensitive content hidden], she is always on top of our requests, and she replies promptly.
MyCOI has been a fantastic partner for our company. With frequent meetings with our dedicated account manager, ongoing communication, and the ability to customize our insurance needs with precision, we've seen exceptional outcomes throughout our portfolio. [sensitive content hidden] has provided invaluable assistance, and the review team is exceptionally competent and amicable, even when we inundate them with urgent requests. Overall, it's been an excellent experience, and we're eagerly anticipating our continued collaboration with them.
myCOI has helped our company go from drowning in unreviewed cois to getting our insurance review under control. Their team has been an amazing support and resource, and helped us to navigate the Essentials program, later transitioning to Concierge service as the workload was more than our team was able to manage. The beauty of this platform is that it provides a single, central hub for clients, agents and vendors to access, update and communicate. Every myCOI team member with whom I have worked has provided excellent service, been pleasant, knowledgeable, and provided quick response times. The quarterly meetings are beneficial to recap what is going well, where we need to improve and have questions answered. I highly recommend myCOI.
myCOI provides amazing custom support and they make the platform very easy to navigate. The myCOI team is always very helpful and quickly responds to my questions or goes out of her way to direct me to the correct team member who is able to assist me.
myCOI has amazing customer support. Our account representative meets with us quarterly to keep up-to-date on how our group is feeling about utilizing the system and interfaces with us day-to-day, as needed, to address any issues we encounter with agent notes, reviews, etc. It has been an incredibly efficient and beneficial relationship since day 1.
The myCOI platform has been so easy to work with from multiple angles. Because there are multiple stakeholders, we are all notified and kept in the loop if there are any COI tracking issues that need to be revised.
Commercial General Liability Insurance
Commercial general liability insurance can be powerful protection against costly claims and lawsuits. If your company is just starting, you should seek the best general liability insurance for small business information to become better informed. Knowledge is power. The more you have, the easier it will be to find coverage that meets your particular general contractor insurance requirements. Additionally, you might be able to find cheap small business insurance that does not skimp on coverage.
The type and cost of general liability insurance small business owners should obtain matters. Their coverage must be sufficient at a reasonable price. They need to act intelligently when mitigating liabilities and planning for unfortunate events.
One thing to remember: you can be covered by any of the top 10 commercial insurance companies but what about your subcontractors? They should possess their own coverage so your company does not shoulder all of the liability risks that occur during the daily operation of your business. You should require the third parties your company hires to be covered and to prove their coverage by submitting certificates of insurance. These documents simply affirm the named insured, the subcontractor or vendor, is adequately covered.
You have to make sure your subcontractors submit valid and current certificates of insurance. One expired policy can spell ruin for your company if that particular third party injures someone. Your company could be on the hook for damages. Using an automated solution like myCOI can ensure every certificate of insurance you receive is up-to-date and meets your company's requirements. You do not have to bear the entire weight of insurance tracking. You can save time and money when you use this cloud-based platform. You can tend to your other professional responsibilities more effectively when you do not have to worry about whether or not you are going to be sued.
General Liability Insurance Coverage For Small Business
General liability insurance coverage for small business is worth researching. The topic should be essential if you want to ensure your company's future remains bright.
If you own your company or are your company's risk management professional, then you should know the importance of protecting your organization's assets from claims that emerge from normal business operations. Life is unpredictable. People make mistakes. Accidents happen. These statements are more than cliches. They are truths that should not be ignored.
Shopping for general liability insurance for LLC ventures takes time. Rushing into the process can result in expensive coverage that does not fulfill your needs. Discovering all the available options and then weighing them against your company's needs should be a methodical process. You should want the best business liability insurance to protect your company. Small business insurance can make the difference between your company surviving a hefty lawsuit and going bankrupt.
If your company is a construction or contracting company, general liability insurance coverage for contractors should be required. If your company hires a handful of subcontractors, coverage should be mandatory. If your company hires hundreds of subcontractors, coverage should be mandatory. Transferring the burden of risk to them can place your company in a more comfortable position when it is not solely responsible for damages stemming from negligence. Lawsuits can ruin reputations and fortunes. What would happen to your company if an uninsured subcontractor you hired hurt someone while working for you? Could your company afford a huge payout?
Cheap general liability insurance for contractors can be found, but coverage must align with your company's requirements. Your contractors should speak with an insurance agent or broker to get the best coverage at the best rate. Agents can guide contractors to what they need. A phone call or email can start the process.
Commercial General Liability Insurance Cost
Can your company afford a $1 million liability insurance cost? What about a $2 million liability insurance cost? A $5 million liability insurance cost?
How much does a $1 million dollar business insurance policy cost? How much is business liability insurance per month? How much is general liability insurance for an LLC?
If your company is new, what are its start up business insurance costs? What is the general liability insurance cost for contractors?
These are all great questions to research either online or by contacting an insurance agent or broker. Depending on your relationships with other companies, you can ask them for advice. Hopefully, they have seized the initiative and acquired coverage themselves. You can post questions on social media and other online forums if you can not find satisfactory answers. Some strangers would not think twice before helping others. You might find the information you need and possibly a new professional connection along the way. It does not hurt to ask. You can not receive answers if you do not ask questions. It also helps if you know what your company can afford.
Considering commercial general liability insurance rates is a wise practice. You want to keep your company protected from liability but you do not want your company going broke doing so. Paying high rates defeats the purpose of insurance if you can not afford them. Plus, sometimes the highest rates do not ensure the best coverage. The inverse can also be true: the lowest rates do not signify the worst terms. You have to put yourself out there to find suitable insurance at a price your company can afford.
The commercial general liability insurance cost should be factored into your company's budget already. It should not be overlooked or avoided. You can think of it as just one more expense; the price of doing business.
General Liability Insurance Examples
What are some of the most common general liability claims? What does commercial general liability insurance cover? What does general liability cover for a business? What does general liability insurance cover for small business?
How much is general liability insurance for contractors? What is the best general liability insurance for contractors? Who provides general liability insurance for contractors near me?
Your questions about general liability insurance are as encompassing as the best comprehensive general liability insurance. Questions are good. Answers are even better. Both are worth seeking if you own a company. Information is crucial when shopping for insurance. Once you learn the details about insurance, you have to choose the issuer. General liability insurance examples can be effective testimonies to persuade you to choose one issuer over another. If an insurance company provides detailed answers and support, then what other superior services can they offer?
General liability insurance examples can be effective in learning what the insurance actually covers, what it does not cover, how much it costs, and more. Seeing insurance in use can show you some of the most common liability claims and what insurance plans cover them. Examples can also show you how much your company and contractors have to pay to remain covered. Examples can help you plan better. You might recognize certain illustrations mirroring your company's situation. You could take that model and use it as a blueprint for finding the insurance that matches your company's requirements.
The Internet is stocked with information. With vast volumes of data, it is important to not stick with one source. They can provide inaccurate or false information. You should use several sources to check the facts. Assuming you know the particulars of a policy can leave you underinsured and/or paying more than you should.
Professional Liability Insurance
What is the difference between professional liability insurance vs general liability? How is general liability insurance calculated for contractors? Is the professional liability insurance USAA provides worth investigating?
You can use professional liability insurance examples to help answer these and numerous other questions. Professional liability insurance can overwhelm those who do not know anything about insurance. Resources exist that can educate people about the subject.
Companies in various industries should be versed on the topic. Consulting agencies should have an inkling of knowledge about professional liability insurance for consultants. Medical organizations should be able to field questions regarding professional liability insurance for nurses. Contracting companies should know about professional liability insurance for individuals.
If you have researched several professional liability insurance companies, then you must come to a decision. What is the best professional liability insurance for your company?
Commercial general liability insurance is only one way to reduce liability risk. If your company hires subcontractors, then you should make them responsible for obtaining insurance. With this duty comes another one for your company: the collection and verification of certificates of insurance. Your company must do more than collect those documents. It must confirm that the coverage fits your company's needs and is active. This is not a one-time action. Constant monitoring keeps coverage valid and current.
Although all of these tasks might seem time-consuming, myCOI can lend insurance expertise and automation to the entire process. Automating insurance tracking can simplify the workflows involved with the process as well as ensure stricter control over compliance practices. myCOI is powered by insurance experts who can provide your company with peerless compliance administration. You can trust the platform to help you and your subcontractors get it right when it comes to certificates of insurance.
Running a company amid a sea of risks can prove daunting. Fortunately, some aids can make every workday less stressful.