Best Certificate of Insurance Tracking Software
Protect Your Business From Costly Claims
Ask your CFO or Risk Manager just how much claims and lawsuits can cost your business. If you are collecting certificates just to confirm they were received, you have no guarantee that your requirements are being met. myCOI Central is built on a foundation of insurance industry logic to ensure you remain protected with the appropriate coverage.
Automate Your COI Tracking
There's no more need to worry about stacks of certificates cluttering up your office or hours of frustrating phone calls and emails to chase down certificates. myCOI Central provides your company with a solution to automate your insurance certificate requests, collection, and compliance resolution, while also giving your team a single, centralized repository to view compliance.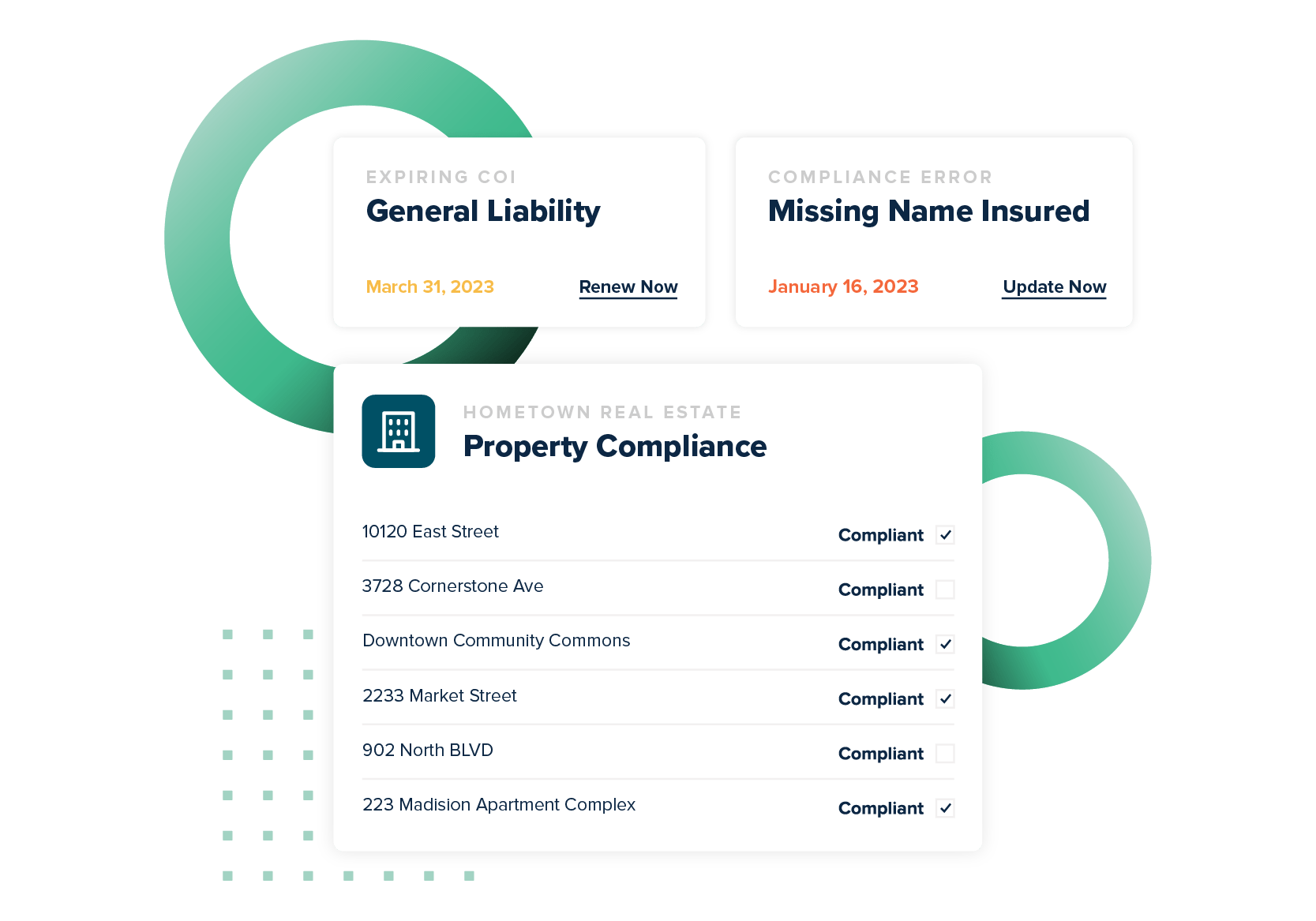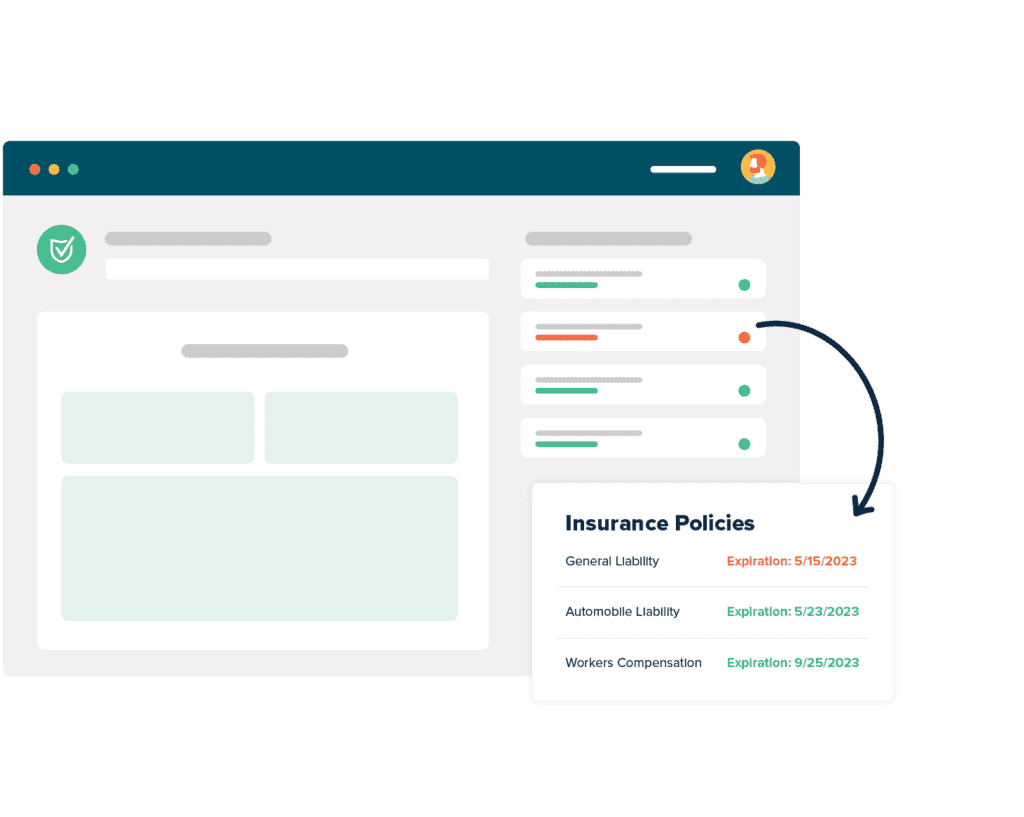 For Agents & Brokers
Win business and boost retention by providing agency branded, industry leading insurance tracking software to your insureds. Offer software only or add on your own compliance review services.
What Our Customers Say
OUTSTANDING!! In my opinion, this has been the best program I've had the pleasure of using. From all the services provided within the program and the exceptional customer service, this has made my job duties very manageable. I cannot say enough good things about this program. I highly recommend it!
Having one place for our customers to upload their insurance certificate makes tracking insurance certificates much easier. We use to internally file and collect insurance certificates from customers and it was a challenge to collect all of that paper and to effectively track the insuarnce certificates.
We switched to myCOI from another insurance tracking system because we were looking for a more involved vendor that could do more for us than just track certificates. We needed help with compliance and having a system that could contact vendors and keep on them until they became compliant with insurance. myCOI does this for us and we have very few non-compliant vendors compared to the number we had in our last system.
The product has met our expectations in that it has allowed us to regain some time that was previously spent doing all of the administration of insurance cert requests, reviews and acceptance. With that, we have been able to reallocate resources to more pressing business needs rather than insurance certificate management.
Our clients are thrilled with myCOI and how their compliance levels have been elevated beyond expectations. The reports and analytics are so valuable in measuring activity and compliance achievements. The system functionality is easy to use. The team are true partners.
MyCOI is a very great portal, a space where to keep organized all our certificate of insurance for our vendors. With the advantage that are online, always accessible and no paper backup is needed.Once you learned how to navigate into the portal and how to use the report tab you will have a world opening to you. In just one place you can access all the vendor information, policy expiration date, non-compliant policy line and see the last date when a document was updated.Our Senior Client Success Manager, [sensitive content hidden], she is always on top of our requests, and she replies promptly.
MyCOI has been a fantastic partner for our company. With frequent meetings with our dedicated account manager, ongoing communication, and the ability to customize our insurance needs with precision, we've seen exceptional outcomes throughout our portfolio. [sensitive content hidden] has provided invaluable assistance, and the review team is exceptionally competent and amicable, even when we inundate them with urgent requests. Overall, it's been an excellent experience, and we're eagerly anticipating our continued collaboration with them.
myCOI has helped our company go from drowning in unreviewed cois to getting our insurance review under control. Their team has been an amazing support and resource, and helped us to navigate the Essentials program, later transitioning to Concierge service as the workload was more than our team was able to manage. The beauty of this platform is that it provides a single, central hub for clients, agents and vendors to access, update and communicate. Every myCOI team member with whom I have worked has provided excellent service, been pleasant, knowledgeable, and provided quick response times. The quarterly meetings are beneficial to recap what is going well, where we need to improve and have questions answered. I highly recommend myCOI.
myCOI provides amazing custom support and they make the platform very easy to navigate. The myCOI team is always very helpful and quickly responds to my questions or goes out of her way to direct me to the correct team member who is able to assist me.
myCOI has amazing customer support. Our account representative meets with us quarterly to keep up-to-date on how our group is feeling about utilizing the system and interfaces with us day-to-day, as needed, to address any issues we encounter with agent notes, reviews, etc. It has been an incredibly efficient and beneficial relationship since day 1.
The myCOI platform has been so easy to work with from multiple angles. Because there are multiple stakeholders, we are all notified and kept in the loop if there are any COI tracking issues that need to be revised.
Workers' Compensation Certificate Of Insurance
Valid workers' compensation certification is proof that a business carries workers' comp coverage. Certificates of workers' compensation insurance are issued by the insurer at the request of an organization that seeks to confirm that the business is covered. In the same way that you, as the business owner, need to ensure that your business and your employees are covered, so does any business that hires you.
Many businesses are legally required to carry worker's compensation coverage for their employees. Each state in the United States regulates worker's compensation coverage under its own laws, which means the potential penalties, fines, and even periods of imprisonment vary.
There are exceptions to the need for workers' compensation certification, but they are unique to each state. Know the laws in your state. Protect yourself and your employees.
Workers Comp Certificate Of Insurance Sample
Let's pretend you're a new compliance admin who's just received a worker's compensation certificate of insurance (COI). Do you know what you're looking for? Do you know which boxes on the form are the important ones? It's okay if you don't: let's talk about some of the high points. There's a lot riding on making sure this COI covers both what the contractor says it does, and that the coverage is what your own company expects of those you do business with.
One of the most common sample workers comp certificate of insurance samples is the common ACORD-25 liability form. It's a good example ACORD workers compensation certificate of insurance.
The ACORD 25 is a basic workers comp certificate example. It records and identifies the contractual agreements between the insurer and the insured. Put another way, it helps you know which policies, protections, exemptions and provisions your potential new contractor is carrying.
This form is pretty self-explanatory: the fields and boxes are pretty well labeled, but let's go through the high points. At the top you'll have boxes for producer and insured; make sure your contractor is listed in the insured box!
The coverages boxes are where the details are recorded, with fields like general liability, automobile liability, garage liability, excess or umbrella coverage, and finally what we're here to talk about: workers compensation and employers' liability. Check the information in these boxes carefully against your company's requirements. If they don't line up, then you'll need to have the contractors adjust their coverage.
Or find a new contractor.
There are a limited number of cases where a subcontractor may present you with a workers comp exclusion form instead. No matter what you end up needing, you can always find examples online with simple searches like 'certificate of workers' compensation insurance form'.
Workers' Compensation Certificates Of Insurance For Subcontractors
Workers compensation and subcontractors sometimes gets complicated. Many states make statements like this one from Indiana: individual taxpayers who are independent contractors or otherwise not required to carry worker's compensation insurance on themselves under the Worker's Compensation Act of Indiana. But there's a lot of room around the edges of a statement like that.
Even with that, almost every governing body or advisory body will suggest that you request workers' compensation certificates of insurance for subcontractors who do business with you. It's just good practice. Despite not being required, many subcontractors and independent contractors will carry the requisite insurance, and connect you with their agent to request the certificate of workers' compensation insurance. You can find examples of what this looks like by searching for 'acord certificate of insurance 2020', or by searching for a workers comp exemption form pdf.
You may even get a ghost policy, and no: that's not a joke. Self-employed individuals with no other employees often carry a policy that excludes them, which gives them workers' comp with no employees.
That may not seem like it makes any sense, and at first glance it doesn't, but let's look at it in more detail.
How To Get A Workers' Comp Certificate
If you're a compliance admin, getting proof of workers compensation coverage is a core part of what you do. Usually it's very simple: contractors will provide their own COIs, and will have done the work to make sure they're compliant with your rules. You can just check the boxes and the coverages and move on.
But you do have to check. Just having proof of coverage insurance doesn't mean a contractor is compliant. Sometimes you have to verify or request changes in coverage. Usually you can deal directly with an insured's insurer to make verifications of coverage amounts, exceptions and limitations. In these cases you can save a lot of time by having a request for certificate of insurance sample letter that you can customize at need.
If you're a contractor asking 'how do I get a copy of my workers' comp certificate,' well, you just ask for it, from your insurer. Proof of workers' compensation insurance is something you're going to want to have handy, and getting your copy of workers' compensation certificate is just a smart move.
Plus, imagine you're bidding a job against a competitor who doesn't know how to get a workers' comp certificate; you're going to look more prepared, and that's never a bad thing.
Always remember, businesses and contractors are responsible for their own coverage. Don't be afraid to make them pursue their own compliance before you work with them.
Workers' Compensation Certificate Of Exemption
We said above, and it's true, that almost every form of business is legally required to hold workers compensation coverage. We also said there are exceptions for single-employee or sole proprietorships in many states. And even though we said it, and it's true, it's still a little confusing. Let's look again at what a workers' comp exemption certificate would look like.
If you're a sole proprietor, you can often choose whether or not to carry standard workers comp coverage on yourself, whether to carry a ghost policy, or not carry any coverage. Each of those options has pros and cons. Not carrying coverage is certainly cheaper—unless you get hurt. In that circumstance, carrying workers compensation for yourself, despite the expense, can help defray the cost of your medical bills.
You might find it useful to look at your local certificate of insurance example PDF and see what it says. They're pretty easy to find with a web search, just put in something like "workers comp exempt form ny" or "workers comp exemption sole proprietorship Florida." You can usually find what you need in the first couple results, and looking at those will help you figure out what keeps yours from looking like a fake workers comp certificate.
And don't forget, especially if you're a subcontractor who works for a lot of general contractors: sometimes the GC will require you to have coverage, no matter what the law says.
Fake Workers Comp Certificate
If you're a shady contractor looking for tips on how to fake workers comp certificates, keep searching. We're not talking about that. We're going to talk about how to catch you. Almost every business that hires contractors has been presented with a fake workers comp certificate at least once. Sometimes these fake business insurance certificates are detected; sometimes they're not. Sometimes it's too late. Here's what you can do to spot them before then.
States maintain websites to verify workers compensation. Check those sites. Sometimes they're hard to find, but it's an easy Web search. Just put in, for example if you're in Massachusetts, "proof of coverage ma". The state verification site will come up. If the contractor you're evaluating doesn't show up on that list, that's a red flag.
You can also look for obvious flaws: does it look copy-and-pasted? Are there obviously six different fonts in use? Is the paper, believe it or not, different colors in different spots? Those sound like childish things to look for, but people trying to circumvent their legal requirements don't always put the most time into it. They're counting on you not paying close attention.
Pay close attention.
Seeking proof of workers' compensation insurance from your contractors and other businesses you do business with is not a hassle for those companies, no matter what they may say. It's the cost of doing business in today's litigious world. There is risk apparent in every company, in every industry, and it's everyone's job to responsibly manage it.
Workers' Comp Ghost Policy
The so-called ghost policy workers comp definition is pretty simple, and it translates to workers' comp with no employees. A single-person business, such as a subcontractor who works regularly with a general contractor, buys an affordable workers compensation policy. But here's where the ghost part comes in: the policy excludes the business owner, so it doesn't cover anyone. The running joke is that it protects a ghost that follows the subcontractor around.
Why do these subcontractors do this? The simple answer is that general contracting company they always work with probably requires proof of workers' compensation coverage. Whether or not the policy is actually providing any real protection to anyone (except the ghost) is a conversation for another day. An actual workers comp ghost policy cost can be pretty low.
Many states allow these kinds of policies. Just like above, you find them with quick web searches for things like "workers comp ghost policy Missouri" or "workers comp ghost policy va".
Even so, holders of ghost policies are often audited, and if the auditor discovers that the policy holder's eligibility lapsed, the fines can be hefty. That's why the cheapest workers comp ghost policy may not be the best.