Best Certificate of Insurance Tracking Software
Protect Your Business From Costly Claims
Ask your CFO or Risk Manager just how much claims and lawsuits can cost your business. If you are collecting certificates just to confirm they were received, you have no guarantee that your requirements are being met. myCOI Central is built on a foundation of insurance industry logic to ensure you remain protected with the appropriate coverage.
Automate Your COI Tracking
There's no more need to worry about stacks of certificates cluttering up your office or hours of frustrating phone calls and emails to chase down certificates. myCOI Central provides your company with a solution to automate your insurance certificate requests, collection, and compliance resolution, while also giving your team a single, centralized repository to view compliance.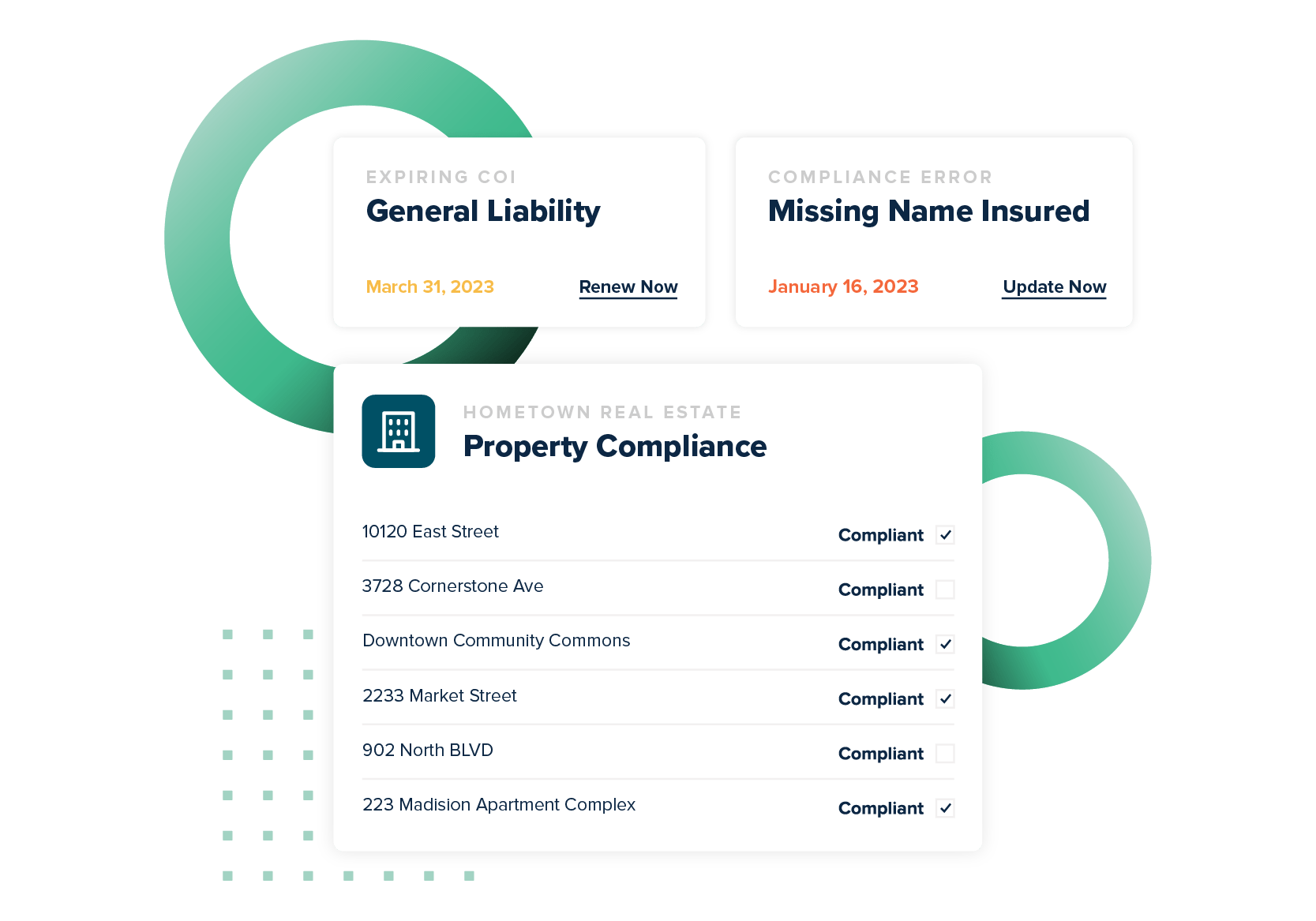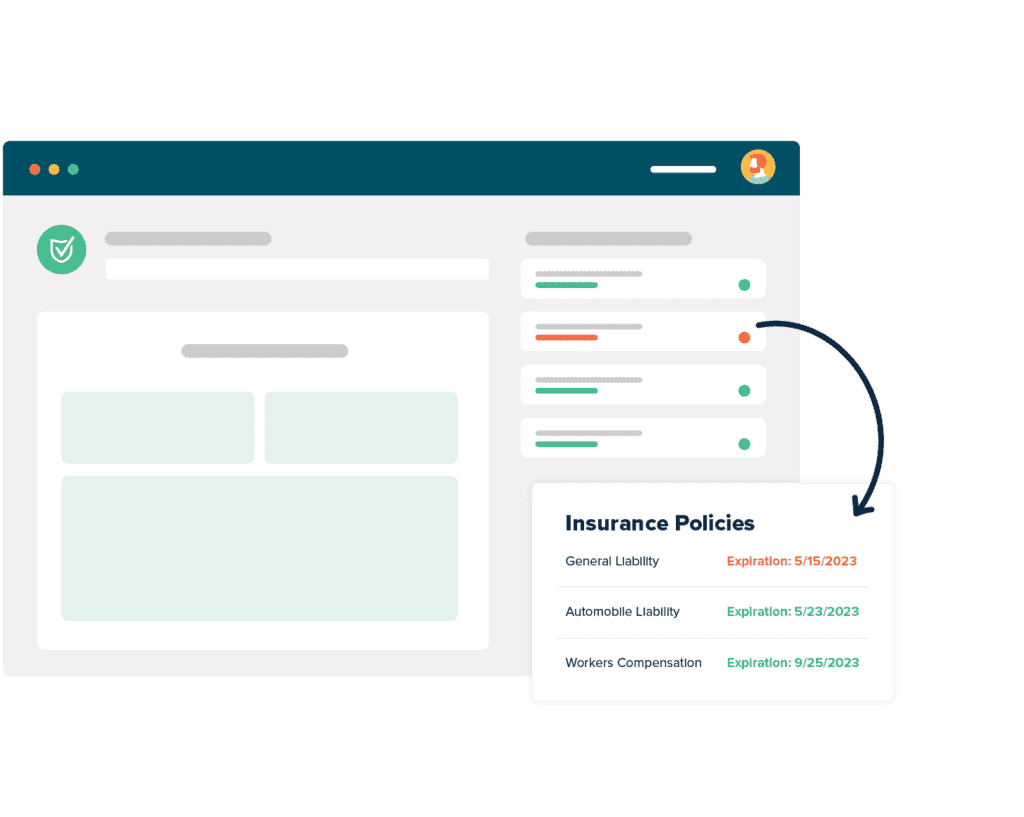 For Agents & Brokers
Win business and boost retention by providing agency branded, industry leading insurance tracking software to your insureds. Offer software only or add on your own compliance review services.
What Our Customers Say
OUTSTANDING!! In my opinion, this has been the best program I've had the pleasure of using. From all the services provided within the program and the exceptional customer service, this has made my job duties very manageable. I cannot say enough good things about this program. I highly recommend it!
Having one place for our customers to upload their insurance certificate makes tracking insurance certificates much easier. We use to internally file and collect insurance certificates from customers and it was a challenge to collect all of that paper and to effectively track the insuarnce certificates.
We switched to myCOI from another insurance tracking system because we were looking for a more involved vendor that could do more for us than just track certificates. We needed help with compliance and having a system that could contact vendors and keep on them until they became compliant with insurance. myCOI does this for us and we have very few non-compliant vendors compared to the number we had in our last system.
The product has met our expectations in that it has allowed us to regain some time that was previously spent doing all of the administration of insurance cert requests, reviews and acceptance. With that, we have been able to reallocate resources to more pressing business needs rather than insurance certificate management.
Our clients are thrilled with myCOI and how their compliance levels have been elevated beyond expectations. The reports and analytics are so valuable in measuring activity and compliance achievements. The system functionality is easy to use. The team are true partners.
MyCOI is a very great portal, a space where to keep organized all our certificate of insurance for our vendors. With the advantage that are online, always accessible and no paper backup is needed.Once you learned how to navigate into the portal and how to use the report tab you will have a world opening to you. In just one place you can access all the vendor information, policy expiration date, non-compliant policy line and see the last date when a document was updated.Our Senior Client Success Manager, [sensitive content hidden], she is always on top of our requests, and she replies promptly.
MyCOI has been a fantastic partner for our company. With frequent meetings with our dedicated account manager, ongoing communication, and the ability to customize our insurance needs with precision, we've seen exceptional outcomes throughout our portfolio. [sensitive content hidden] has provided invaluable assistance, and the review team is exceptionally competent and amicable, even when we inundate them with urgent requests. Overall, it's been an excellent experience, and we're eagerly anticipating our continued collaboration with them.
myCOI has helped our company go from drowning in unreviewed cois to getting our insurance review under control. Their team has been an amazing support and resource, and helped us to navigate the Essentials program, later transitioning to Concierge service as the workload was more than our team was able to manage. The beauty of this platform is that it provides a single, central hub for clients, agents and vendors to access, update and communicate. Every myCOI team member with whom I have worked has provided excellent service, been pleasant, knowledgeable, and provided quick response times. The quarterly meetings are beneficial to recap what is going well, where we need to improve and have questions answered. I highly recommend myCOI.
myCOI provides amazing custom support and they make the platform very easy to navigate. The myCOI team is always very helpful and quickly responds to my questions or goes out of her way to direct me to the correct team member who is able to assist me.
myCOI has amazing customer support. Our account representative meets with us quarterly to keep up-to-date on how our group is feeling about utilizing the system and interfaces with us day-to-day, as needed, to address any issues we encounter with agent notes, reviews, etc. It has been an incredibly efficient and beneficial relationship since day 1.
The myCOI platform has been so easy to work with from multiple angles. Because there are multiple stakeholders, we are all notified and kept in the loop if there are any COI tracking issues that need to be revised.
ACORD Certificate Of Liability Insurance
In today's fast-moving business world, it is important for every business owner to make sure they have the right protection for their investments—which, of course, are the businesses themselves. But although every savvy business owner will try to plan ahead and do everything properly, there is no telling when something might go wrong in ways they can't control. In this situation, the financial fallout from these problems could lead to significant issues for the business. In the worst cases, these issues can be so large that the business may even have to close.
With all of these potential issues facing a business, it is important for business owners to make sure that they have general liability insurance. In addition, as proof of their general liability insurance, it is common for business owners to have an ACORD certificate of liability insurance on hand and readily accessible.
Obviously, there are a lot of steps that business owners will need to follow in order to make sure they have the right level of coverage for their company. However, having this in place will prove crucial for all present and future jobs.
ACORD Insurance Services
In the end, it is important for everyone to remember that ACORD—Association for Cooperative Operations Research and Development—is not actually an insurance company. instead, this is an organization that helps set insurance standards. So even though many people do look at ACORD insurance services and ACORD insurance claims forms as an important part of their daily operations, an ACORD certificate of property insurance is only that: a certificate. This nonprofit organization only makes forms for insurance companies. They do not actually provide any insurance services themselves. This is an important difference that business leaders will need to keep in mind. As a purchaser of insurance, you don't need to know how to get ACORD insurance certificate forms; you need to know how to request a filled-out certificate from your insurance broker so that the information is accurate according to your policies.
After you receive these ACORD forms filled out from your insurance broker, it is also important to make sure you keep track of them closely. After all, these forms are proof that you had the insurance on the day the certificate was issued. This is proof any company that hires you to do work is going to ask for.
If that is the case, then you might be wondering about finding replacements; or, earlier in the process, you might be wondering how to get an ACORD insurance certificate in the first place.
The best place you can look if you need to get this form replaced or reissued is your insurance company or agent; ask them to issue a replacement certificate. Once you get another copy, though, make sure you do not lose track of it, since it can prove very important to the daily operations of your business.
ACORD 125
If you are looking for an ACORD insurance quote, stop, because ACORD is not an insurer and cannot provide quotes. The ACORD 125 commercial insurance application form will contain general but important information about the business and how it is protected in case of accidents and emergencies. A few examples of important pieces of information that should be included on this form include prior insurance policies, a description of the company, and the address of the business.
If you are looking for insurance, then you also need to make sure that you get the right amount of protection. Given that every business and every industry are different, the right insurance policy for one business is not necessarily going to be the right insurance policy for another. Speak to your insurance provider about your unique needs.
ACORD 25 Form
One of the most common forms in use is called the ACORD certificate of general liability insurance form—the ACORD 25. Now, keep in mind again that this is not an actual liability insurance policy; instead, it is proof that you had such a policy on the day the certificate was issued by your insurance broker. This form should include information such as the name of your insurance vendor, the policy number, your name, the first date effective of the policy, the expiration date of the policy, and the financial limit of the policy.
Finally, any company that is hiring a contractor is almost certainly going to ask for proof of liability insurance, and that is another area where these ACORD 25 forms are helpful. Here, they act as proof that you had the listed liability insurance on the date the certificate was issued. Then if a contractor is asked to show proof of liability insurance, they can provide an ACORD 25, as long as it has been filled out in accordance with all ACORD 25 instructions by an insurance provider. That way, any company that is hiring them can feel confident that they have the right insurance that the hiring company requires.
ACORD Liability Insurance
On the other hand too, if you are a business hiring a vendor, it is important to make sure you always ask for their ACORD liability insurance certificates, or other certificates if they don't use ACORD. Here, if you are looking for help with the ACORD certificate of insurance verification, you might want to take a closer look at an ACORD certificate of insurance sample. Make sure you take a close look at the details included in this certificate so that you know the limit of the business's liability coverage in case something goes wrong. If everything on the certificate looks right, you can then check with the issuing insurance broker to verify the coverage; after all, a certificate is a statement about one day in time. There's nothing on it that would notify you if the insured canceled the policy the next day.
The vast majority of business contracts will require liability insurance. If the contract does not require any liability insurance, then the hiring entity will be liable for the actions of the contractor if that contractor does not have the appropriate protection. Or, if the contractor is underinsured, then ultimately the hirer will be responsible for the remainder of any financial damages. At the same time, if a company requires a certain level of liability insurance and the contractor does not meet this, then the contractor is not compliant with the hiring entity's standards.
ACORD General Liability Insurance
Ultimately, it is important for both large companies and contractors to make sure that they have the right general liability insurance. Plus, for every new business contract, it is important for contractors to make sure what is recorded on their ACORD general liability insurance certificate is enough to satisfy their hiring entity's requirements. This insurance is important because it protects not only the client but also the contractor in the event that something happens to a worker or to property during a job.
Furthermore, there are also situations where contractors may need to have something called an "additional insured." Having this option means that the contractor is covered by general liability insurance and the policy also extends to certain other parties who may be involved in the same job, usually the entity hiring the contractor.
So no matter which form—or forms!—of insurance you have, it is important to display that proof of additional insured using an ACORD 25 additional insured form. Given how important this coverage is, anyone who has questions or concerns about how they should go about proving they have the right insurance policy should reach out to trained professionals to learn more. That way, you can rest assured that you have filled out the forms correctly and that you have all the best policies active for your business as well.
ACORD Certificate Of Liability Insurance
A poll of insurance certificate issuers is likely to tell us that the ACORD certificate of liability insurance form is the most commonly used certificate of insurance. ACORD—The Association for Cooperative Operations Research and Development—is the most trusted source of standardized insurance forms in the industry. So many insurance experts first learned their trade by looking at a blank ACORD form. Many of our insurance experts here at myCOI did.
The ACORD certificate of liability insurance PDF is easily read by myCOI's software solutions for certificate of insurance tracking. That was one of the first things we taught it because we knew how prevalent ACORD forms were in the industry. When people need to point to show a model of a certificate of insurance, they often show an ACORD 25 certificate of insurance example. It's just that common.
Let's take a look at what an ACORD form is, and how it's used.
ACORD Certificate Of Insurance Sample
As you are looking at your ACORD certificate of insurance form sample, and then double-checking your own actual certificate, it is important to make sure there are no mistakes. If you're providing this certificate to a hiring entity, they're going to verify your coverage. If there are discrepancies, that could slow down when you begin work or even delay the project.
Think of it this way: in many states, you're required to carry a certificate of car insurance sample—well, not a sample, the little card your car insurance agent gives you is the actual certificate—in case you get pulled over, to prove you're covered in case of an accident. Companies have to do the same check, except the insurance requirements for businesses when dealing with other businesses are far more complex.
If you're learning how to read certificates of insurance, a sample ACORD 25 is a good place to start. It is the most common general liability certificate of insurance form.
On the ACORD 25 sample, there are a few common mistakes people make. One of the most common mistakes is getting policy numbers confused. Your auto, workers' compensation, and general liability insurance policies may have different policy numbers. Make sure you pair the right policy number with the right type of insurance.
Furthermore, these policies may have different expiration dates. Do not assume they all have the same effective date and expiration date. If you do, you may end up assigning the wrong dates to the wrong policies. This will render your ACORD 25 form inaccurate. Double-check the policy effective dates and expiration dates before you provide the certificate to anyone. If you have questions about your insurance policies, reach out to your insurance provider for more information.
How To Get ACORD Insurance Certificate
Answering the question of how to get ACORD insurance certificates depends entirely on who you are and what your role is in this certificate of insurance process, because it affects both sourcing and propriety. We all know that poor tracking on a certificate of insurance costs more than just lost time, but also insurance risk.
Let's imagine first that you're a contractor, vendor, or other third-party who is being asked to provide a certificate of insurance before you can begin work. In this case, you want to start with your insurance agent or broker's website. Many providers offer forms that allow you to request the correct certificate without having to make an appointment or make a phone call.
What you should not do, though, is start wondering how to get ACORD insurance certificates online yourself, so you can fill them out without your agent. Don't do that. Never do that. Let your insurance agent or broker do that. It's their job, they're the experts.
If you're a certificate holder (the person or entity who receives certificates of insurance) and you need to request updated certificates, you can also start at the insurer's website, if you know which agent to check out. This can happen in some instances when a certificate holder needs a new or updated certificate because of discrepancies or questions.
Lastly, if you're an insurer looking for form templates, or even sitting at your computer asking "how do I get a certificate of insurance form template," check with your senior leadership or check online for resources. ACORD provides helpful instructions for agents and brokers about filling out their forms.
Sample Certificate Of Insurance With Additional Insured
IRMI—the International Risk Management Institute—defines an additional insured as "a person or organization not automatically included as an insured under an insurance policy who is included or added as an insured under the policy at the request of the named insured." That translates quite often as "I need to extend the coverage I purchase from my insurer to the third-party hiring me to do some work."
A sample of additional insured endorsements is relatively easy to find online, wherever you look for certificate of insurance templates. A quick search will turn up a plethora of certificate of insurance additional insured samples. What you're going to see is a standard certificate of insurance, but with the addition of the additional insured. Be careful that you don't mistake a sample certificate of insurance with additional insured for an example of the kind of coverage you need to secure for your business; that's a conversation you need to have with your agent or broker, not something you get from a PDF.
If you're on the other side of this conversation, as a business requesting additional insured status on the certificates of insurance you collect from your third parties, you already know the necessity of such endorsements. Transferring additional risk incurred by your third parties back to those third parties is a critical part of risk management, and few companies can afford to carry the risk of damaging claims on their own books.
Many companies that use a sample letter requesting certificate of insurance from vendors often have special versions of that letter that lay out the requirement for additional insured endorsements. It would include the specific endorsements sought, provide a list of limitations that your company will not accept, or other insurance-related notes like that. Risk management teams often have custom letters for different industries or verticals.
How To Verify A Certificate Of Insurance
Certificate of insurance compliance is the work a risk manager or compliance admin does to collect, verify and maintain the certificates of insurance provided to that company by its third parties: they are the experts who know how to verify a certificate of insurance for compliance.
Each certificate of insurance has to be checked, first and foremost to ensure that it claims all the necessary coverages, amounts, limits, and exclusions that your company requires of its contractors. Sure, there is general liability insurance mentioned, but does it protect to the same amount that you require?
Also, what assurances do you have that the contractor didn't let the policy lapse the day after they handed you the COI? Are you verifying with insurance agents that these contractors still hold the policies and protections that their COI claims? Are there exclusions to the contractor's protection that will mean you're held responsible for risk that should properly rest with the contractor?
Remember that there are varied certificates of insurance requirements by state, and you need to be aware of them. Certificate of insurance best practices in every case remind you to check your state requirements, and we'd be remiss if we didn't do the same.
ACORD Certificate Of Insurance Verification
The right form makes ensuring your vendors and contractors are in compliance much easier. With an ACORD certificate of insurance verification becomes a matter of confirming each of the listed values matches what your requirements are.
Easy, right? Not exactly. The easy and unquestioned access of anyone to free ACORD 25 fillable forms means that you may need to also verify the coverage with the issuing agent or broker. Knowing how to verify a certificate of insurance with the issuing agent is a handy skill for risk team members or compliance admins to have. Business insurance is a complicated business, and it pays dividends to learn all the skills you can.
Sometimes it's not just coverage you have to verify. If you've held this certificate for a while, you may want to verify that the certificate is still valid. Coverage expires, or gets modified, and sometimes new certificates with accurate coverage are not provided to you.
Regardless, knowing how to verify a certificate of insurance is a skill every compliance admin or risk manager needs to know.
ACORD Certificate of Property Insurance
One of the most important certificates of insurance you have is your ACORD certificate of property insurance. If you own or lease commercial property, you need to protect it with the right property insurance policy. As you are reviewing this property insurance certificate, refer to a certificate of property insurance sample to make sure the information representing the policy is filled out properly. Evidence of property insurance samples can also assist with making sure your ACORD certificate of property or evidence of property insurance is accurate.
There are several important items to confirm on this form. First, you need to make sure your policy number is correct. Refer to your insurance policy for this number. Then, you have to list the policy effective date and the expiration date. The effective date is when the policy becomes active. The expiration date is when the policy expires. You may also want to verify the appropriate property coverage, such as Building Contents or Business Interruption coverage of this insurance policy as well.
Remember that the date on which you pay your property insurance premium is not necessarily the date the policy becomes active. Double-check the dates to make sure the certificate is filled out properly.