What Is COI Certification?
COI certification is the act of providing someone with an official document, a COI, that attests to their current insurance coverage status. Each COI includes information about the particular insurance policy, such as the type of coverage, policy limits, and effective dates of coverage, as well as information about the policyholder and the party requesting the certificate.
We'll discuss the ins and outs of COIs and COI certification. Follow along to learn why insurance certificates are so important and how to get your compliance management on track.
White Glove Service, Industry-Leading Tech
Don't Just Think You're Protected
Know you're protected. With myCOI's team of industry experts helping you make decisions that protect your bottom line, you can rest assured that your interests are preserved. Our services are built on insurance industry logic that keeps risk out of your books and fast-tracks your insurance compliance efforts quickly and effortlessly. With the right tech and people behind you, it's simple.
Automated, Warranted COI Tracking
If your COI tracking efforts aren't automated, your time is being wasted. With myCOI, gone are the days of manually chasing down compliance-related docs. Our software tracks, verifies, and fixes compliance issues for you. When issues arise, our people-backed team fixes them on the spot. The best part? It's all warranted so you know each and every move made is the right one.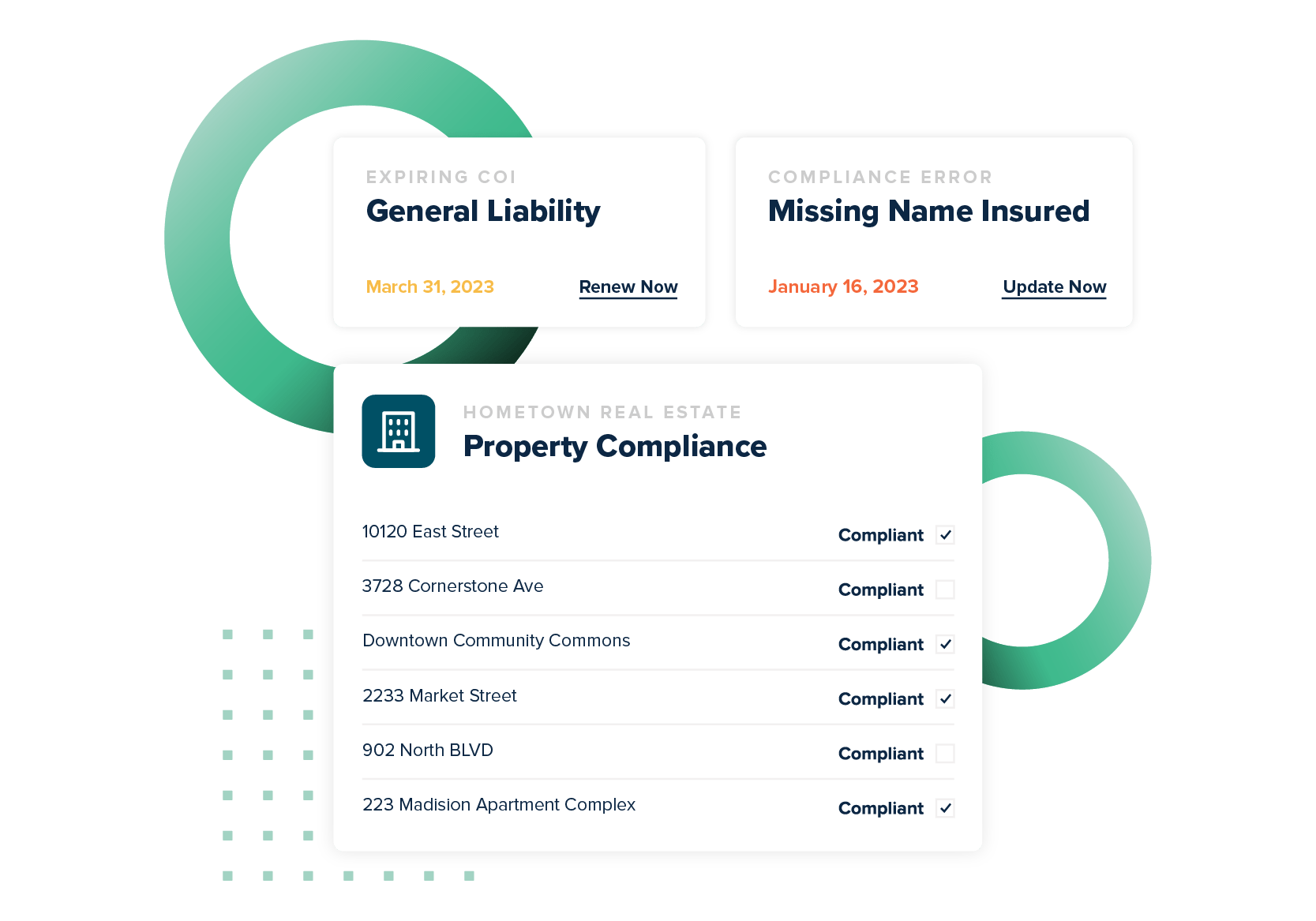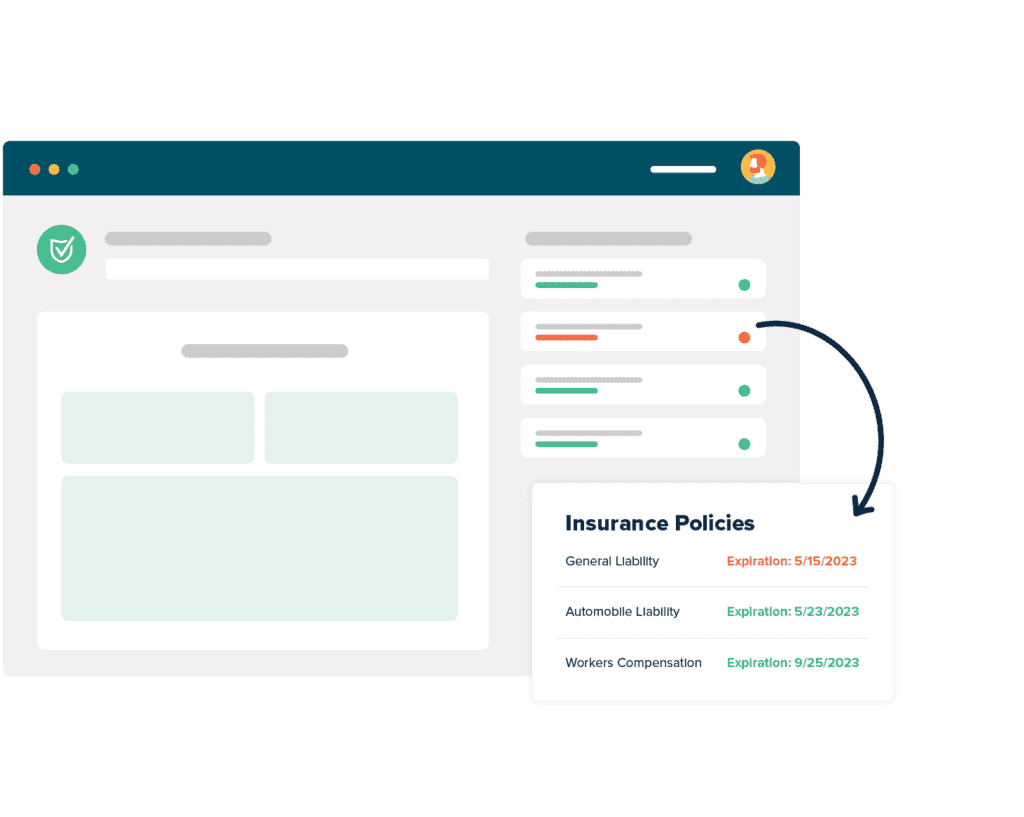 Proactive Policy Review
myCOI's Quarterly Policy Verification feature checks every COI to make sure those policies are still active, so you can rest easy knowing the risk is mitigated and off your plate. Keep things from falling through the cracks without lifting a finger. Tracking insurance compliance is hard, but it doesn't have to be. Embrace simplicity and efficiency with myCOI—the unrivaled companion for your risk management needs.
What Our Customers Say
OUTSTANDING!! In my opinion, this has been the best program I've had the pleasure of using. From all the services provided within the program and the exceptional customer service, this has made my job duties very manageable. I cannot say enough good things about this program. I highly recommend it!
Having one place for our customers to upload their insurance certificate makes tracking insurance certificates much easier. We use to internally file and collect insurance certificates from customers and it was a challenge to collect all of that paper and to effectively track the insuarnce certificates.
We switched to myCOI from another insurance tracking system because we were looking for a more involved vendor that could do more for us than just track certificates. We needed help with compliance and having a system that could contact vendors and keep on them until they became compliant with insurance. myCOI does this for us and we have very few non-compliant vendors compared to the number we had in our last system.
The product has met our expectations in that it has allowed us to regain some time that was previously spent doing all of the administration of insurance cert requests, reviews and acceptance. With that, we have been able to reallocate resources to more pressing business needs rather than insurance certificate management.
Our clients are thrilled with myCOI and how their compliance levels have been elevated beyond expectations. The reports and analytics are so valuable in measuring activity and compliance achievements. The system functionality is easy to use. The team are true partners.
MyCOI is a very great portal, a space where to keep organized all our certificate of insurance for our vendors. With the advantage that are online, always accessible and no paper backup is needed.Once you learned how to navigate into the portal and how to use the report tab you will have a world opening to you. In just one place you can access all the vendor information, policy expiration date, non-compliant policy line and see the last date when a document was updated.Our Senior Client Success Manager, [sensitive content hidden], she is always on top of our requests, and she replies promptly.
MyCOI has been a fantastic partner for our company. With frequent meetings with our dedicated account manager, ongoing communication, and the ability to customize our insurance needs with precision, we've seen exceptional outcomes throughout our portfolio. [sensitive content hidden] has provided invaluable assistance, and the review team is exceptionally competent and amicable, even when we inundate them with urgent requests. Overall, it's been an excellent experience, and we're eagerly anticipating our continued collaboration with them.
myCOI has helped our company go from drowning in unreviewed cois to getting our insurance review under control. Their team has been an amazing support and resource, and helped us to navigate the Essentials program, later transitioning to Concierge service as the workload was more than our team was able to manage. The beauty of this platform is that it provides a single, central hub for clients, agents and vendors to access, update and communicate. Every myCOI team member with whom I have worked has provided excellent service, been pleasant, knowledgeable, and provided quick response times. The quarterly meetings are beneficial to recap what is going well, where we need to improve and have questions answered. I highly recommend myCOI.
myCOI provides amazing custom support and they make the platform very easy to navigate. The myCOI team is always very helpful and quickly responds to my questions or goes out of her way to direct me to the correct team member who is able to assist me.
myCOI has amazing customer support. Our account representative meets with us quarterly to keep up-to-date on how our group is feeling about utilizing the system and interfaces with us day-to-day, as needed, to address any issues we encounter with agent notes, reviews, etc. It has been an incredibly efficient and beneficial relationship since day 1.
The myCOI platform has been so easy to work with from multiple angles. Because there are multiple stakeholders, we are all notified and kept in the loop if there are any COI tracking issues that need to be revised.
In today's diverse economy, many situations arise where it is smart for both business owners and independent contractors to attain insurance coverage. Certificates of insurance, or COIs, are documents that aim to make it easier for both sides of this equation to prove that they have the necessary coverage in place to meet the standards for a particular project or industry.
What Is a COI or Certificate of Insurance?
A COI, meaning a "certificate of insurance," is a document that provides evidence of an individual's or a company's insurance coverage. COIs can act as proof of coverage for a multitude of policies, from general liability insurance to workers' compensation and more. They're a common practice in many business partnerships as they help keep both sides accountable and covered in the case of unfortunate accidents or injuries. 
What Is a COI in Business?
A certificate of insurance for business refers again to the official document certified by an insurance agent providing a party with coverage. A certificate of insurance for small businesses refers to the same kind of document, although COIs can be even more important for companies with fewer assets in order to ensure that they mitigate risk wherever possible so that costly lawsuits don't lead them to have to close up shop.
COIs are often requested by clients, vendors, or other business partners as part of their process for meeting contractual and regulatory requirements. By obtaining a COI from every third party you hire or vendor you choose to work with, you can ensure that you're only working with people with adequate levels of coverage to handle potential accidents that could happen on a job. So, while a COI is not business insurance per se, it does help you mitigate your risks.
Why Do Companies Need a COI?
COIs are an important business practice, especially when it comes to risk management. Companies should verify the coverage levels of their hired third parties through COIs in order to minimize their personal liability and financial risk exposure.
Because businesses can be held responsible for damages that their workers and hired third parties cause on the job, they should ensure that all vendors have an appropriate insurance policy in place to cover said damages. If they don't, potential legal liabilities and financial losses resulting from accidents, property damage, or other incidents that could occur during the course of the project could lead to claims that turn into expensive lawsuits for the hiring company.
Another reason that companies need COIs is that oftentimes, contracts require individuals to have proper insurance coverage in place. Additionally, depending on the industry you're operating in, companies may have legal or regulatory requirements that mandate specific insurance coverage. In order to meet contractural and regulatory requirements, avoiding risks of contract breaches, fines, and other legal ramifications, prepared businesspeople always request COIs.
Finally, a certificate of insurance for vendors is a standard business practice in many industries. They provide a sense of confidence to business partners and other hiring parties. Companies can gain some peace of mind from knowing that their potential for legal disputes and financial losses is reduced because they did their due diligence of ensuring that their vendors have taken the necessary steps to protect themselves and those working with them.
Why Would Someone Ask For a COI?
There are many reasons why someone should ask for a COI. The main one is to verify the insurance coverage of third-party hires, either to ensure that they have adequate protections to mitigate potential risks, maintain compliance, or meet other contractual or regulatory requirements.
One example of where you might need proof of insurance is that you could need a certificate of insurance for events. Suppose you're the manager of an industry conference or trade show where different vendors show up to exhibit. In that case, you'll want to reduce the level of risk for your company by ensuring that each exhibitor comes with their own coverage. This way, both the conference runners and the exhibitors should be financially protected from any event-related damages.
Is COI the Same as a Liability Insurance Policy?
A COI is not the same as liability coverage—or any insurance policy, for that matter. COIs provide proof of an existing policy and will thus always be tied to a policy but cannot ever take the place of insurance coverage. For example, a contractor might attain and pay monthly premiums on liability insurance coverage, then get a COI for a job bid that provides official proof of that liability policy.
What Does COI Insurance Cover?
Again, a certificate of insurance is not an insurance policy itself, so it doesn't provide coverage for anything. However, it does provide evidence that some kind of insurance coverage has been purchased, and the document covers important details about the policy and policyholder, such as:
Policyholder contact information
Insurer contact information
Coverage limits such as type, length, and level of insurance coverage
Certificate holder contact information
Who Should the Certificate Holder Be On a COI?
The certificate holder on a COI should be the entity that requires and confirms proof of insurance coverage from a policyholder. That typically means you, the hiring party of the vendor! Once certified by an insurer, a copy of the requested COI will be issued directly to you or your business so that you can verify that the level and timeline of coverage meet your business needs.
When Do You Need a Certificate of Insurance From a Vendor?
You essentially need a certificate of insurance from a vendor any time you hire them for a job where you could be held liable for their damages (e.g., property damage, bodily injury, professional negligence, etc.), especially when those damages could impact your bottom line. The COI should be in your hand before they begin any work.
Instead of facing the financial ramifications stemming from claims, lawsuits, and litigation, an easy way to avoid a whole class of cases is through COI management. By requesting a COI from each vendor you work with and doing so before they begin working with you, you reduce your company's liability and risk exposure, saving you time, money, and the headaches of costly claims.
How Expensive Is a COI from an Insurance Company?
Certificates of insurance come at no cost to a policyholder (the covered party) or the certificate holder (the requesting/hiring party). Most insurance companies provide them free of charge to policyholders whenever asked.
That's because COIs are not like insurance policies, which are paid for in monthly installments by the covered party in order to "pay it forward" in the case that they ever need financial compensation or coverage for an agreed-upon situation. COIs are simply proof of that coverage and are an often requested document as vendors provide them to various business partners and potential hiring parties.
How Do I Create a COI?
While you can view examples of various COIs online, you should refrain from attempting to create one for yourself. Certificates of insurance are official documents that can only be certified by insurance agencies.
In fact, only the insurance broker or agency that issued the policy in question to the policyholder in question can be the one to certify the document. Any attempt to create your own COI is considered fraudulent and can have costly consequences for the companies and vendors involved.
Instead, we'll cover how to request a certificate of insurance from a vendor. As the hirer of a third-party service provider, here's how you can go about requesting a COI from a potential hire:
Ask them for a COI. Typically, this is done via email; however, it can also be done through a mail or in-person request. You'll simply request that the vendor procure a COI from their insurer for a given policy and provide it to you. Although it can take a few days to a few weeks for vendors to request the certificate from their insurer, the insurer to produce the document, and the vendor to provide it to you, you may also present a timeline in which you'd like for the COI to be delivered.
Provide them with your requirements. If there's anything that your company, industry, or project specifically requires, be sure to lay it out plainly for the vendor. For example, if you want them to list your company as an additional insured, granting you the same coverage they get (for an increase in premium price), you should formally request that they do so.
(Once you receive it,) Verify it. After you have a vendor's COI in hand, the job doesn't stop there. You'll still need to verify to make sure all of the information is correct, up-to-date, and meets your standards. And if you continue working with them into the future, you'll want to make sure the coverage doesn't lapse.
How myCOI Can Help Manage COIs and Insurance Coverage Risks, and Compliance
There's a lot that goes into COI tracking and management. Instead of doing it all manually, let us show you how easy it is to remain compliant and reduce your level of risk with myCOI. Call us today.