Best Certificate of Insurance Tracking Software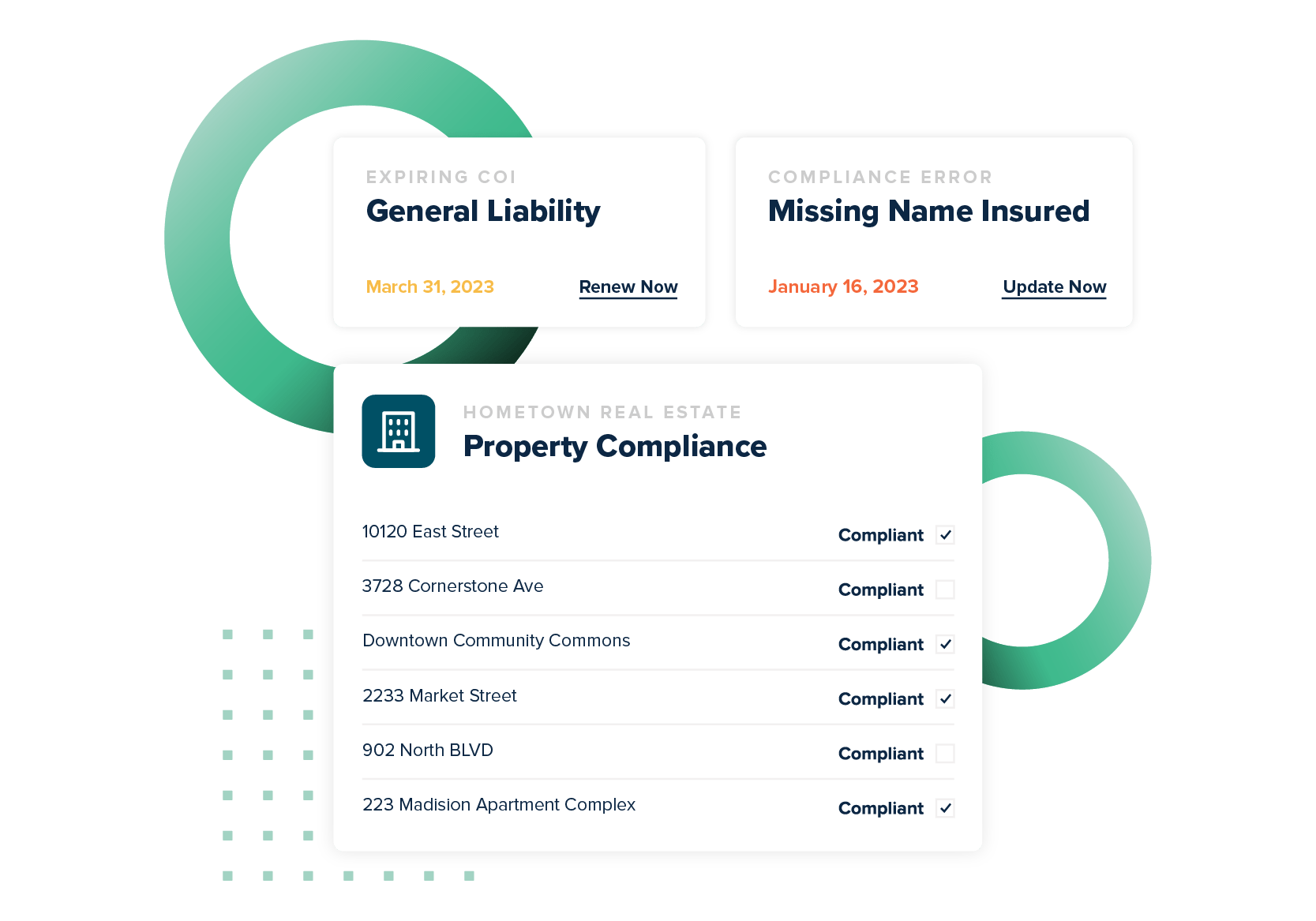 Automate Your COI Tracking
There's no more need to worry about stacks of certificates cluttering up your office or hours of frustrating phone calls and emails to chase down certificates. myCOI Central provides your company with a solution to automate your insurance certificate requests, collection, and compliance resolution, while also giving your team a single, centralized repository to view compliance.
Protect Your Business From Costly Claims
Ask your CFO or Risk Manager just how much claims and lawsuits can cost your business. If you are collecting certificates just to confirm they were received, you have no guarantee that your requirements are being met. myCOI Central is built on a foundation of insurance industry logic to ensure you remain protected with the appropriate coverage.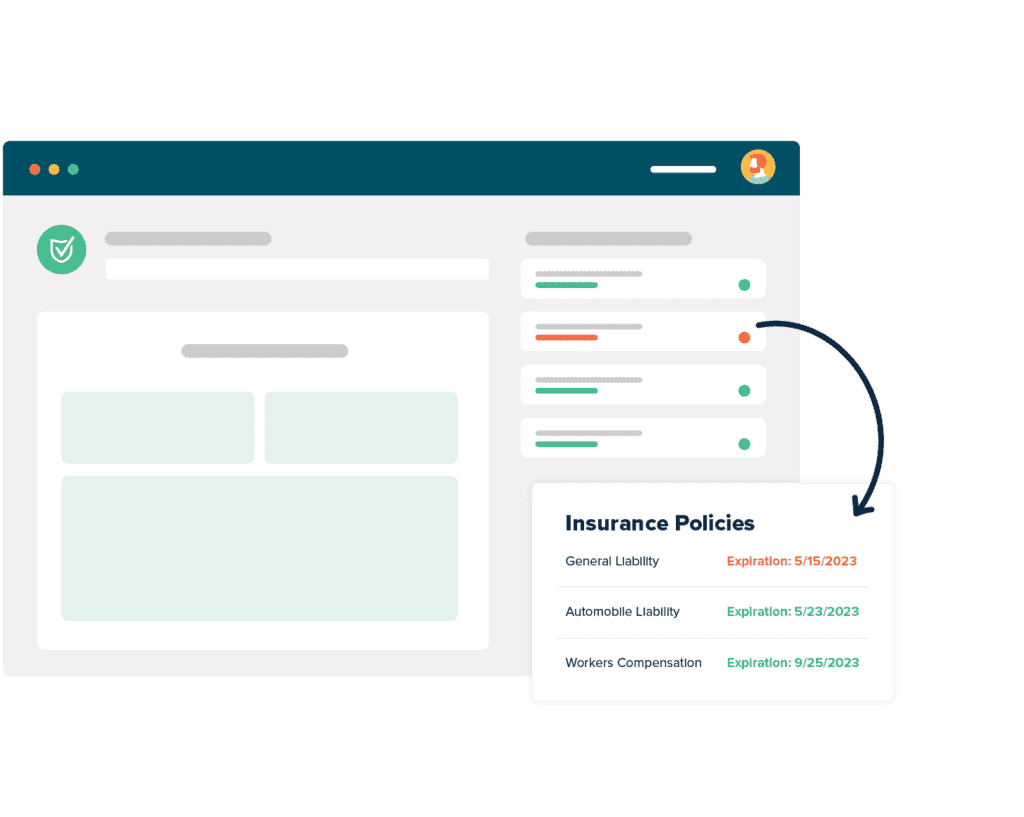 For Agents & Brokers
Win business and boost retention by providing agency branded, industry leading insurance tracking software to your insureds. Offer software only or add on your own compliance review services.
What Our Customers Say
OUTSTANDING!! In my opinion, this has been the best program I've had the pleasure of using. From all the services provided within the program and the exceptional customer service, this has made my job duties very manageable. I cannot say enough good things about this program. I highly recommend it!
Having one place for our customers to upload their insurance certificate makes tracking insurance certificates much easier. We use to internally file and collect insurance certificates from customers and it was a challenge to collect all of that paper and to effectively track the insuarnce certificates.
We switched to myCOI from another insurance tracking system because we were looking for a more involved vendor that could do more for us than just track certificates. We needed help with compliance and having a system that could contact vendors and keep on them until they became compliant with insurance. myCOI does this for us and we have very few non-compliant vendors compared to the number we had in our last system.
The product has met our expectations in that it has allowed us to regain some time that was previously spent doing all of the administration of insurance cert requests, reviews and acceptance. With that, we have been able to reallocate resources to more pressing business needs rather than insurance certificate management.
Our clients are thrilled with myCOI and how their compliance levels have been elevated beyond expectations. The reports and analytics are so valuable in measuring activity and compliance achievements. The system functionality is easy to use. The team are true partners.
MyCOI is a very great portal, a space where to keep organized all our certificate of insurance for our vendors. With the advantage that are online, always accessible and no paper backup is needed.Once you learned how to navigate into the portal and how to use the report tab you will have a world opening to you. In just one place you can access all the vendor information, policy expiration date, non-compliant policy line and see the last date when a document was updated.Our Senior Client Success Manager, [sensitive content hidden], she is always on top of our requests, and she replies promptly.
MyCOI has been a fantastic partner for our company. With frequent meetings with our dedicated account manager, ongoing communication, and the ability to customize our insurance needs with precision, we've seen exceptional outcomes throughout our portfolio. [sensitive content hidden] has provided invaluable assistance, and the review team is exceptionally competent and amicable, even when we inundate them with urgent requests. Overall, it's been an excellent experience, and we're eagerly anticipating our continued collaboration with them.
myCOI has helped our company go from drowning in unreviewed cois to getting our insurance review under control. Their team has been an amazing support and resource, and helped us to navigate the Essentials program, later transitioning to Concierge service as the workload was more than our team was able to manage. The beauty of this platform is that it provides a single, central hub for clients, agents and vendors to access, update and communicate. Every myCOI team member with whom I have worked has provided excellent service, been pleasant, knowledgeable, and provided quick response times. The quarterly meetings are beneficial to recap what is going well, where we need to improve and have questions answered. I highly recommend myCOI.
myCOI provides amazing custom support and they make the platform very easy to navigate. The myCOI team is always very helpful and quickly responds to my questions or goes out of her way to direct me to the correct team member who is able to assist me.
myCOI has amazing customer support. Our account representative meets with us quarterly to keep up-to-date on how our group is feeling about utilizing the system and interfaces with us day-to-day, as needed, to address any issues we encounter with agent notes, reviews, etc. It has been an incredibly efficient and beneficial relationship since day 1.
The myCOI platform has been so easy to work with from multiple angles. Because there are multiple stakeholders, we are all notified and kept in the loop if there are any COI tracking issues that need to be revised.
Insurance Agency Management System
Independent insurance agents can find themselves extremely busy. In addition to getting new customers, they have to manage their current insureds. Successful agents can earn higher profits, but they will have to do more work. They could be wasting time and money if they use manual methods to manage their agencies.
An insurance agency management system can help agents and brokers do their jobs better and faster by automating typically routine and tedious tasks. Client database software for insurance agents is another method agents can use to make technology work to their advantage. An insurance agent who leverages automation can provide accurate work in less time than before.
Sometimes technology comes at a price. If an agency can not afford to use an electronic platform to manage their business, then they can find themselves falling behind their competitors. Today's business world is a dash towards higher profit margins. Agencies that use digital solutions can keep up with the brutal pace and pull ahead if they use tech the right way.
Agencies that are reluctant to pay for a management system can search the Internet for free insurance agency management software. If they try a free option and do not like it, then they might seek out a more expensive alternative that can offer them more features. An insurance agency software free download can also aid agencies that are trying to cut costs.
Reducing expenses and raising profits are two basic goals of business. Insurance agencies that can do both have to use every tool at their disposal. Once they get their finances into the black, then they can search for ways to drive more revenue. Supplementing their existing services with add-ons like certificate of insurance software courtesy of myCOI can be a bold, smart business move. An insurance agency management system is the first step toward financial security.
Top Insurance Agency Management Systems
General insurance software can store and organize many types of data like policies and certificates of insurance. This software can prove indispensable in simplifying workflows and processes. A well-organized agency that employs a streamlined workflow can do more, faster. If they can do more, then they can add customers to their existing base.
Researching the top agency management systems is no different than shopping for any other product or service. Word-of-mouth can play a significant role in shopping. Reviews for nearly everything can be found on several websites. Reading only the top and most critical reviews can stifle the decision-making process. Absorbing a vast number of opinions can result in money well spent.
An important thought to consider is that even if the top insurance agency management systems have the most reviews, they might not be a good fit for an agency. Every agency has its own rules and methods of doing things. Assessing the agency's needs and seeking specialized software to satisfy them can be a good idea.
Also, popularity is sometimes not a trustworthy sign of quality. Sometimes a product with the least reviews can outshine the most-reviewed competition. Maybe the product is new or does not have a marketing reach like others. Agencies shopping for a management system have to put in the time and effort to research.
Agency Management Systems For Insurance
Like most professional software, the best agency management system can make an agent's job easier.
Agency management systems for insurance can supply agencies with one location for storing, accessing, and managing policies, COIs, and other relevant documents. A cloud-based platform can be accessed anywhere at any time. All that is required is an Internet connection. This can reduce physical paperwork and file storage, which can keep an agency organized as well as save money on rent. An agency might not need a large office if they have a small number of files.
In addition to saving money, the best agency management system should be user-friendly. People of all skill levels should be able to use one with sufficient training. What is agency management system software that is not easy to use?
It is probably more trouble than it is worth.
Agents that want to make their jobs and lives easier should make room in their budgets for an agency management system. Any company that wants to become a leader in its field can take advantage of a superior way to work.
Small Insurance Agency Management Systems
Small insurance agency management systems can facilitate the organization, accessibility, and security of customer and policy data. An agency that becomes adept at using its system can gain new business and build strong relationships with insureds.
However, a small agency system still costs money. Less expensive software exists. Agencies can even use free applications. Whatever the cost, agencies can not afford to not use a digital management system. A powerful suite of tools can potentially yield superior accuracy and efficiency.
Small insurance agency management systems can be worth the initial investment. They can help agencies do more than they could before. This could aid their growth. As they grow, they may have to use a platform whether they can afford one or not. Having more customers usually means more work. Planning now for such a development can make tomorrow's work easier to complete.
An agency's size can quickly become irrelevant in the argument for agency management systems. They can grow as they take on new customers and responsibilities. The best agency management system is one that they can use as they rise from small-time to the top of their industry.
Insurance Agency Management Systems Cost
There is no escaping the fact that today's business world has gone digital. Technology has a steadfast grip on almost every facet of society. This is apparent in both personal lives and in business. Insurance software should be a requisite tool of every agency.
The best agency management system can streamline all of the work that took agencies hours to complete manually. A few people can now accomplish what an entire staff did years ago. It is all thanks to modern technology. What was not possible back then is now possible. Why not embrace it and let it work for us? After all, that is what software is designed to do.
Agencies should take complete advantage of insurance software so they can drive top-notch productivity and results. Although the price of a system can appear high to a financially beleaguered agency, agents and brokers should not fret over an agency management system cost. They might recoup the expense in the long run as they gain traction and build a larger customer base. Knowing what Insurance agency management systems cost is important, but so is improved efficiency. Insurance software can separate fruitful agencies from the rest.
Insurance Agency Management System Free Download
An insurance agency management system for small agencies might not fit into an agency's budget. No-cost options can exist to fulfill their requirements. An insurance agency management system free download can help a struggling agency through troubling times.
Free products and services can give people a chance to try something they would not normally use. They can also save people money. In these uncertain economic times, cutting costs is not only wise but vital for survival.
A free CRM for insurance agents can assist agencies with interacting with their customers. The best free CRM for insurance agents can develop strong customer relationships by staying connected. Keeping lines of communication in business open is critical to sustaining revenue. A free CRM can add additional value because it does not cost anything.
Free insurance agency software, including applications that can create and manage an insurance client database, can be as fully-functional as a paid alternative. Most open source insurance software is free and some are just as supported as their more expensive counterparts. Just like shopping for a platform with a price tag, researching these choices is essential to address an agency's needs.
Life Insurance Agency Management System
A life insurance agency management system can be a gamechanger for any agency that still manually executes its processes. Being freed from paperwork and the worry of attaining complete accuracy can be worth the cost of an agency management system (AMS). The experience can change the way people work. Knowing that there is an easier way can instill confidence and boost morale.
Agency management systems can do more than track current and prospective customers and automate repetitive tasks. They can enable agencies to monitor analytics so they can maximize their potential. Any weak areas can be examined. Action plans can be made and implemented to strengthen those areas. Business can continue, but not as usual. It can continue untethered, allowing agencies to go beyond expectations.
Agents looking for a management system should evaluate what a system can do for their agency now and in the future. They should also narrow the list down to those that are the most user-friendly. Planning to purchase a system takes time, but it can be more beneficial than the alternative – tedious work plagued by errors and confusion. A system that everyone can get on board with can eliminate all of that and serve their users, and ultimately customers, better.