Best Certificate of Insurance Tracking Software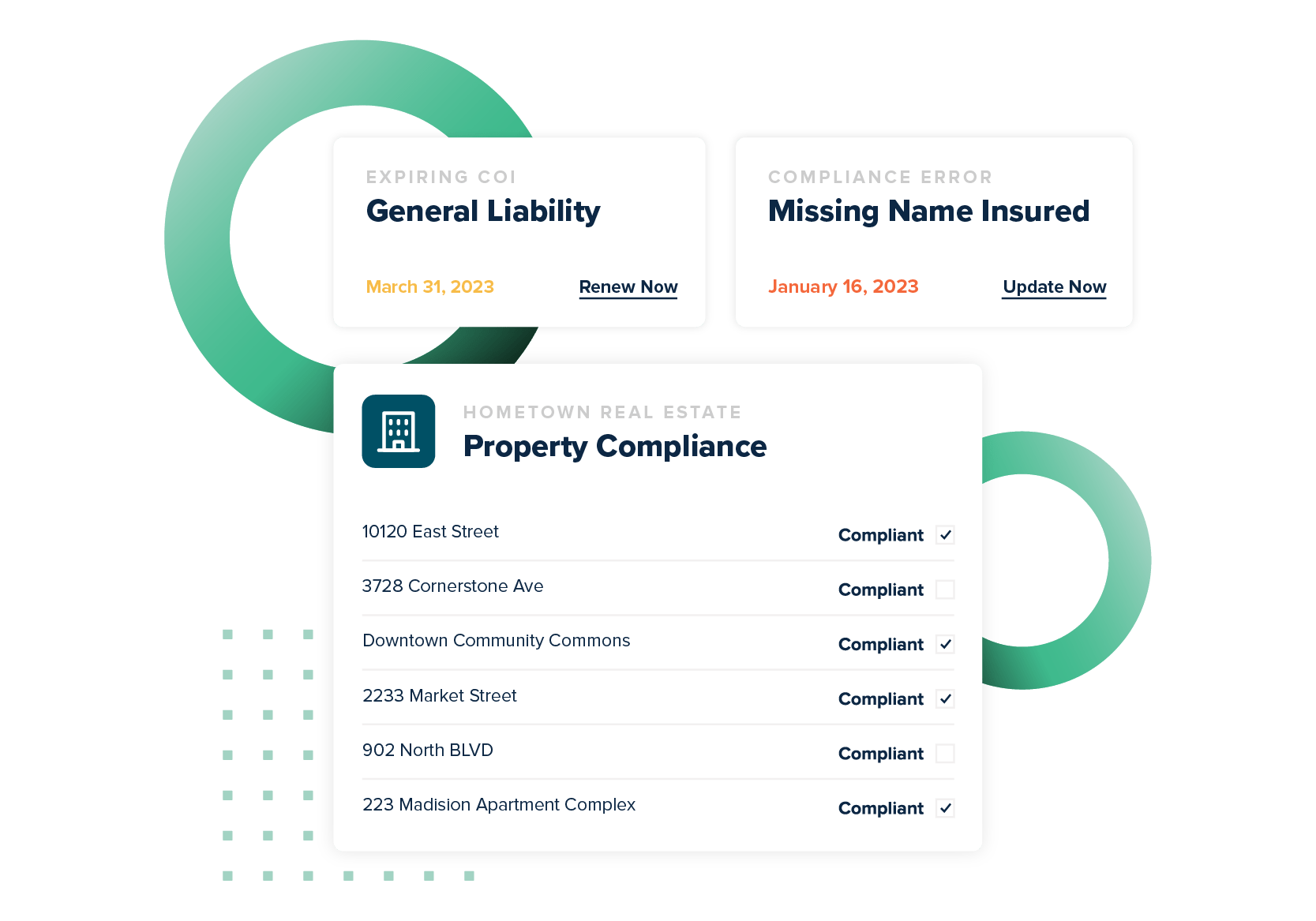 Automate Your COI Tracking
There's no more need to worry about stacks of certificates cluttering up your office or hours of frustrating phone calls and emails to chase down certificates. myCOI Central provides your company with a solution to automate your insurance certificate requests, collection, and compliance resolution, while also giving your team a single, centralized repository to view compliance.
Protect Your Business From Costly Claims
Ask your CFO or Risk Manager just how much claims and lawsuits can cost your business. If you are collecting certificates just to confirm they were received, you have no guarantee that your requirements are being met. myCOI Central is built on a foundation of insurance industry logic to ensure you remain protected with the appropriate coverage.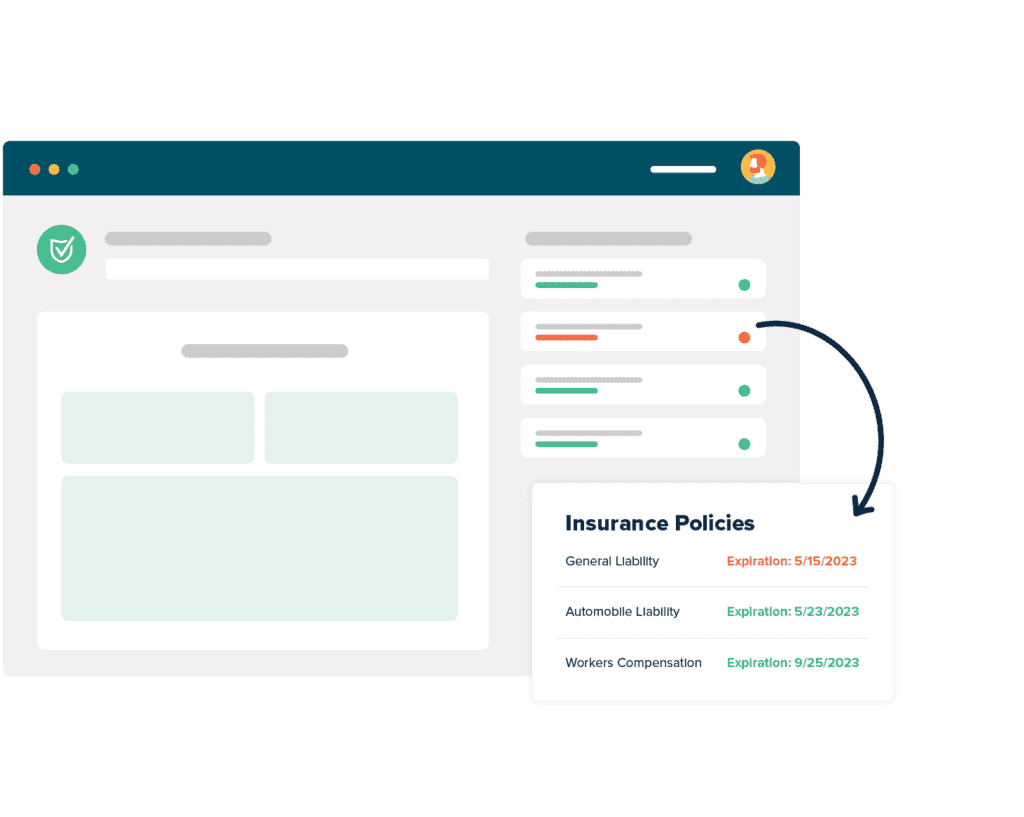 For Agents & Brokers
Win business and boost retention by providing agency branded, industry leading insurance tracking software to your insureds. Offer software only or add on your own compliance review services.
What Our Customers Say
OUTSTANDING!! In my opinion, this has been the best program I've had the pleasure of using. From all the services provided within the program and the exceptional customer service, this has made my job duties very manageable. I cannot say enough good things about this program. I highly recommend it!
Having one place for our customers to upload their insurance certificate makes tracking insurance certificates much easier. We use to internally file and collect insurance certificates from customers and it was a challenge to collect all of that paper and to effectively track the insuarnce certificates.
We switched to myCOI from another insurance tracking system because we were looking for a more involved vendor that could do more for us than just track certificates. We needed help with compliance and having a system that could contact vendors and keep on them until they became compliant with insurance. myCOI does this for us and we have very few non-compliant vendors compared to the number we had in our last system.
The product has met our expectations in that it has allowed us to regain some time that was previously spent doing all of the administration of insurance cert requests, reviews and acceptance. With that, we have been able to reallocate resources to more pressing business needs rather than insurance certificate management.
Our clients are thrilled with myCOI and how their compliance levels have been elevated beyond expectations. The reports and analytics are so valuable in measuring activity and compliance achievements. The system functionality is easy to use. The team are true partners.
MyCOI is a very great portal, a space where to keep organized all our certificate of insurance for our vendors. With the advantage that are online, always accessible and no paper backup is needed.Once you learned how to navigate into the portal and how to use the report tab you will have a world opening to you. In just one place you can access all the vendor information, policy expiration date, non-compliant policy line and see the last date when a document was updated.Our Senior Client Success Manager, [sensitive content hidden], she is always on top of our requests, and she replies promptly.
MyCOI has been a fantastic partner for our company. With frequent meetings with our dedicated account manager, ongoing communication, and the ability to customize our insurance needs with precision, we've seen exceptional outcomes throughout our portfolio. [sensitive content hidden] has provided invaluable assistance, and the review team is exceptionally competent and amicable, even when we inundate them with urgent requests. Overall, it's been an excellent experience, and we're eagerly anticipating our continued collaboration with them.
myCOI has helped our company go from drowning in unreviewed cois to getting our insurance review under control. Their team has been an amazing support and resource, and helped us to navigate the Essentials program, later transitioning to Concierge service as the workload was more than our team was able to manage. The beauty of this platform is that it provides a single, central hub for clients, agents and vendors to access, update and communicate. Every myCOI team member with whom I have worked has provided excellent service, been pleasant, knowledgeable, and provided quick response times. The quarterly meetings are beneficial to recap what is going well, where we need to improve and have questions answered. I highly recommend myCOI.
myCOI provides amazing custom support and they make the platform very easy to navigate. The myCOI team is always very helpful and quickly responds to my questions or goes out of her way to direct me to the correct team member who is able to assist me.
myCOI has amazing customer support. Our account representative meets with us quarterly to keep up-to-date on how our group is feeling about utilizing the system and interfaces with us day-to-day, as needed, to address any issues we encounter with agent notes, reviews, etc. It has been an incredibly efficient and beneficial relationship since day 1.
The myCOI platform has been so easy to work with from multiple angles. Because there are multiple stakeholders, we are all notified and kept in the loop if there are any COI tracking issues that need to be revised.
Insurtech Trends
As a risk manager, keeping track of multiple certificates of insurance (COIs) from all of your company's contractors can be overwhelming and challenging. Because of digitization, you may still be adapting to different insurtech trends that come and go rapidly. Even risk management teams full of experts find difficulties when tracking multiple certificates of insurance all at once. When you are managing multiple contractors, staying focused and making progress can seem like a huge obstacle. Given the ever-shifting trends, you may notice how, year by year, there are new insurance trends. 2022, for example, has different property and casualty insurance industry statistics than you can find when looking at 2021 trends.
However, keeping track of insurtech trends becomes much easier when you consider using insurance tracking software to track commercial property insurance trends. 2021 and 2022 are notably different in many fundamental ways but also share some similarities. Insurtech tracking software like myCOI can be incredibly valuable for tracking insurance trends and managing insurance certificates, but also because myCOI allows you to analyze property and casualty insurance industry statistics quickly.
With myCOI, your job as a risk manager becomes much more straightforward, and you can tackle your work more efficiently. If you are a risk manager or part of a risk management team, then you are likely aware of the importance of property and casualty insurance industry trends. 2021 and 2022 can both be analyzed with insurtech tracking platforms like myCOI. For those working on the risk management team at a large company, myCOI can make your daily processes much more uncomplicated. Struggles such as handling a large volume of COIs, verifying certificates with insurers, going through detailed coverage requirements with each COI, and dealing with third parties and their insurers when coverage is not acceptable are only some of the things that myCOI can help your team manage.
Insurtech Trends 2021
Keeping track of today's insurtech trends can only be done if you understand past insurtech trends. 2021 is the year that you should primarily focus on when you are figuring out the likely trends to come out of 2022. Paying attention to insurtech patterns allows you to identify commonalities in different trends over time, meaning that you can prepare yourself better as a risk manager.
In recent years, there has been a significant digital transformation in insurance. 2021 was no exception to this and marked some critical changes that allow people to understand the future of insurtech better. By default, insurance companies and your risk management team will be affected more and more by artificial intelligence and digitization as industries continue to go digital.
Because of digitization and the property and casualty insurance industry trends that 2022 has had thus far, platforms like myCOI have become even more critical for risk management teams. Your company and risk management team must continue to adapt to a digital world, and myCOI can make adapting easier. The numerous features offered by myCOI can help your risk management team find solutions to your problems, gain valuable insights, and streamline your insurance tracking. The insurtech tracking platform gives your team a singular overview of your company's COIs, compliance, and risk reporting for vendors, suppliers, tenants, subcontractors, franchisees, and carriers. MyCOI can help your risk management team adapt to insurtech trends smoothly.
Despite the year's digital transformation in insurance, 2021 indicated that further digital transformation is yet to come. Though the future is uncertain for insurtech, the digital transformation in insurance 2021 brought indicates that more insurance processes will develop in 2022. Due to this, it is essential to remember to stay on top of protecting your organization with tracking software that makes tracking risk management processes simple and straightforward.
Insurtech Trends 2022
While understanding insurtech trends by looking at the new insurance projects 2021 offered is essential, your knowledge surrounding insurtech trends shouldn't end there. Though the year isn't over, you can still learn valuable information by looking at insurtech 2022 trends thus far. Your knowledge of the insurance technology trends 2021 gave is only a starting point for your risk management teams.
Because of digitization, there has been a rise in insurtech startups. 2022 alone has seen the growth of various insurtech startups, and recent years have shown thousands of insurtech startups that highlight the importance of managing certificates of insurance. To have a successful risk management team and productive work environment, your company has to look at digital insurance trends. 2022, while having some consistent trends to 2021, has also shown new developments in insurtech trends. 2022 is also promising for many risk management teams learning more about insurtech and the importance of managing COIs.
New digital technology trends 2022, especially the continued implementation of artificial intelligence in insurtech, have indicated that, to succeed, risk management teams need to stay on top of every development that insurance is having in the digital realm. Intelligent automated systems, better analytics, and improvements in automated online assistance are only some of the insurance industry trends 2022 has to offer so far.
For risk management teams that are still struggling to deal with countless COIs, an insurtech conference 2022 has been planned and can be a great place to learn. Navigating numerous COIs is easier when you understand insurtech on a deeper level–something easily achieved with myCOI. Remember that your company's risk management team cannot appropriately address all of the insurers you manage without understanding insurtech and the increase of insurtech trends 2022 has left to offer. Therefore, you need to constantly protect your organization.
Global Insurance Market Trends 2021
As you learn more about insurtech trends, your organization must also look outside of your market. Looking at a global insurance market report can help you understand trends on a national scale and an international one. Once again, the global insurance market trends 2022 will be understood better when looking at the global insurance market trends 2021 has already brought.
Luckily, your risk management team can better understand global insurance market trends in the past by looking at the global insurance market report 2020 offered. This report contains extensive findings on the global insurance market trends in 2020, particularly concerning how COVID-19 and quarantine impacted the global market. Because of the pandemic, the global insurance market had to take numerous measures to supervise potential risks in the insurance industry, marking new insurance industry trends. 2021 was unsurprisingly impacted by the drastic changes faced in 2020 because of the onset of COVID-19. Due to this impact, one can still see various changes in global insurance market trends as the world continues to recover.
As a risk management professional, you are likely no stranger to the impact of COVID-19 on your team and how you manage COIs. Ensuring that all third parties involved with your company can provide sufficient insurance is necessary to protect your organization. However, because of global network trends caused by COVID-19, having enough people to track all COIs and look at the COIs thoroughly with new time restraints became much more difficult. For this reason, services like myCOI are integral to maintaining success and working with the right third parties. The software that myCOI offers can simplify the process of making your way through an overwhelming amount of COIs by taking a portion of the work off your hands and placing it in the hands of insurance experts.
Insurance Industry Trends 2020
To bring all of your new knowledge together, you should fully understand the insurance industry trends 2020 brought to the insurtech industry. As part of a risk management team over the past two years, you are likely aware of the challenges that COVID-19 has caused your organization. However, you can better understand the remaining challenges your organization faces when you prioritize insurance industry analysis.
Changing your perspective and understanding the global impact of COVID-19 can allow you to improve your insurance industry outlook. 2022, while not the perfect year for the insurance industry, is still showing how insurtech companies have adapted and developed due to the pandemic. When looking at insurance trend reports, you will notice evident similarities and differences between property and casualty insurance industry trends 2020 insurers faced and property and casualty insurance industry trends 2022 has offered so far. In the same way that understanding the insurance industry trends 2021 brought requires more profound thought and analysis, you must look beyond that when learning about managing COIs. Though there were many challenges facing insurance industry, 2021 proved that the industry is constantly adapting to new changes.
Using platforms like myCOI allows your risk management team to understand better COIs offered by potential third-party clients. Looking at the life insurance industry trends 2021 offered, along with property and casualty insurance trends, allows you to excel at your job and protect your organization. To succeed in the future and in the digital landscape, you should always be willing to learn from past trends and look toward future trends. The software from myCOI provides you with access to data and an advanced platform that can make navigating COIs simpler and less stressful for you and your team. By turning to the insurance experts at myCOI, you are giving your organization more protection from any outside harm.