Best Certificate of Insurance Tracking Software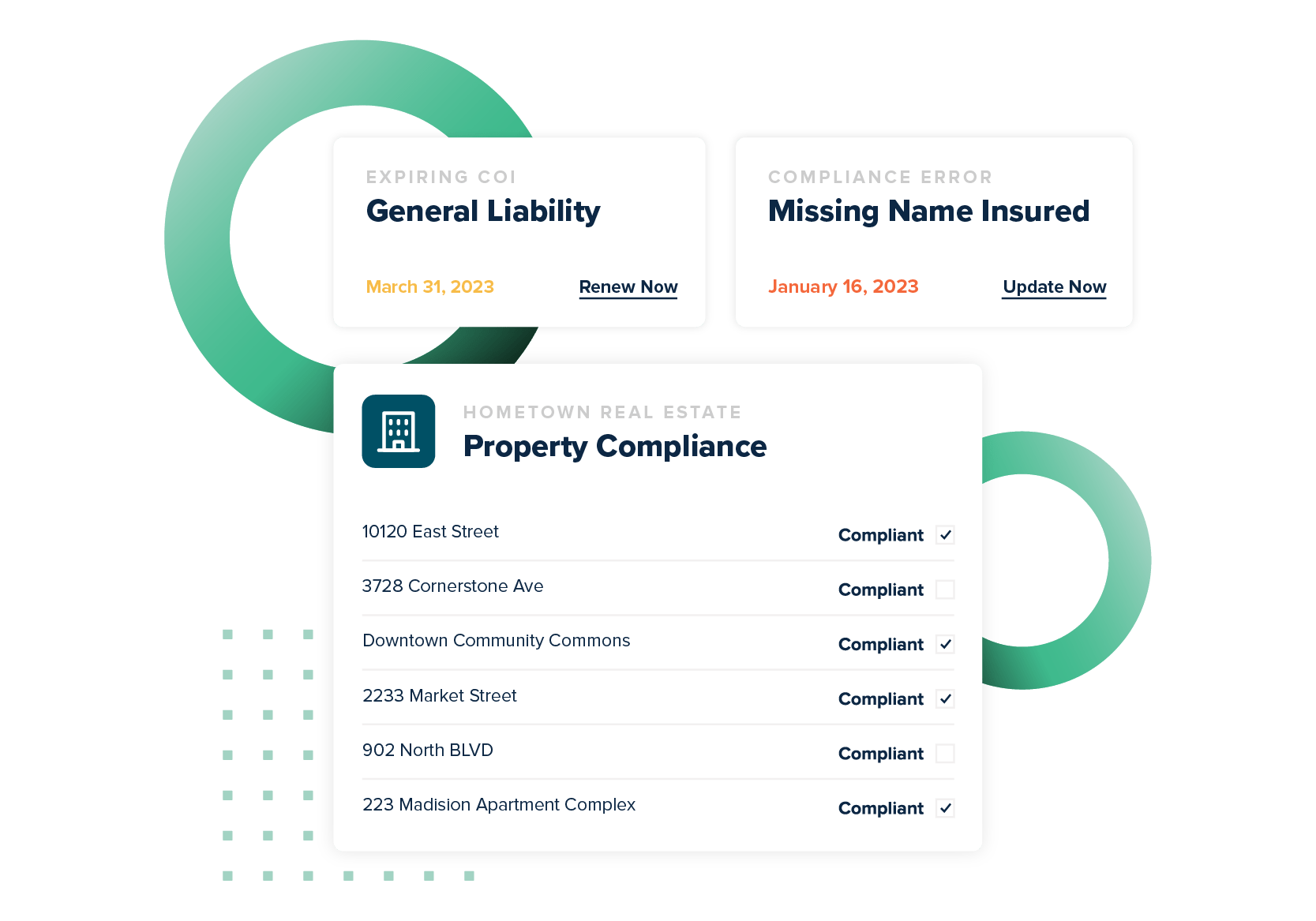 Automate Your COI Tracking
There's no more need to worry about stacks of certificates cluttering up your office or hours of frustrating phone calls and emails to chase down certificates. myCOI Central provides your company with a solution to automate your insurance certificate requests, collection, and compliance resolution, while also giving your team a single, centralized repository to view compliance.
Protect Your Business From Costly Claims
Ask your CFO or Risk Manager just how much claims and lawsuits can cost your business. If you are collecting certificates just to confirm they were received, you have no guarantee that your requirements are being met. myCOI Central is built on a foundation of insurance industry logic to ensure you remain protected with the appropriate coverage.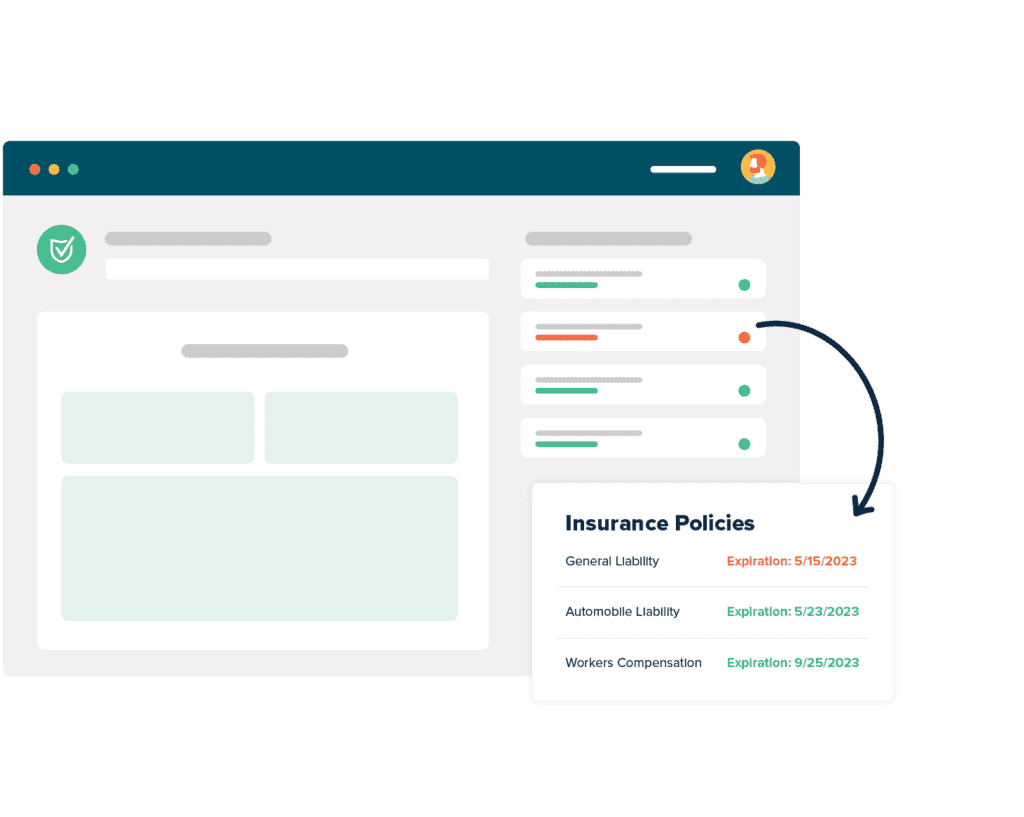 For Agents & Brokers
Win business and boost retention by providing agency branded, industry leading insurance tracking software to your insureds. Offer software only or add on your own compliance review services.
What Our Customers Say
OUTSTANDING!! In my opinion, this has been the best program I've had the pleasure of using. From all the services provided within the program and the exceptional customer service, this has made my job duties very manageable. I cannot say enough good things about this program. I highly recommend it!
Having one place for our customers to upload their insurance certificate makes tracking insurance certificates much easier. We use to internally file and collect insurance certificates from customers and it was a challenge to collect all of that paper and to effectively track the insuarnce certificates.
We switched to myCOI from another insurance tracking system because we were looking for a more involved vendor that could do more for us than just track certificates. We needed help with compliance and having a system that could contact vendors and keep on them until they became compliant with insurance. myCOI does this for us and we have very few non-compliant vendors compared to the number we had in our last system.
The product has met our expectations in that it has allowed us to regain some time that was previously spent doing all of the administration of insurance cert requests, reviews and acceptance. With that, we have been able to reallocate resources to more pressing business needs rather than insurance certificate management.
Our clients are thrilled with myCOI and how their compliance levels have been elevated beyond expectations. The reports and analytics are so valuable in measuring activity and compliance achievements. The system functionality is easy to use. The team are true partners.
MyCOI is a very great portal, a space where to keep organized all our certificate of insurance for our vendors. With the advantage that are online, always accessible and no paper backup is needed.Once you learned how to navigate into the portal and how to use the report tab you will have a world opening to you. In just one place you can access all the vendor information, policy expiration date, non-compliant policy line and see the last date when a document was updated.Our Senior Client Success Manager, [sensitive content hidden], she is always on top of our requests, and she replies promptly.
MyCOI has been a fantastic partner for our company. With frequent meetings with our dedicated account manager, ongoing communication, and the ability to customize our insurance needs with precision, we've seen exceptional outcomes throughout our portfolio. [sensitive content hidden] has provided invaluable assistance, and the review team is exceptionally competent and amicable, even when we inundate them with urgent requests. Overall, it's been an excellent experience, and we're eagerly anticipating our continued collaboration with them.
myCOI has helped our company go from drowning in unreviewed cois to getting our insurance review under control. Their team has been an amazing support and resource, and helped us to navigate the Essentials program, later transitioning to Concierge service as the workload was more than our team was able to manage. The beauty of this platform is that it provides a single, central hub for clients, agents and vendors to access, update and communicate. Every myCOI team member with whom I have worked has provided excellent service, been pleasant, knowledgeable, and provided quick response times. The quarterly meetings are beneficial to recap what is going well, where we need to improve and have questions answered. I highly recommend myCOI.
myCOI provides amazing custom support and they make the platform very easy to navigate. The myCOI team is always very helpful and quickly responds to my questions or goes out of her way to direct me to the correct team member who is able to assist me.
myCOI has amazing customer support. Our account representative meets with us quarterly to keep up-to-date on how our group is feeling about utilizing the system and interfaces with us day-to-day, as needed, to address any issues we encounter with agent notes, reviews, etc. It has been an incredibly efficient and beneficial relationship since day 1.
The myCOI platform has been so easy to work with from multiple angles. Because there are multiple stakeholders, we are all notified and kept in the loop if there are any COI tracking issues that need to be revised.
Risk Management Techniques
Risk management is a crucial aspect of any business. Acknowledging its importance might create a need to understand the concept better. Learning about risk management techniques is not only informative but also lays the groundwork for forming and following practices that can help protect a company. With all the information that is widely available today, anyone can learn more about the subject.
For example, if someone wanted to learn about risk management in insurance companies, then there are several resources to help facilitate education on the topic. An online search could potentially yield results having to do with risk management techniques in insurance companies. All it takes is some time and effort.
A student navigating their way through risk management techniques might come across the act of risk avoidance. Some industries attempt to practice risk avoidance to eliminate all the hazards that can negatively affect their businesses. A risk avoidance example is when companies outright stop a particular operation that results in making a significant liability opportunity. Other times, like risk avoidance in project management, procedures are enacted to greatly reduce the troublesome action.
Insurance is a risk management techniques involving transferring risk from a person to the carrier. The person pays a premium while the carrier assumes the risk. The basic idea applies to companies that require their subcontractors to possess their own coverage. A company that hires a subcontractor typically does not want to be held liable for the subcontractor's actions should they result in bodily or property harm. Most companies can not and do not shoulder that responsibility.
In this instance, risk management teams must request, verify, and track their subcontractors' insurance coverage, usually in the form of certificates of insurance. They can either track insurance manually and increase their chances of making expensive errors or use an electronic solution like myCOI to ensure every subcontractor has proper and valid coverage.
What Is Risk Management
Companies must protect themselves from financial harm should they wish to remain solvent. Risk management is a smart method to achieve that aim.
What is risk management?
According to Investopedia, risk management assesses, manages, and mitigates losses.
There are several risk management approaches that companies can pursue. Some might be more applicable than others depending on the type of business and its existing practices.
Risk management strategies can be used in companies of all sizes in any industry. They can help an organization recognize the risks they face and how those risks can affect business.
No business is free from risk. Depending on the industry, liabilities might be as few as a handful of office staff or as many as a team of hundreds. Liabilities can also include other items like vehicles and construction equipment. It is virtually impossible to fully eliminate liability risk. Accidents happen. However, it is possible to avoid predictable events. It is also possible to transfer risk, as in instances when companies hire subcontractors. Companies wishing to guard their finances should invest in risk management so they can mitigate any crippling losses.
Companies should aim for having as much control over their losses as possible. It can prove challenging but through education and practice, they can overcome the obstacles that can prevent them from achieving their goals.
4 Risk Management Techniques
How does one begin to learn about risk management? It might be best to dive into the four common approaches companies take to control their losses.
What are the four approaches to risk management?
4 risk management techniques include avoidance, reduction, transfer, and retention.
Avoidance: Circumvents any actions that create or increase risk.
Reduction: Keeps losses at a minimum.
Transfer: Moves risk to another entity.
Retention: Accepts a risk and its effects if it is financially feasible to do so.
A risk management strategy example could follow these four techniques, providing a template on how to control losses. Some companies might focus on some techniques over others or not follow one at all. Companies might find it beneficial to follow as many as they can to lessen the chances of being held liable for personal and property damages.
Learning about the types of risk management strategies can prove daunting especially if a small business does not have a proper risk management team. Creating one can be integral to a company's long-term fortunes. The longer a company operates, the more opportunities exist for things to go wrong. While a new company might get away without a risk management department, its luck might not last. Some companies might be endangered from the outset. A construction company, for example, carries numerous physical dangers. Addressing these as soon as possible is essential since an incident could occur on the first day of work.
Risk management is not a one-and-done process either. It requires vigilance to make sure a company is constantly protected from harm.
Risk Management Techniques List
A risk management techniques list can educate and remind risk professionals of how they can help protect their companies' finances. Some risk management teams have many tasks to keep up with. Occasional refreshers can keep staff updated with current or modified standards and procedures.
Risk management techniques with examples can help people better understand all of the core concepts. Examples can demonstrate ideas in real-world situations. Some people learn best by studying samples. Seeing thoughts in action can drive education better than simply being told about a topic.
A broad search could provide a basic understanding of a subject while something more specific could return results like a risk management techniques in insurance PDF. It all depends on the business.
Risk management techniques in project management are methods to help see a project to a successful conclusion with minimal issues stemming from liabilities. A construction project contains plenty of chances for something to go wrong. Subcontractors could injure themselves. Equipment could hurt a bystander. Inclement weather could increase the likelihood of disaster.
One possible technique is to transfer risk. Construction companies can transfer liability risk to their subcontractors by requiring them to be insured. For this technique to succeed, companies must demand proof of insurance and make sure coverage does not lapse. The amount of work this entails depends on the number of subcontractors. Using myCOI can reduce the time and errors that sometimes plague insurance tracking. Developed and supported by insurance professionals, myCOI can help companies do more than collect proof. It can help them stay protected with the appropriate coverage.
Risk Management Techniques In Cyber Security
As the world evolves into a fully-digital landscape, the relationship between cyber security and risk management narrows. Some consumers worry about how the companies they deal with handle their information. People consider their names, addresses, financial data, and other sensitive content important. They want the data they submit to be more than words and numbers to companies. They want to trust that their information is safe from criminals. A cyber security risk management plan can help regulate access and give consumers peace of mind.
Erasing consumers' worries is a key reason why companies should apply risk management techniques in cyber security. Having transparent policies that inform people what data is collected, for what purpose, how it is stored, and what will happen to it when the purpose is satisfied is one part of a larger whole. Letting consumers decide if they agree with policies and regaining control of their data is one way to reduce the risk of additional data being exposed in the event of a compromise.
Another cybersecurity risk management example involves the people behind the technology. Cybersecurity experts who are contracted employees might be required to own their insurance coverage. They might also be required to provide proof.
Companies that want to remain insurance compliant can manually and slowly track their contractors' coverage with spreadsheets and text documents or they can use a cloud-based platform that eliminates paperwork, another potential liability. myCOI is an automated solution designed to track insurance so companies can run their businesses with fewer anxieties.
Risk Management Techniques In Business
Risk management techniques in business are only as effective as their execution. Risk management techniques with examples can be helpful, but there comes a time to act. Companies can follow the 4 risk management strategies examples or leave their futures entirely up to fate.
Some sources cite 5 methods of handling risk in insurance. Do not get bogged down in numbers. A simple way to handle risk is to list every liability your company creates. It might be best to survey other staff members for this step. Different perspectives can bring up fresh thoughts. Then determine what can be done to eliminate or mitigate each liability.
Risk management techniques in project management are not perfect. A risk management techniques in insurance PDF can be useless when a company experiences a run of bad luck. A string of accidents can run counter to all of the lessons risk management examples in business can teach. Companies should do everything in their power to protect themselves from all unfortunate circumstances, especially ones they can definitely prevent.
Regarding some high-risk companies like construction firms, insurance tracking and compliance should not be left to chance. Many things can ruin a project and ultimately business. Budget overruns, acts of nature, material defects, worker negligence, and more can destroy a company. Ineffective insurance compliance should not be a factor that dooms any organization. Solutions like myCOI exist to help companies fulfill their insurance requirements.
The easy-to-use platform digitally tracks certificates of insurance and sends automated alerts before non-compliance becomes an issue. Insurance experts back the platform for policy reviews, keeping every business covered. myCOI enables companies to erase unnecessary risks.