Best Certificate of Insurance Tracking Software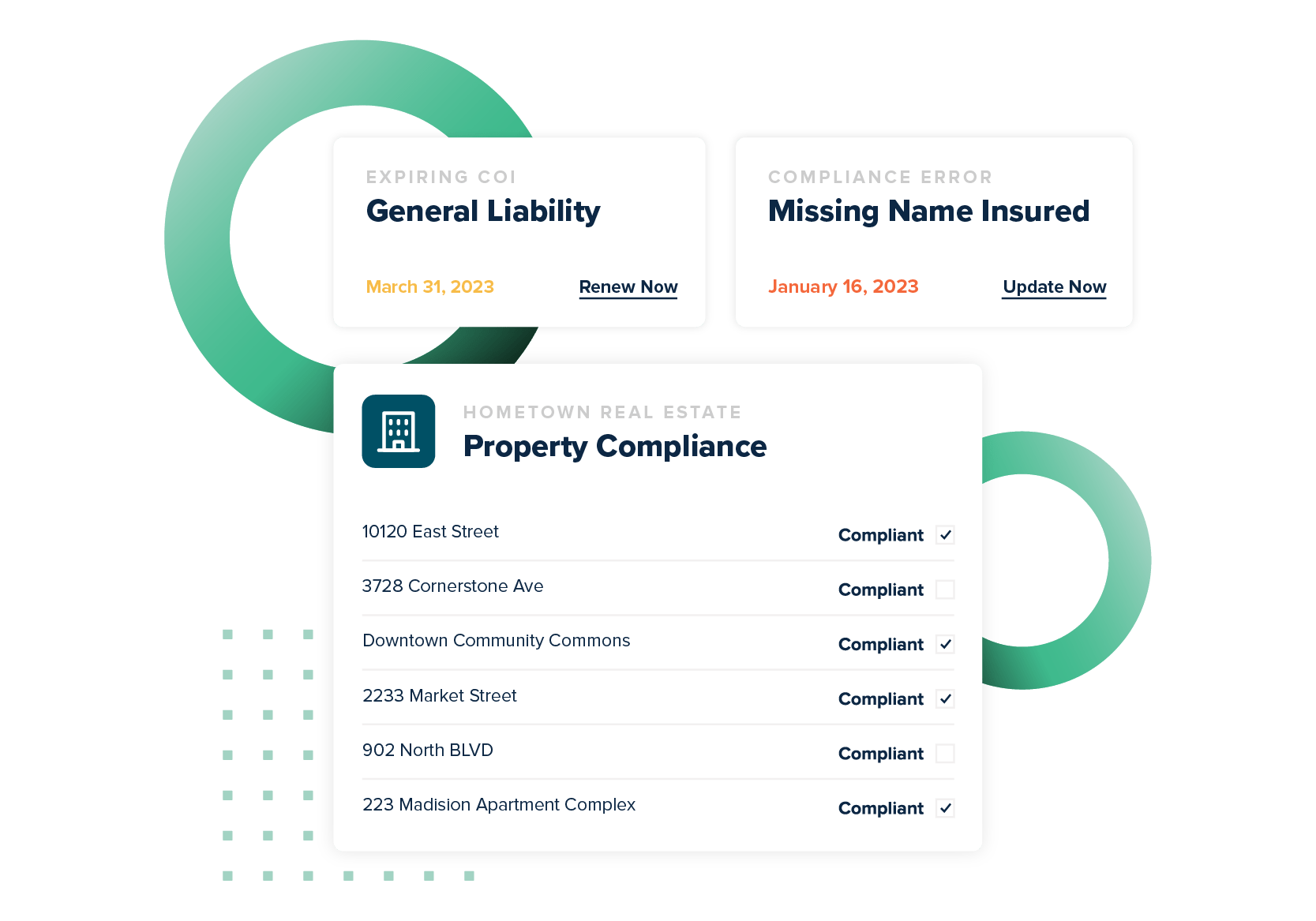 Automate Your COI Tracking
There's no more need to worry about stacks of certificates cluttering up your office or hours of frustrating phone calls and emails to chase down certificates. myCOI Central provides your company with a solution to automate your insurance certificate requests, collection, and compliance resolution, while also giving your team a single, centralized repository to view compliance.
Protect Your Business From Costly Claims
Ask your CFO or Risk Manager just how much claims and lawsuits can cost your business. If you are collecting certificates just to confirm they were received, you have no guarantee that your requirements are being met. myCOI Central is built on a foundation of insurance industry logic to ensure you remain protected with the appropriate coverage.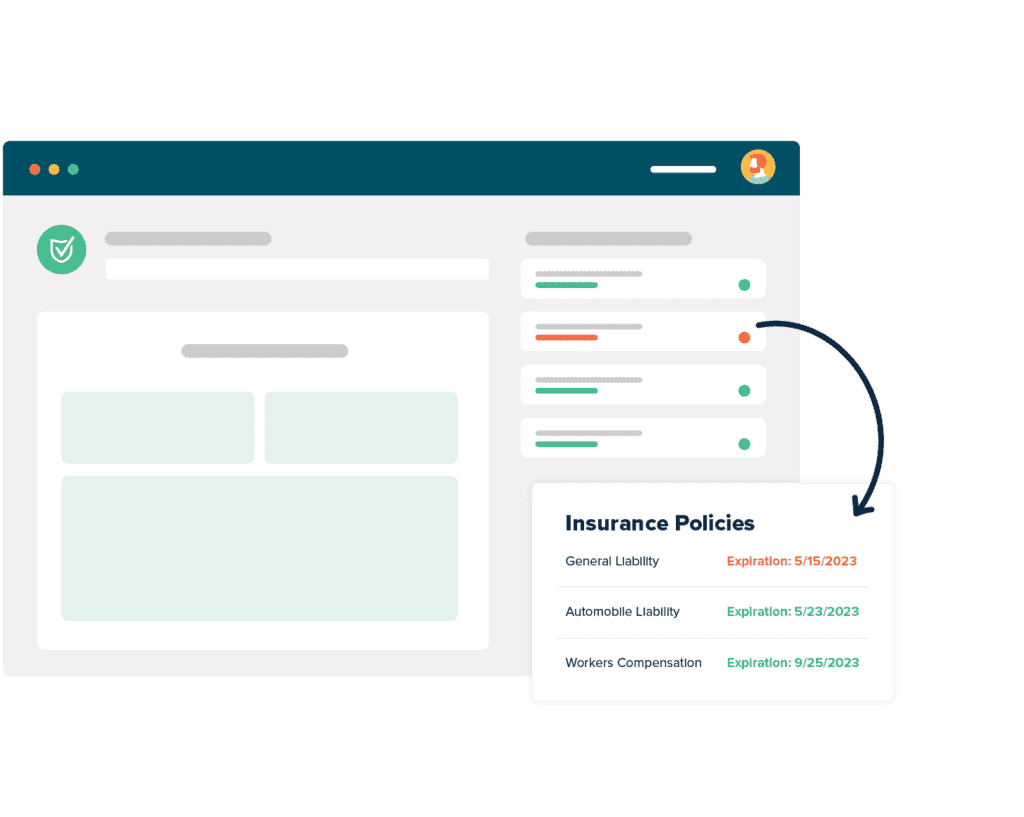 For Agents & Brokers
Win business and boost retention by providing agency branded, industry leading insurance tracking software to your insureds. Offer software only or add on your own compliance review services.
What Our Customers Say
OUTSTANDING!! In my opinion, this has been the best program I've had the pleasure of using. From all the services provided within the program and the exceptional customer service, this has made my job duties very manageable. I cannot say enough good things about this program. I highly recommend it!
Having one place for our customers to upload their insurance certificate makes tracking insurance certificates much easier. We use to internally file and collect insurance certificates from customers and it was a challenge to collect all of that paper and to effectively track the insuarnce certificates.
We switched to myCOI from another insurance tracking system because we were looking for a more involved vendor that could do more for us than just track certificates. We needed help with compliance and having a system that could contact vendors and keep on them until they became compliant with insurance. myCOI does this for us and we have very few non-compliant vendors compared to the number we had in our last system.
The product has met our expectations in that it has allowed us to regain some time that was previously spent doing all of the administration of insurance cert requests, reviews and acceptance. With that, we have been able to reallocate resources to more pressing business needs rather than insurance certificate management.
Our clients are thrilled with myCOI and how their compliance levels have been elevated beyond expectations. The reports and analytics are so valuable in measuring activity and compliance achievements. The system functionality is easy to use. The team are true partners.
MyCOI is a very great portal, a space where to keep organized all our certificate of insurance for our vendors. With the advantage that are online, always accessible and no paper backup is needed.Once you learned how to navigate into the portal and how to use the report tab you will have a world opening to you. In just one place you can access all the vendor information, policy expiration date, non-compliant policy line and see the last date when a document was updated.Our Senior Client Success Manager, [sensitive content hidden], she is always on top of our requests, and she replies promptly.
MyCOI has been a fantastic partner for our company. With frequent meetings with our dedicated account manager, ongoing communication, and the ability to customize our insurance needs with precision, we've seen exceptional outcomes throughout our portfolio. [sensitive content hidden] has provided invaluable assistance, and the review team is exceptionally competent and amicable, even when we inundate them with urgent requests. Overall, it's been an excellent experience, and we're eagerly anticipating our continued collaboration with them.
myCOI has helped our company go from drowning in unreviewed cois to getting our insurance review under control. Their team has been an amazing support and resource, and helped us to navigate the Essentials program, later transitioning to Concierge service as the workload was more than our team was able to manage. The beauty of this platform is that it provides a single, central hub for clients, agents and vendors to access, update and communicate. Every myCOI team member with whom I have worked has provided excellent service, been pleasant, knowledgeable, and provided quick response times. The quarterly meetings are beneficial to recap what is going well, where we need to improve and have questions answered. I highly recommend myCOI.
myCOI provides amazing custom support and they make the platform very easy to navigate. The myCOI team is always very helpful and quickly responds to my questions or goes out of her way to direct me to the correct team member who is able to assist me.
myCOI has amazing customer support. Our account representative meets with us quarterly to keep up-to-date on how our group is feeling about utilizing the system and interfaces with us day-to-day, as needed, to address any issues we encounter with agent notes, reviews, etc. It has been an incredibly efficient and beneficial relationship since day 1.
The myCOI platform has been so easy to work with from multiple angles. Because there are multiple stakeholders, we are all notified and kept in the loop if there are any COI tracking issues that need to be revised.
What Does Commercial General Liability Cover
Protecting your company against liability risks can seem like a second job. Making sure all of your employees follow risk management's best practices is difficult enough but you also have to insure your company against misfortune. Before you can weigh your options, you have to know what your options are. To do that, you need to assess all of your company's risks. Then you have to search for affordable coverage. How much should comprehensive general liability insurance cost? If you do not know, then you can seek a comprehensive general liability insurance example to gauge how much you will be expected to pay.
What if you need more information to guide your decision?
What is commercial general liability coverage? What does commercial general liability cover? When do you need comprehensive general liability insurance? How much does comprehensive general liability insurance for small business ventures cost? Do I need comprehensive general liability insurance for an event? Although this article touches on these questions, more thorough research is crucial in discovering the answers to these and all your insurance-relevant questions. Getting in touch with an insurance agent or broker can be the quickest way to figure out what type of coverage best suits your business. They can also tell you the difference between comprehensive general liability insurance vs public liability insurance.
When you have plenty of information at your disposal, you and your company can be in a better position to purchase the proper coverage. For example, general liability insurance coverage for small business might be best for your company now but as your company grows, you might offer more services that increase your risk. You will have to add more coverage to scale with the risk. However, what you need in the future may not be what you need today. Informing yourself about insurance now can save you money by preventing you from paying for coverage you do not need.
What Is General Liability Insurance Coverage For Business
What is general liability insurance coverage for business? What is commercial general liability insurance? Is general liability insurance required by law?
These are all great questions to ask an insurance agent or broker. They can give you general liability insurance examples to better explain each concept. Who can answer these questions better than experts in the liability insurance business? With that said, let us explore a basic definition of general liability insurance and how it differs from professional liability insurance.
General liability insurance can protect your company against claims filed due to injury or damage to property that results from your company's products, services, or operations.
Professional liability insurance can protect your company against claims of negligence from clients and customers that do not involve physical injury or damage. These abstract risks include copyright infringement and breach of contract.
Depending on your business, you might need both types of insurance. Assess whether or not you need both before shopping for coverage. If you do not know, then talk to an insurance agent or broker. They should be able to steer you to the right type of coverage that can best protect your company.
Commercial General Liability Insurance Examples
Commercial general liability insurance examples can help answer many of your insurance questions. Looking at the most common general liability claims other companies have had to deal with can help you decide if you need coverage in those areas. You look at a company in your industry's claims history and check off the ones that pertain to your business. You can also look at commercial general liability insurance cost examples to get a general idea of what you will need to pay. Since insurance rates differ by industry, location, and more, you can take a broad range of prices and use them as a starting point when you sit down and start shopping.
Is general liability insurance required by law?
Examples can help you figure out the answer and if you will be required to own coverage.
Purchasing commercial general liability coverage can prove daunting if you are busy with other aspects of your job. It can be doubly challenging if you do not have a mind for it. Insurance can be complex to the uninitiated. Finding and using examples to educate yourself can help you gain a better understanding of the fundamentals so you can buy the proper and affordable coverage.
What Is General Liability Insurance For Contractors
There are so many questions about general liability insurance. Fortunately, there are just as many answers. Contractors must find their own when they shop for a policy. What is general liability insurance for contractors? How is general liability insurance calculated for contractors? Is general liability insurance for independent contractors worth owning?
Another common question is what is the best general liability insurance for contractors? So many factors must be considered before even approaching this question. What defines being the best? Price? The cheapest general liability insurance for contractors might be inexpensive for a good reason: poor service. State Farm general liability insurance for contractors can be the best for satisfied State Farm customers. Unhappy customers might think otherwise. Plus, location can play a role in rates. General liability insurance for contractors in Texas might be more expensive than coverage in Alaska.
Another thing you should consider is that if your company's general contractor insurance requirements involve certificates of insurance, then you must plan to collect, verify, monitor, and store each certificate your contractors produce. Not doing so exposes your company to costly claims and lawsuits should an incident occur. myCOI can help alleviate the burden of certificate of insurance management, erasing one insurance burden from your plate.
CGL Coverage A B C
Commercial General Liability (CGL) coverage protects companies from financial losses should they be found liable for property damage or personal and advertising injury caused by their services, operations, or employees.
What damages are covered by a CGL policy?
CGL coverage A B C involves the following:
A: Bodily Injury and Property Damage Liability
This type of coverage protects against losses stemming from the legal liability of named insureds for physical injuries and property damage caused by negligence during business operations.
B: Personal and Advertising Injury
This type of coverage is similar to that of professional liability insurance, covering non-physical liabilities like libel and slander.
C: Medical Payments
This covers medical costs for injuries sustained by non-employees when exposed to a company's normal operations.
Again, looking at general liability insurance examples can teach you a bit about commercial general liability insurance policy wording, CGL coverage C exclusions, and more. CGL policy wording can be difficult to understand. A sample CGL policy form can help clear things up.
If examples do not help, then, as previously mentioned, ask an insurance agent or broker. You can even take a class to better comprehend the subject so you can apply the best methods to keep your company protected against claims of liability.
Commercial General Liability Cost
If you do not want your company to fail, then you should protect it in every way you can. Keeping your company protected from liability risk will cost money. Knowing how much opens up another can of questions.
How much is general liability insurance for an LLC? How much is general liability insurance for small business? How much is business liability insurance per month? How much does general liability insurance cost for a sole proprietor? What is the general liability insurance cost for contractors? Can I afford a $1 million liability insurance cost? Do I even need that much insurance?
Not only do you not have to go broke paying for insurance but you do not have to drive yourself crazy with figuring everything out. If you are beginning to build your company, then factor in the commercial general liability cost and professional liability insurance cost, if you need it, into your start up business insurance costs. Know what you need and can afford. Seek expert guidance. Purchase a policy. It can be that easy if you prepare.
Commercial General Insurance
Commercial general insurance has so many nuances that you can quickly find yourself lost amid questions about commercial general liability insurance policy wording and potential rates.
Can commercial general liability insurance cost a lot? Maybe. Is small business general liability insurance right for my company? Maybe. Learning from insurance experts and general liability insurance examples can teach you so much to help you move forward in executing your risk management plan. If you need general liability insurance for LLC ventures, then you can search online for that type of coverage to see if it applies to your company.
Solutions exist.
Commercial general liability insurance and professional liability insurance can be sturdy protection against claims and lawsuits that could devastate your company. Another solution you can leverage is myCOI. If your company collects certificates of insurance from your contractors and vendors, then you need to make sure each form is authentic. myCOI automates insurance tracking, reducing the time and mistakes that often go into the process. When you have gotten your company's insurance right, then you must ensure your contractors and vendors also get theirs right. Risk management is more than researching and buying a policy. It is an ongoing series of actions that can overwhelm a company. Partner with a solution that makes the process easy for everyone.