Best Certificate of Insurance Tracking Software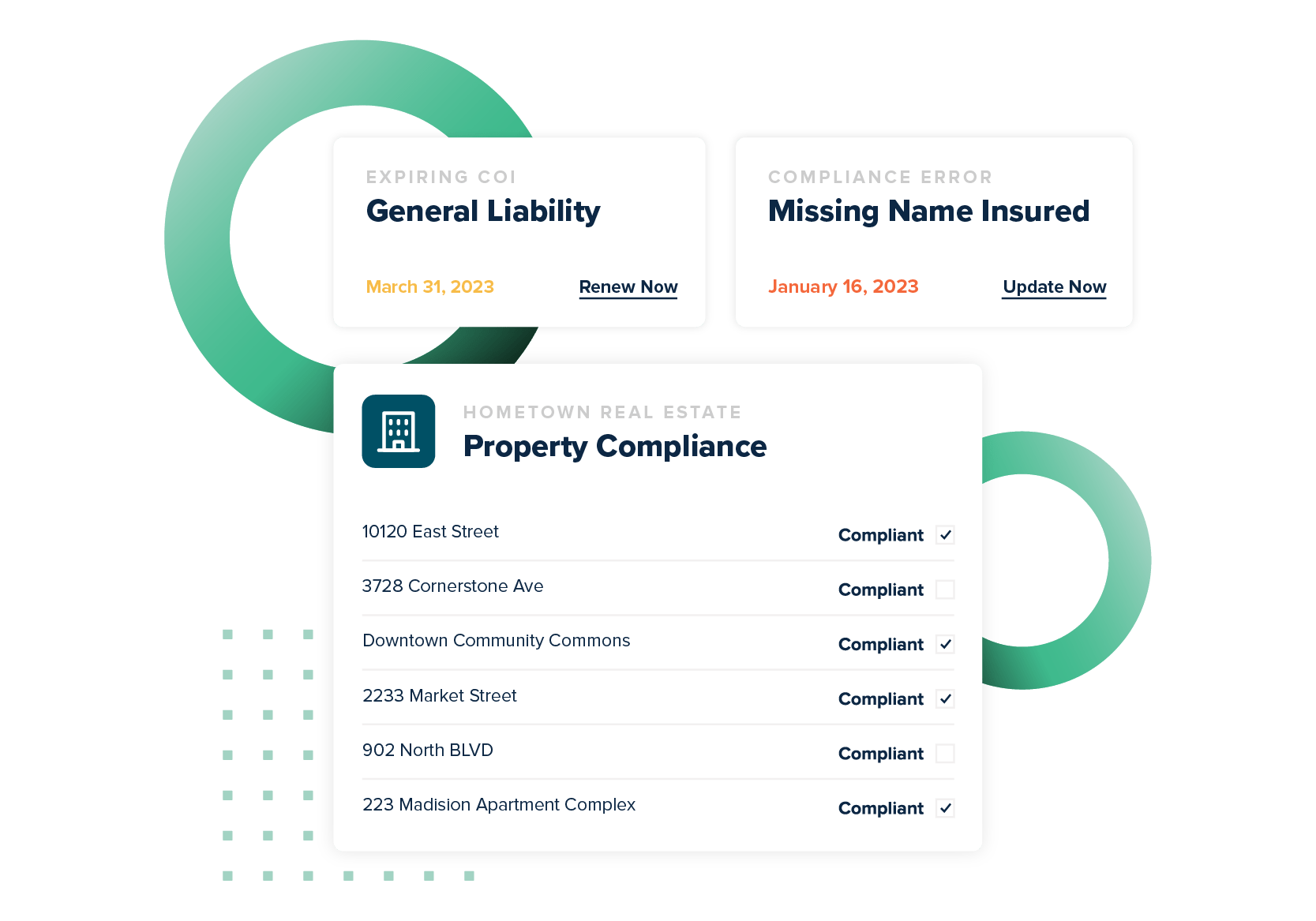 Automate Your COI Tracking
There's no more need to worry about stacks of certificates cluttering up your office or hours of frustrating phone calls and emails to chase down certificates. myCOI Central provides your company with a solution to automate your insurance certificate requests, collection, and compliance resolution, while also giving your team a single, centralized repository to view compliance.
Protect Your Business From Costly Claims
Ask your CFO or Risk Manager just how much claims and lawsuits can cost your business. If you are collecting certificates just to confirm they were received, you have no guarantee that your requirements are being met. myCOI Central is built on a foundation of insurance industry logic to ensure you remain protected with the appropriate coverage.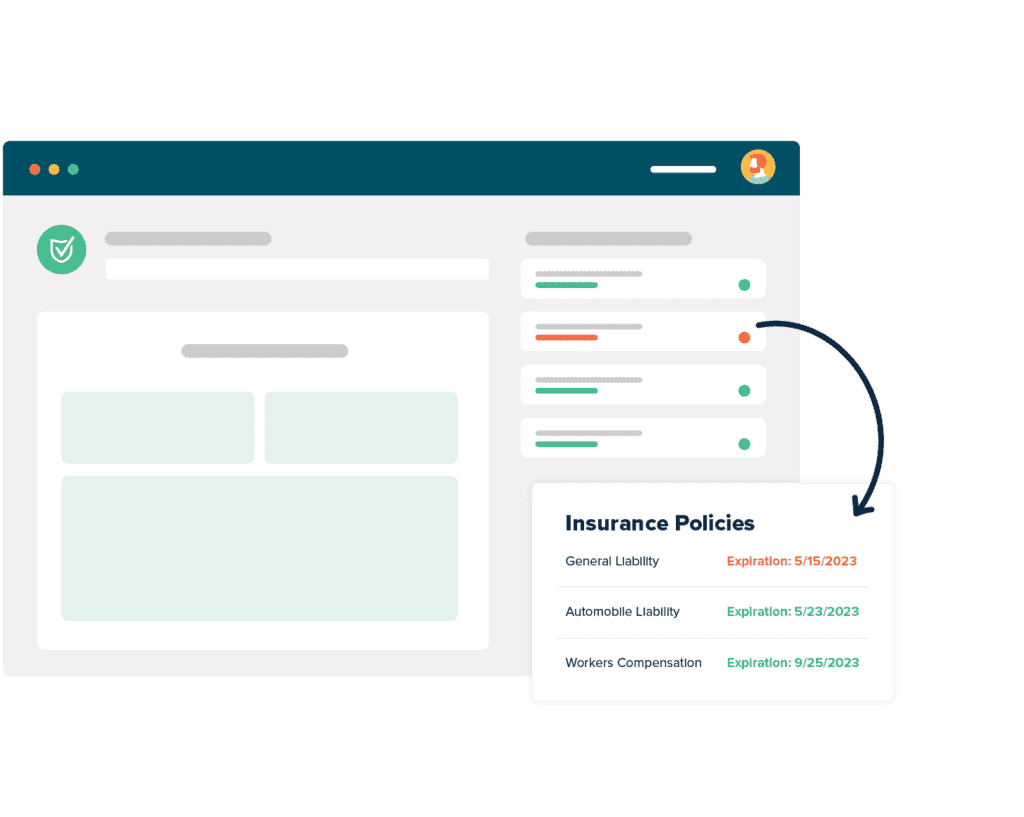 For Agents & Brokers
Win business and boost retention by providing agency branded, industry leading insurance tracking software to your insureds. Offer software only or add on your own compliance review services.
What Our Customers Say
OUTSTANDING!! In my opinion, this has been the best program I've had the pleasure of using. From all the services provided within the program and the exceptional customer service, this has made my job duties very manageable. I cannot say enough good things about this program. I highly recommend it!
Having one place for our customers to upload their insurance certificate makes tracking insurance certificates much easier. We use to internally file and collect insurance certificates from customers and it was a challenge to collect all of that paper and to effectively track the insuarnce certificates.
We switched to myCOI from another insurance tracking system because we were looking for a more involved vendor that could do more for us than just track certificates. We needed help with compliance and having a system that could contact vendors and keep on them until they became compliant with insurance. myCOI does this for us and we have very few non-compliant vendors compared to the number we had in our last system.
The product has met our expectations in that it has allowed us to regain some time that was previously spent doing all of the administration of insurance cert requests, reviews and acceptance. With that, we have been able to reallocate resources to more pressing business needs rather than insurance certificate management.
Our clients are thrilled with myCOI and how their compliance levels have been elevated beyond expectations. The reports and analytics are so valuable in measuring activity and compliance achievements. The system functionality is easy to use. The team are true partners.
MyCOI is a very great portal, a space where to keep organized all our certificate of insurance for our vendors. With the advantage that are online, always accessible and no paper backup is needed.Once you learned how to navigate into the portal and how to use the report tab you will have a world opening to you. In just one place you can access all the vendor information, policy expiration date, non-compliant policy line and see the last date when a document was updated.Our Senior Client Success Manager, [sensitive content hidden], she is always on top of our requests, and she replies promptly.
MyCOI has been a fantastic partner for our company. With frequent meetings with our dedicated account manager, ongoing communication, and the ability to customize our insurance needs with precision, we've seen exceptional outcomes throughout our portfolio. [sensitive content hidden] has provided invaluable assistance, and the review team is exceptionally competent and amicable, even when we inundate them with urgent requests. Overall, it's been an excellent experience, and we're eagerly anticipating our continued collaboration with them.
myCOI has helped our company go from drowning in unreviewed cois to getting our insurance review under control. Their team has been an amazing support and resource, and helped us to navigate the Essentials program, later transitioning to Concierge service as the workload was more than our team was able to manage. The beauty of this platform is that it provides a single, central hub for clients, agents and vendors to access, update and communicate. Every myCOI team member with whom I have worked has provided excellent service, been pleasant, knowledgeable, and provided quick response times. The quarterly meetings are beneficial to recap what is going well, where we need to improve and have questions answered. I highly recommend myCOI.
myCOI provides amazing custom support and they make the platform very easy to navigate. The myCOI team is always very helpful and quickly responds to my questions or goes out of her way to direct me to the correct team member who is able to assist me.
myCOI has amazing customer support. Our account representative meets with us quarterly to keep up-to-date on how our group is feeling about utilizing the system and interfaces with us day-to-day, as needed, to address any issues we encounter with agent notes, reviews, etc. It has been an incredibly efficient and beneficial relationship since day 1.
The myCOI platform has been so easy to work with from multiple angles. Because there are multiple stakeholders, we are all notified and kept in the loop if there are any COI tracking issues that need to be revised.
What Is A Certificate Of Insurance Form Used For
Vendors and other third parties can cause bodily injuries and property damage while on the job. The company that hired them could be responsible for paying associated fees and expenses if those vendors do not possess proper insurance coverage. Companies wanting to reduce this risk can request certificates of insurance from the vendors they hire.
What is a certificate of insurance form used for?
Vendors and third parties can use a certificate of insurance to prove they are covered and meet their company's insurance requirements. Insurance compliance specialists can use a certificate of insurance PDF to reassure their companies that the vendors they hired are insured, protecting the companies against claims and litigation. A certificate of liability insurance PDF can also be used by dishonest vendors to falsify coverage so they can maintain their employment with a company.
A search engine query like "certificate of insurance ACORD" might yield a lot of confusion.
What is an ACORD certificate of insurance PDF? Can anyone fill out a blank certificate of insurance PDF? Where can you download a fillable ACORD certificate of insurance?
This article will touch on some of these questions as well as drive the need for proper certificate of insurance management, meaning the collection, verification, and monitoring of the forms. Your company might be able to keep up with a few certificates of insurance. What if you have dozens of vendors? Hundreds? The more vendors your company hires, the more certificates of insurance it has to process. You should not rush through the work. Errors and oversights can occur. Teaming up with a solution like myCOI can reduce the time and effort that goes into handling the documents.
Certificate Of Liability Insurance Form
The most common certificate of liability insurance form that companies use is the ACORD 25 form. ACORD, the Association for Cooperative Operations Research and Development," provides and archives standardized insurance forms. Companies across the country in almost all industries use these forms because they follow industry guidelines.
If you want to familiarize yourself with the form, then you can obtain one from the official ACORD website or from any online source that offers them. You can enter "ACORD 25 fillable 2022," "certificate of liability insurance form ACORD," "certificate of liability insurance form ACORD 25," or "certificate of liability insurance form PDF fillable" into your search engine of choice to find one that suits your needs. However, you should understand that anyone can upload anything online, especially items of dubious quality. Someone can create what they claim is a genuine ACORD certificate of liability insurance fillable form when in fact it is far from authentic.
If you need an ACORD form, then you should get one from the organization's website. For other matters relating to ACORD, you can contact them or an insurance agent or broker with your questions. They can answer certificate of liability insurance form certificate holder and ACORD questions.
What Is A Certificate Of Insurance For Vendors
What is a certificate of insurance for vendors? Is it similar to a certificate of insurance for small business?
Regardless of the situation, a COI certificate of insurance is proof of valid insurance coverage.
A certificate of insurance usually includes the insured's name, their insurance company information, the policy number, and the type of insurance protection.
Certificates of insurance should come from insurance issuers. However, some vendors might submit theirs to the company that hired them. In these instances, these companies must examine every detail. If you do not know what to look for, a vendor can give you a fake certificate of insurance you would be none the wiser. If you do know the signs of a fraudulent certificate, then you still have to spend time looking it over.
myCOI can help you quickly and accurately spot fake certificates of insurance. You do not have to depend on your memory to process your vendors' certificates. You can also spend less time processing each form. myCOI's automated capabilities remove much of that responsibility from your shoulders. Fewer fake forms can slip by. myCOI can let you know when something is amiss with a certificate. You can then take prompt action to resolve the issue.
When Do You Need A Certificate Of Insurance From A Vendor
There are many certificates of insurance issues and answers. A common question is: When do you need a certificate of insurance from a vendor?
The answer is simple. You should request a certificate of insurance from any vendor as soon as possible. It is among certificates of insurance best practices to ask for one before they begin working for you. New hires carry just as many risks as tenured employees. Your goal should be to reduce all the hazards that can impact your company. Any coverage gaps can create opportunities for misfortune that results in costly claims and lawsuits that your company could be on the hook for. You must push the need for proof of coverage from the very start.
If a vendor does not comply with your requirements, then you can find another one who will meet your expectations. Lost business relationships can cost much less than a payout if that vendor hurts someone while working for your company.
Not only do you need a certificate of insurance as quickly as a vendor can provide one but you also need to verify if it meets your insurance requirements and is valid. myCOI can validate certificates of insurance, removing a tedious item from your lengthy to-do list.
Certificate Of Insurance Requirements By State
One of the many certificates of insurance best practices concerns keeping up with certificate of insurance requirements by state. This can eat a lot of time for even the most skilled staff member.
myCOI can help you simplify certificate of insurance management. Streamlining the process can help you stay on top of your company's insurance tracking in less time than manually processing each certificate. The experts behind the platform can keep up with state requirements so you do not have to. You can rely on myCOI to deliver results in less time and with fewer mistakes that could expose your company to the very risks it must avoid. Partnering with myCOI can benefit you on several fronts. You get reliable, efficient service that can make your job and life easier than before.
Being well-versed in certificates of insurance is not always an easy job. Knowing state requirements as well as having to find sample insurance requirements in contracts can divert attention from profit-producing activities. Leveraging an automated solution can free you to improve your company in other ways.
How To Request A Certificate Of Insurance From A Vendor
You have several options if you need to request a certificate of insurance for vendors.
You can verbally ask your vendors for a certificate of liability insurance. You can write them an email or letter. You can also add the request for certificate of insurance documentation into the language of the contract. You could request a certificate before anyone is allowed to bid on a job. Requesting proof early can give vendors enough time to get their paperwork in order. They use this advance notice to find out how to get a certificate of insurance for an event or whatever reason.
You do not have to worry about learning how to request a certificate of insurance from a vendor when you automate your company's insurance tracking with myCOI. The process is automatic. myCOI can notify subcontractors and vendors when a certificate is invalid for any reason. Compare this to manually managing your certificates. If your company has to acquire fifty certificates, then you must contact fifty people. With myCOI, the number of certificates of insurance for subcontractors and vendors no longer matters because the platform scales to your workload.
How To Get A Certificate Of Insurance
Do your vendors know how to get a certificate of insurance for an event? Do they know how to get insurance certificate online instructions?
It does not matter how they learn how to get a certificate of insurance. What is most important is that your company receives them on time. A certificate of liability insurance proves your vendors' coverage as well as your commitment to hiring safe workers. A certificate of insurance for business is a strong tool that can instill confidence. You need an equally powerful tool to manage them.
myCOI is built for the end-user. The solution's accessibility and functionality can help risk management professionals of almost any skill level to track their third parties' insurance statuses. Supported by insurance experts, myCOI can be the piece your insurance compliance puzzle has been missing.
You can continue to manually process all of the certificates of insurance that you collect. You can continue to take time out of your busy schedule to read up on the latest insurance regulations. You can continue to speed through verifying your certificates and run the risk of overlooking an item that jeopardizes your business.
Or you could leverage innovation to enjoy efficient and effective certificate of insurance processing.