Best Certificate of Insurance Tracking Software
Protect Your Business From Costly Claims
Ask your CFO or Risk Manager just how much claims and lawsuits can cost your business. If you are collecting certificates just to confirm they were received, you have no guarantee that your requirements are being met. myCOI Central is built on a foundation of insurance industry logic to ensure you remain protected with the appropriate coverage.
Automate Your COI Tracking
There's no more need to worry about stacks of certificates cluttering up your office or hours of frustrating phone calls and emails to chase down certificates. myCOI Central provides your company with a solution to automate your insurance certificate requests, collection, and compliance resolution, while also giving your team a single, centralized repository to view compliance.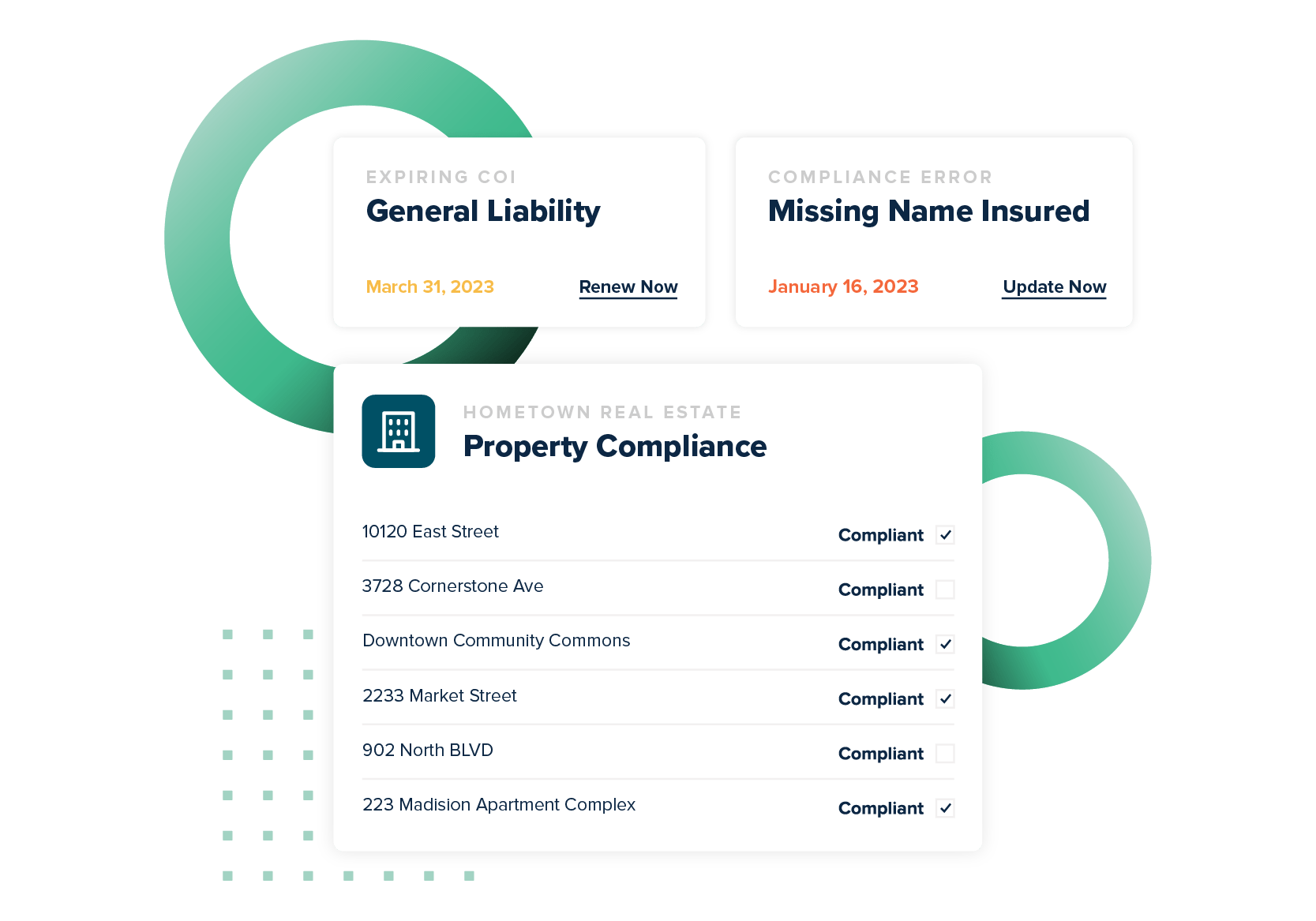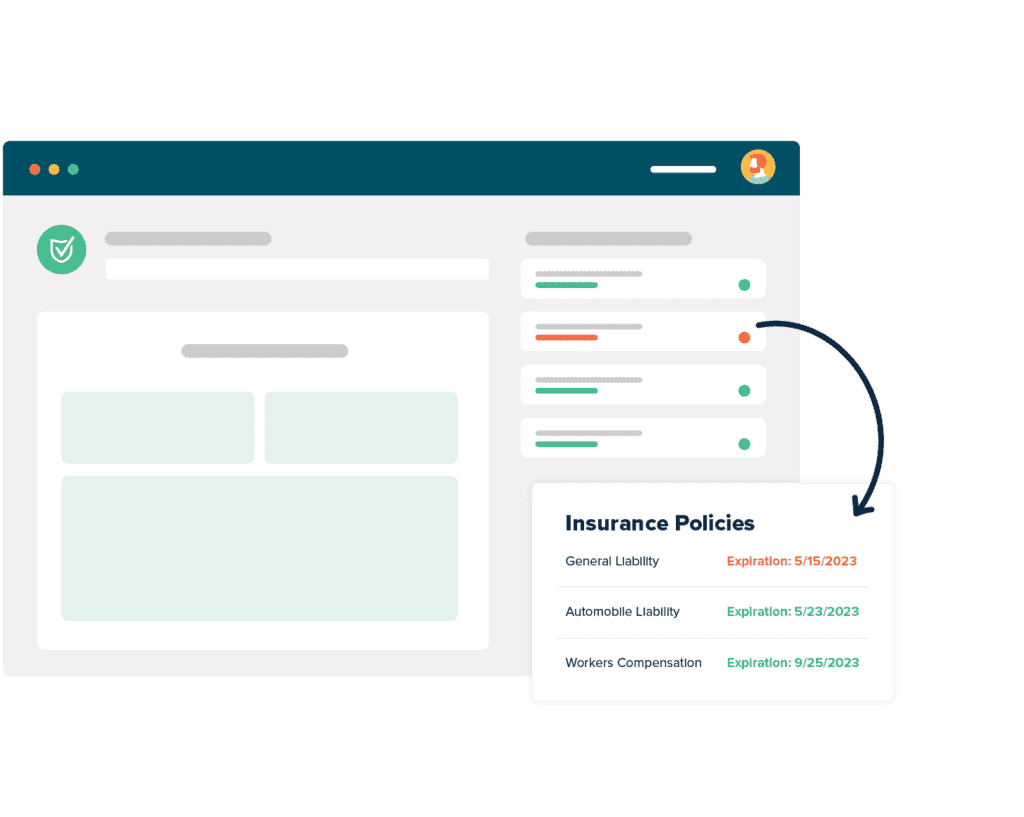 For Agents & Brokers
Win business and boost retention by providing agency branded, industry leading insurance tracking software to your insureds. Offer software only or add on your own compliance review services.
What Our Customers Say
OUTSTANDING!! In my opinion, this has been the best program I've had the pleasure of using. From all the services provided within the program and the exceptional customer service, this has made my job duties very manageable. I cannot say enough good things about this program. I highly recommend it!
Having one place for our customers to upload their insurance certificate makes tracking insurance certificates much easier. We use to internally file and collect insurance certificates from customers and it was a challenge to collect all of that paper and to effectively track the insuarnce certificates.
We switched to myCOI from another insurance tracking system because we were looking for a more involved vendor that could do more for us than just track certificates. We needed help with compliance and having a system that could contact vendors and keep on them until they became compliant with insurance. myCOI does this for us and we have very few non-compliant vendors compared to the number we had in our last system.
The product has met our expectations in that it has allowed us to regain some time that was previously spent doing all of the administration of insurance cert requests, reviews and acceptance. With that, we have been able to reallocate resources to more pressing business needs rather than insurance certificate management.
Our clients are thrilled with myCOI and how their compliance levels have been elevated beyond expectations. The reports and analytics are so valuable in measuring activity and compliance achievements. The system functionality is easy to use. The team are true partners.
MyCOI is a very great portal, a space where to keep organized all our certificate of insurance for our vendors. With the advantage that are online, always accessible and no paper backup is needed.Once you learned how to navigate into the portal and how to use the report tab you will have a world opening to you. In just one place you can access all the vendor information, policy expiration date, non-compliant policy line and see the last date when a document was updated.Our Senior Client Success Manager, [sensitive content hidden], she is always on top of our requests, and she replies promptly.
MyCOI has been a fantastic partner for our company. With frequent meetings with our dedicated account manager, ongoing communication, and the ability to customize our insurance needs with precision, we've seen exceptional outcomes throughout our portfolio. [sensitive content hidden] has provided invaluable assistance, and the review team is exceptionally competent and amicable, even when we inundate them with urgent requests. Overall, it's been an excellent experience, and we're eagerly anticipating our continued collaboration with them.
myCOI has helped our company go from drowning in unreviewed cois to getting our insurance review under control. Their team has been an amazing support and resource, and helped us to navigate the Essentials program, later transitioning to Concierge service as the workload was more than our team was able to manage. The beauty of this platform is that it provides a single, central hub for clients, agents and vendors to access, update and communicate. Every myCOI team member with whom I have worked has provided excellent service, been pleasant, knowledgeable, and provided quick response times. The quarterly meetings are beneficial to recap what is going well, where we need to improve and have questions answered. I highly recommend myCOI.
myCOI provides amazing custom support and they make the platform very easy to navigate. The myCOI team is always very helpful and quickly responds to my questions or goes out of her way to direct me to the correct team member who is able to assist me.
myCOI has amazing customer support. Our account representative meets with us quarterly to keep up-to-date on how our group is feeling about utilizing the system and interfaces with us day-to-day, as needed, to address any issues we encounter with agent notes, reviews, etc. It has been an incredibly efficient and beneficial relationship since day 1.
The myCOI platform has been so easy to work with from multiple angles. Because there are multiple stakeholders, we are all notified and kept in the loop if there are any COI tracking issues that need to be revised.
Commercial Real Estate Insurance Tools
When it comes to commercial real estate insurance tools, it's critically important to understand exactly what you're looking for. It's a broad term that encompasses a lot of use cases, industries, and interests. Progressive business insurance brokers, for example, are sometimes looking for tools to help them market their services to commercial real estate (CRE) clients. Commercial real estate investors search for tools to insure their investments. Commercial real estate companies search for tools to help with all facets of their business, from management to marketing and even financial tools to help them process payments.
myCOI offers tools, technology, and services to commercial real estate professionals to help with tracking certificates of insurance delivered to them by their third parties. Whether it's contractors working on properties or subcontractors providing services, or even service providers like carpet installers or cleaners, CRE firms deal with a varied batch of certificates of insurance. myCOI's platform allows commercial real estate companies to track, verify and confirm certificates of insurance.
Sometimes the best way to evaluate a tool is to get a demonstration of it, see what kind of commercial insurance examples it can process for you. Commercial real estate insurance tools are complicated solutions, and you'll need to do the requisite diligence to understand the right solution for you. Can the solution fully evaluate all the fields of a certificate of insurance? Does it offer OCR technology like myCOI? Is there an option for a managed solution, where you can get access to a team of insurance professionals?
Or is it something less?
Commercial Property Owner Insurance
Commercial property owner insurance is one part of a business owner's policy. Commercial property insurance generally covers the physical assets of a company—its building, equipment, materials, etc. But understanding commercial property insurance requires that you fully understand all the things you want to protect. Many insurers will write you custom coverage plans that include more than just your property insurance as part of a business owner's policy.
For example, the computers you use are often considered equipment and thus covered under a commercial property insurance plan. But what about the information on that computer? Often the value of the documents and agreements stored on that computer can be many times the replacement cost of the equipment itself. Some insurers will help you craft a policy that will help cover replacing those documents.
The same coverage sometimes extends to paper records, too. Think about that stack of file boxes you have buried in a closet somewhere; if the worst happens and there is a fire, are you prepared to replace those documents? The right policy can help you prepare for that eventuality.
Take care in selecting your insurance provider, as well, if you know your business will need additional forms of insurance such as commercial automobile insurance, or professional services insurance. Often getting coverage for all those needs from one provider can drive the combined cost in premiums down. You can start local, with simple online searches like 'commercial property insurance near me' or 'commercial building insurance near me'.
Commercial Real Estate Property Insurance
Commercial real estate property insurance generally covers a wide swath of commercial property insurance coverages. There is quite often overlap with general commercial property insurance, but the unique needs of real estate owners sometimes require custom coverage from an insurer.
One uncommon coverage that is gaining in popularity is sale and disposal liability insurance. Because of the popularity of television shows like Storage Wars, there is an ever-increasing interest in the auction or liquidation of storage containers. While most companies have proper and legal means to get to this point of a relationship, sometimes overzealous employees can make mistakes. Disposal liability insurance can help shield you, as the property owner, from risk in case this happens.
Commercial building insurance costs are variable, and depend entirely on what exact coverage you're seeking, the value of your assets, and the insurer you choose.
Types Of Commercial Property Insurance
There are many types of commercial property insurance, and knowing what each covers could be the key between the right coverage and the wrong coverage. Each policy or coverage included on a single policy only covers what it states, and you can't count on assumptions. Whenever you have questions or uncertainties about what is covered, speak with your insurer. They can help you understand exactly what is covered and what is not.
Business property insurance can protect the physical assets of your business: your building, your equipment, your signage, etc. It generally protects against damage or destruction but can carry exceptions. For example, traditional "acts of God" like weather or earthquake are often excluded from coverage unless you specifically request it be added.
Some insurers offer business income insurance. If your business is damaged and cannot operate, the loss of income and cash flow can be devastating. In these cases, this coverage would replace a portion or all of your average income until your business reopens. This can be extremely useful in keeping employees employed, contracts paid, etc.
The exact types of commercial property insurance your business needs is a conversation you have with your insurer.
Commercial Property Insurance Guide
A commercial property insurance guide is an invaluable tool when you're deciding what kind of insurance coverage your commercial property may need. Selecting the right coverage can be a complicated, time-consuming process. You'll want to make sure you've answered as many of the common questions as you can before you speak with a potential insurer.
One important consideration is what value you wish to insure: actual value, or replacement value? Imagine something happened that required you to have to replace your building. Do you want to be covered for the full cost of replacement with new construction? Or do you want to only be covered for the actual (depreciated) value of your building? The difference between those two values can affect the cost of your coverage.
Your coverage needs will also be different if you own or rent the space you use for your business. Owners assume a much higher share of the risk for building replacement; if you rent, your lease may already have provisions for replacements due to certain explicitly covered reasons. In this instance, you may only need to secure coverage for your own owned property inside the rented space.
In all cases, though, while you want to be prepared for the conversation, the exact coverage you need you'll want to work out with your chosen insurer, so you can be sure you're securing exactly the coverage you want and need, and not overpaying or overlooking dangerous limitations on your policy. Don't just accept the commercial property insurance policy sample document as the only option.
Commercial Residential Property Insurance
If you own or operate a commercial residential property, such as apartment communities or condominiums, and you will want commercial residential property insurance. This type of coverage is custom-built for the needs of property owners and operators. You might think one building is like another, but you'd be wrong. The risk with one tenant in one large building is very much not equal to the risk of a dozen tenants in the same space. Also, commercial tenants often have different levels of expectation than apartment tenants: put another way, what you'll accept at work is not like what you might accept at home.
Commercial property insurance companies often specialize in offering custom coverage to commercial residential property insurance seekers. Quite often, they will allow property owners or property managers to customize the amount of coverage they carry. For example, while one simple plan may cover only the most common kinds of perils, another insurer may allow you to remove common limitations such as coverage for hurricanes, earthquakes, or volcanic eruptions. Other policies or insurers may allow ranges of coverage for weather events or tenant damage.
These policies are often complicated by requirements that residential tenants carry renter's insurance that names the property as an additional insured; work with your insurer to make sure you're taking these additional complications into account.
Commercial Property Insurance Cost
What your commercial property insurance cost may be is going to depend on myriad factors. The exact type of coverage and your acceptance of an insurer's limitations may be one of the largest factors in determining your cost, but will not be the only factor. Consider: if your insurer doesn't want to insure you against hurricane damage, for example, do you agree? A business placed in hurricane country may want to remove that limitation; that will increase the cost.
Commercial property insurance coverage is quite often unique to every business, and that drives unique cost structures. The exact type of coverage (business property insurance, commercial automobile insurance, general liability insurance, business income insurance, etc.) will carry a unique impact on premiums.
You should be able to find a good range of rates with a simple online search for "commercial property insurance rates 2021." That will give you a feel for what the range of premiums may be, but you'll want to consult carefully with your chosen insurer to make sure you're getting the coverage you want and need.
Small Business Insurance
Small business insurance is something every small business needs, especially considering that many small businesses lack the depth of capital and resources large businesses have access to, which makes every instance of risk that much more threatening.
Most small business insurance packages are simply versions of a business owner's policy, as discussed above. These policies generally combine common general liability insurance with business property insurance, so both your people and your assets are covered. Some small business insurance policies also offer business income insurance, again because of the lack of depth of capital and resources many small businesses operate with.
The nationwide small business insurance market in the United States is fairly competitive, but there is enough diversity in insurers that you should be able to find the right insurer that offers the right coverages, with or without the unique limitations your business can accept, that will offer such services at the price point you're looking for.