Best Certificate of Insurance Tracking Software
Protect Your Business From Costly Claims
Ask your CFO or Risk Manager just how much claims and lawsuits can cost your business. If you are collecting certificates just to confirm they were received, you have no guarantee that your requirements are being met. myCOI Central is built on a foundation of insurance industry logic to ensure you remain protected with the appropriate coverage.
Automate Your COI Tracking
There's no more need to worry about stacks of certificates cluttering up your office or hours of frustrating phone calls and emails to chase down certificates. myCOI Central provides your company with a solution to automate your insurance certificate requests, collection, and compliance resolution, while also giving your team a single, centralized repository to view compliance.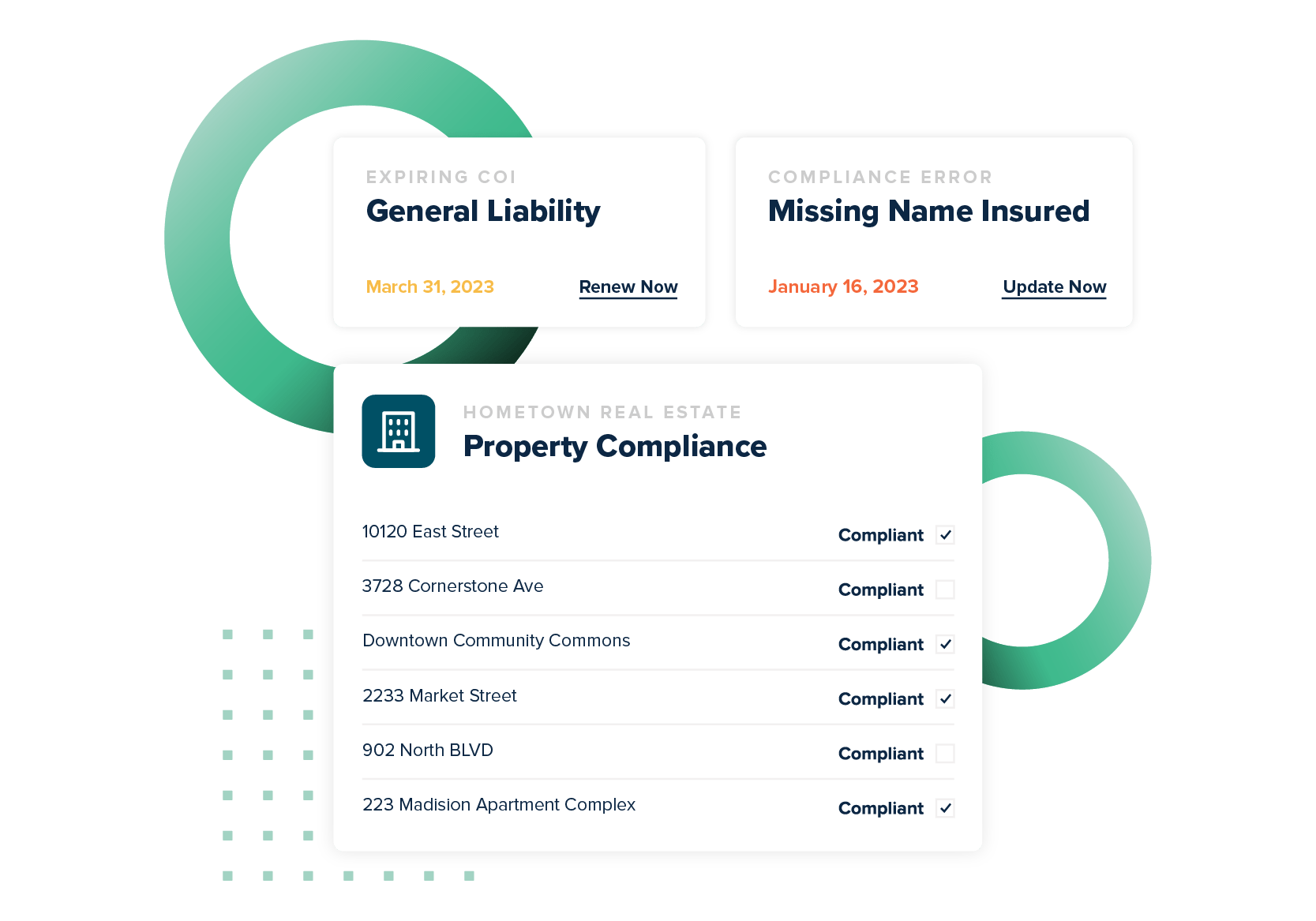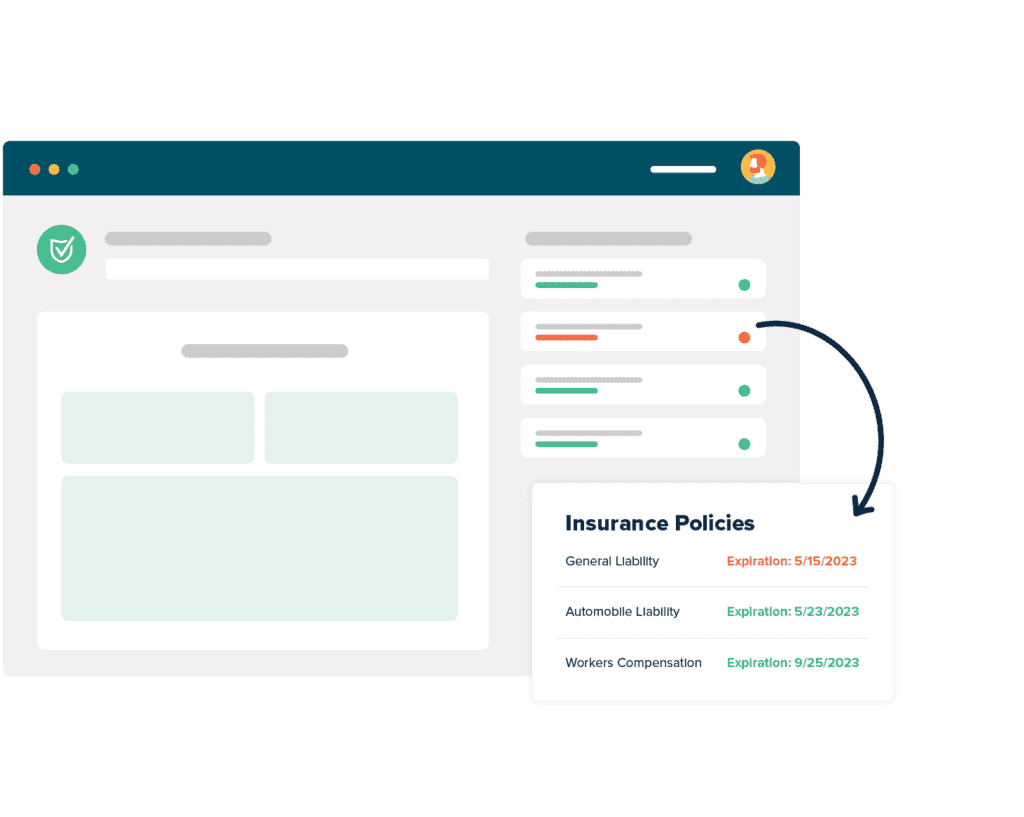 For Agents & Brokers
Win business and boost retention by providing agency branded, industry leading insurance tracking software to your insureds. Offer software only or add on your own compliance review services.
What Our Customers Say
OUTSTANDING!! In my opinion, this has been the best program I've had the pleasure of using. From all the services provided within the program and the exceptional customer service, this has made my job duties very manageable. I cannot say enough good things about this program. I highly recommend it!
Having one place for our customers to upload their insurance certificate makes tracking insurance certificates much easier. We use to internally file and collect insurance certificates from customers and it was a challenge to collect all of that paper and to effectively track the insuarnce certificates.
We switched to myCOI from another insurance tracking system because we were looking for a more involved vendor that could do more for us than just track certificates. We needed help with compliance and having a system that could contact vendors and keep on them until they became compliant with insurance. myCOI does this for us and we have very few non-compliant vendors compared to the number we had in our last system.
The product has met our expectations in that it has allowed us to regain some time that was previously spent doing all of the administration of insurance cert requests, reviews and acceptance. With that, we have been able to reallocate resources to more pressing business needs rather than insurance certificate management.
Our clients are thrilled with myCOI and how their compliance levels have been elevated beyond expectations. The reports and analytics are so valuable in measuring activity and compliance achievements. The system functionality is easy to use. The team are true partners.
MyCOI is a very great portal, a space where to keep organized all our certificate of insurance for our vendors. With the advantage that are online, always accessible and no paper backup is needed.Once you learned how to navigate into the portal and how to use the report tab you will have a world opening to you. In just one place you can access all the vendor information, policy expiration date, non-compliant policy line and see the last date when a document was updated.Our Senior Client Success Manager, [sensitive content hidden], she is always on top of our requests, and she replies promptly.
MyCOI has been a fantastic partner for our company. With frequent meetings with our dedicated account manager, ongoing communication, and the ability to customize our insurance needs with precision, we've seen exceptional outcomes throughout our portfolio. [sensitive content hidden] has provided invaluable assistance, and the review team is exceptionally competent and amicable, even when we inundate them with urgent requests. Overall, it's been an excellent experience, and we're eagerly anticipating our continued collaboration with them.
myCOI has helped our company go from drowning in unreviewed cois to getting our insurance review under control. Their team has been an amazing support and resource, and helped us to navigate the Essentials program, later transitioning to Concierge service as the workload was more than our team was able to manage. The beauty of this platform is that it provides a single, central hub for clients, agents and vendors to access, update and communicate. Every myCOI team member with whom I have worked has provided excellent service, been pleasant, knowledgeable, and provided quick response times. The quarterly meetings are beneficial to recap what is going well, where we need to improve and have questions answered. I highly recommend myCOI.
myCOI provides amazing custom support and they make the platform very easy to navigate. The myCOI team is always very helpful and quickly responds to my questions or goes out of her way to direct me to the correct team member who is able to assist me.
myCOI has amazing customer support. Our account representative meets with us quarterly to keep up-to-date on how our group is feeling about utilizing the system and interfaces with us day-to-day, as needed, to address any issues we encounter with agent notes, reviews, etc. It has been an incredibly efficient and beneficial relationship since day 1.
The myCOI platform has been so easy to work with from multiple angles. Because there are multiple stakeholders, we are all notified and kept in the loop if there are any COI tracking issues that need to be revised.
Compliance Management Software
If you run a business today, then you know just how much the marketplace has changed and just how much you need to think about in order to be competitive. In terms of insurance alone, there's a lot! In addition to protecting your building, your vehicles, and your employees, you also have to think about compliance risks of your third parties. Insurance regulations change quickly, and if you do not keep up with these changes, then you leave your company vulnerable. At the same time, though, the situation may leave you wondering: but how am I going to keep up with these changes? After all, there is already a lot that you need to manage on a daily basis in order to keep your company operational.
This is where compliance management software can become critical.
If you are looking for regulatory compliance management software, it's worth knowing that there are lots of compliance management tools to choose from. If you find the right compliance management system software, this will give you an easier time keeping up with these changing regulations. That way, you do not have to worry about whether you are in compliance, since the compliance management software will let you know if something is out of date or requires your attention. Then, you can address it immediately, and without having to worry about compliance measures, you can focus on other aspects of your business.
One specific area of compliance that is particularly important has to do with insurance tracking. Consider: are there certain insurance policies that a business in your industry is required to have? Do you have all of these, and are you sure that you are up to date on each of them? Do your third-parties carry these insurance policies that cover their liabilities? This is another area where a software program can be helpful. If you can use a software program to help you keep up with your insurance policies and the insurance policies of your third parties, then you can rest easy, knowing that you have the type of protection you require and you can spend your time attending to and growing other areas of your business.
So, what do you need to know about compliance management software? Learn more about how this type of program can help keep you and your business properly protected.
Free Compliance Management Software
Clearly, the pandemic has been difficult for business owners everywhere. If you are opening your doors again for the first time in a long time, then you are especially invested in making sure that you keep your doors open. During this difficult time, you may very well be looking for ways in which to reduce your overhead expenses, and this could make a free compliance management software program seem very attractive.
However, it's worth knowing that free compliance management software has its limits and can even create its own kinds of risks. If you are looking for free risk management software, then you should know and understand that you are probably only going to have access to a free, or limited trial. Most programs worth using will eventually require you to pay for them. After all, it takes money to develop and maintain a premium software program. So, if you find a software program that is permanently free, then you might be leaving your company vulnerable. Even in the best-case scenario, a free program may simply fall short of what you need it to do. Therefore, you should try to stay away from free compliance software programs and go with a premium software program instead.
Ultimately, if you're investing in the right solutions this will provide significant long-term benefits. For example, this kind of program could save you a lot of time, since you no longer have to worry about tracking down your third parties insurance certificates and managing them by hand. Instead, the software program will handle this for you. If something is wrong with the third party's insurance certificates or policies, the program will also notify you.
Furthermore, a premium compliance management software program that offers a full-service range of options can actually save you a lot of money in the long run. For instance, you will not have to worry underinsured or uninsured claims and losses since your software program will always let you know if you are in compliance. Then too, if compliance regulations or status change, then the software program should let you know, and you can adjust your business insurance or third-party insurance requirements accordingly.
Compliance Management System
Ultimately, you should be looking for a comprehensive compliance management system. If you're still using a spreadsheet with some kind of compliance management system template, then you want access to the right tools to keep your company protected. However, there are lots of tools available and as you've already seen, you need to use the right ones in order to properly manage insurance tracking. So, what does all of this entail?
First, it may mean that you need to look through a compliance management system PDF. This PDF will let you know exactly what tools are included in the system you are considering investing in. This can be a good way of ensuring that a particular compliance management system or tool includes the options you need to operate in your particular industry.
For example, if you operate in or adjacent to Construction or Commercial Real Estate, then you may be looking for a tool that can help keep track of liability or property insurance for your third parties. Likewise, if your company is in healthcare, then you may be looking for a tool that can help you keep track of professional liability insurance for healthcare providers. Ultimately, it's worth taking a close look at the compliance management system requirements. By doing this, you can make sure that you understand what type of boxes this program is going to check for your business and your specific business needs.
If you locate and invest in the right tools when it comes to tracking your third-party insurance policies, then you will no longer have to worry about their insurance policies expiring before they can renew them. Furthermore, if you plan on business growth in the future, then the software program is flexible enough to adjust insurance requirements if you require more coverage from your third parties. That way, you can upgrade your insurance requirements, making sure they track with the growth of your company and third-party risk
Also, keep in mind that you do not have to evaluate the quality of all available compliance management systems on your own, particularly if you are working in this area for the first time. Instead, you can also reach out to trained professionals who can help you find the exact tools you need. That way, you know you have the perfect compliance management system for your company.
Risk and Compliance Management Software
As you will quickly discover when you begin looking for risk and compliance management software, there are numerous features that you have to consider.
For example, you have to find a software program that is easy to use. By creating and reviewing a risk management software comparison sheet, you can figure out exactly what features each program offers. This is important because you don't want to pay for features you don't need, but you also want to make sure that necessary features are included. So, if you evaluate the various types of risk management software with your particular business needs in mind, you can decide what 'easy' will mean for you and your business.
When evaluating a specific risk and compliance management system, you have to make sure that it can keep up with changing regulations that are specific to your industry. For instance, if you work in the real estate industry, then your exact requirements are going to differ from those in the legal industry. So, if you make sure that you have a software program that can meet your industry-specific requirements, then you will also know you are set up for success.
Finally, you should also figure out whether the software program can scale with your company. If you are planning on having your company grow in the future, can the program grow with you? If the program will not scale with your business, then you will just have to spend money replacing it later.
Regulatory Compliance Software
When all is said and done, you might be looking for regulatory compliance software. Consider what regulatory compliance solutions apply to your company. The ultimate goal of these systems is to help you keep up with the regulatory changes that apply and are taking place in your industry.
If you review a list of requirements pertinent to your industry, then you're probably noticing that there are a lot: in fact, almost definitely too many for you to keep track of. If you try to keep track of these requirements by hand, then you will never be able to grow your business. This is another reason why you should invest in regulatory compliance systems to help you.
What will these programs do for you? They should automatically keep track of your individual insurance policies. They will let you know what the policy numbers are, who the insurance company is, what types of protection you have, when these policies begin, and when they will expire. Then, if any changes take place, either in your industry or in your particular coverage, then the program will let you know and you can address them immediately, making sure that you always have the right protection for your business.
Enterprise Risk Management Software
If you are looking for the best compliance management software program, it's worth keeping mind that there is no single "best" solution out there. No two companies are exactly the same, and neither are any two business insurance policies, so it stands to reason that compliance management software should also differ in order to meet those different needs. Thus, it's best to focus on finding the corporate compliance software program that is best for your individual company.
If you work in a large corporation, one option that you may want to consider is a cloud-based enterprise compliance software program. You need to take advantage of enterprise risk management technology, even just to look through the lens of certificate of insurance tracking. Then, in the event your third party insurance coverage does not meet the requirements of your industry, this program let you know. And an enterprise risk management solution will let you address this on the proper scale for the size of your business.
All in all, you need to make sure your business is properly protected. So, if you have questions or concerns about keeping track of your third parties insurance policies, then it is almost certainly time to let a professional certificate tracking system do this for you. Likewise, keep in mind that you do not have to go through this alone: you can also reach out to compliance management professionals who can help you with training, best practices, and more regarding your new compliance management software.