Best Certificate of Insurance Tracking Software
Protect Your Business From Costly Claims
Ask your CFO or Risk Manager just how much claims and lawsuits can cost your business. If you are collecting certificates just to confirm they were received, you have no guarantee that your requirements are being met. myCOI Central is built on a foundation of insurance industry logic to ensure you remain protected with the appropriate coverage.
Automate Your COI Tracking
There's no more need to worry about stacks of certificates cluttering up your office or hours of frustrating phone calls and emails to chase down certificates. myCOI Central provides your company with a solution to automate your insurance certificate requests, collection, and compliance resolution, while also giving your team a single, centralized repository to view compliance.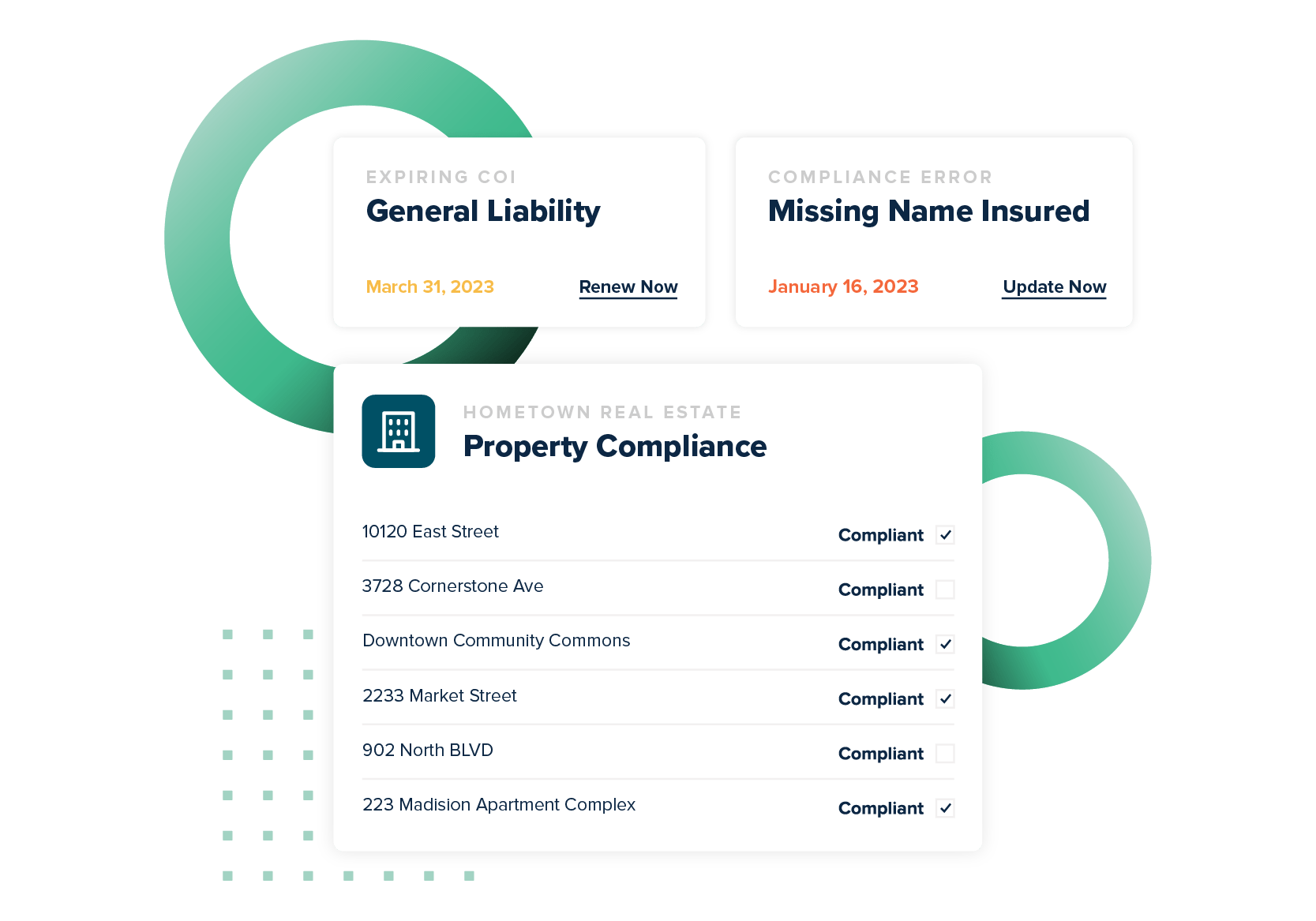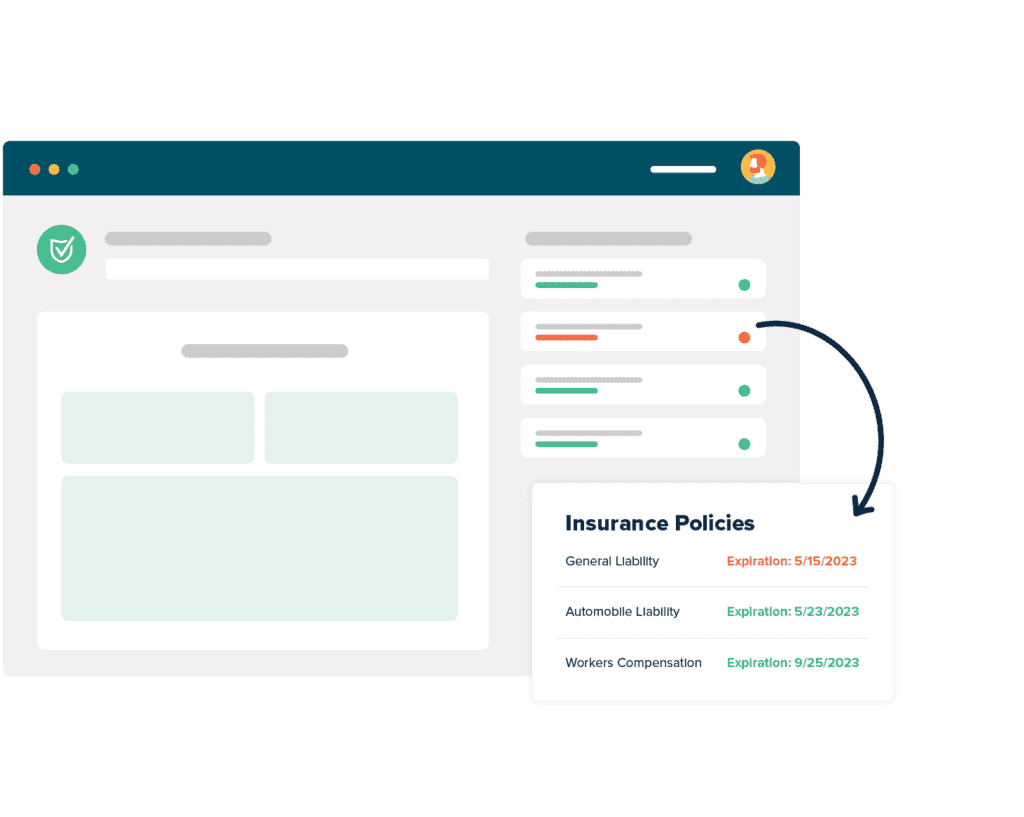 For Agents & Brokers
Win business and boost retention by providing agency branded, industry leading insurance tracking software to your insureds. Offer software only or add on your own compliance review services.
What Our Customers Say
OUTSTANDING!! In my opinion, this has been the best program I've had the pleasure of using. From all the services provided within the program and the exceptional customer service, this has made my job duties very manageable. I cannot say enough good things about this program. I highly recommend it!
Having one place for our customers to upload their insurance certificate makes tracking insurance certificates much easier. We use to internally file and collect insurance certificates from customers and it was a challenge to collect all of that paper and to effectively track the insuarnce certificates.
We switched to myCOI from another insurance tracking system because we were looking for a more involved vendor that could do more for us than just track certificates. We needed help with compliance and having a system that could contact vendors and keep on them until they became compliant with insurance. myCOI does this for us and we have very few non-compliant vendors compared to the number we had in our last system.
The product has met our expectations in that it has allowed us to regain some time that was previously spent doing all of the administration of insurance cert requests, reviews and acceptance. With that, we have been able to reallocate resources to more pressing business needs rather than insurance certificate management.
Our clients are thrilled with myCOI and how their compliance levels have been elevated beyond expectations. The reports and analytics are so valuable in measuring activity and compliance achievements. The system functionality is easy to use. The team are true partners.
MyCOI is a very great portal, a space where to keep organized all our certificate of insurance for our vendors. With the advantage that are online, always accessible and no paper backup is needed.Once you learned how to navigate into the portal and how to use the report tab you will have a world opening to you. In just one place you can access all the vendor information, policy expiration date, non-compliant policy line and see the last date when a document was updated.Our Senior Client Success Manager, [sensitive content hidden], she is always on top of our requests, and she replies promptly.
MyCOI has been a fantastic partner for our company. With frequent meetings with our dedicated account manager, ongoing communication, and the ability to customize our insurance needs with precision, we've seen exceptional outcomes throughout our portfolio. [sensitive content hidden] has provided invaluable assistance, and the review team is exceptionally competent and amicable, even when we inundate them with urgent requests. Overall, it's been an excellent experience, and we're eagerly anticipating our continued collaboration with them.
myCOI has helped our company go from drowning in unreviewed cois to getting our insurance review under control. Their team has been an amazing support and resource, and helped us to navigate the Essentials program, later transitioning to Concierge service as the workload was more than our team was able to manage. The beauty of this platform is that it provides a single, central hub for clients, agents and vendors to access, update and communicate. Every myCOI team member with whom I have worked has provided excellent service, been pleasant, knowledgeable, and provided quick response times. The quarterly meetings are beneficial to recap what is going well, where we need to improve and have questions answered. I highly recommend myCOI.
myCOI provides amazing custom support and they make the platform very easy to navigate. The myCOI team is always very helpful and quickly responds to my questions or goes out of her way to direct me to the correct team member who is able to assist me.
myCOI has amazing customer support. Our account representative meets with us quarterly to keep up-to-date on how our group is feeling about utilizing the system and interfaces with us day-to-day, as needed, to address any issues we encounter with agent notes, reviews, etc. It has been an incredibly efficient and beneficial relationship since day 1.
The myCOI platform has been so easy to work with from multiple angles. Because there are multiple stakeholders, we are all notified and kept in the loop if there are any COI tracking issues that need to be revised.
Easy To Use Coi Tracking Software For Commercial Real Estate
When you're the risk manager or senior property manager in charge of risk at your firm, an easy to use COI tracking software for commercial real estate can sometimes seem as impossible to reach as winning the lottery. We talk to so many people who tell us some version of "my COI tracking method is about to collapse." Not because they're not experts at their job, but because the sheer logistical workload around how to organize certificates of insurance can quickly get overwhelming.
Worse, not every COI tracking solution is easy to use. Or supported by a team of insurance professionals. Or within the price range of the company that needs it.
At myCOI we work hard to make sure we offer everything needed to erase your worry around certificate of insurance tracking.
Certificate Of Insurance Compliance
Certificate of insurance compliance is the work a risk manager or compliance admin does to collect, verify and maintain the certificates of insurance provided to that company by its third parties. Almost anyone a business hires to do work on its behalf can be asked to provide some form of proof of insurance. And on the face of it, that sounds like a pretty easy ask.
Collect a piece of paper? A standardized form? And store it? Easy-peasy.
Except that's just the easy part. Each certificate of insurance has to be checked, first and foremost to ensure that it claims all the necessary coverages, amounts, limits, and exclusions that your company requires of its contractors. Sure, there is general liability insurance mentioned, but does it protect to the same amount that you require?
Also, what assurances do you have that the contractor didn't let the policy lapse the day after they handed you the COI? Are you verifying with insurance agents that these contractors still hold the policies and protections that their COI claims? Are there exclusions to the contractor's protection that will mean you're held responsible for risk that should properly rest with the contractor?
A certificate tracking tool like myCOI handles a lot of this for you.
Best Certificate Of Insurance Tracking Software
The first step in choosing the best certificate of insurance tracking software is to identify the needs of your company. What need are you trying to solve by finding a way to track certificates of insurance tomorrow than you track certificates now? Are you hoping to save hours of your staff's time? Do you need a solution that's less expensive than the large compliance staff your current, manual process requires you to have? Writing down the answers to questions like these will give you a solid basis of comparison for the next step.
The next step is to compare different apps and read through reviews of them to see which COI tracking solution might fit your needs. Pay careful attention to what other users say about them. You're almost certainly looking for statements like "it saved us so much time," or "we were able to reinvest so much money and effort into things that really mattered to our business," and watching out for "It's hard to use," or "it didn't end up saving us any time."
Finally, make sure any software you consider has a robust and functional customer service and customer support function. Technology sometimes breaks—if or when that happens, you want to know that your COIs are safely recorded and that verification is ongoing! A simple program that's really nothing more than a certificate of insurance tracking Access template may not be the best solution for you.
At myCOI, we've made it our mission to erase the worry you might have about insurance compliance. Our tools, technology, and professional insurance staff can help you manage your COIs to save you time, money, and effort just like we have so many other companies.
Insurance Certificate Issuance Software
Insurance certificate issuance software is not something non-insurance companies typically have to worry about. The insurance company is responsible for issuing certificates of insurance to the company. If you're an owner or manager, it's crucial that you know what your responsibilities are and how those differ from someone in this role at another firm. Whether it comes down to handling employee-related matters or discussing business strategy with clients, a basic understanding of these roles will go a long way when forging relationships within your industry.
Sometimes people mention certificates of issuance, but that's a different certificate. These testify to the issuance of certificates for things like bar codes or identification numbers. As they sound, they are certificates of issuance meaning they're certifying that something was issued.
Instead of wasting time asking what a certificate of issuance is, focus on tracking your own certificates of insurance. With a COI tracking application, you'll never need to worry about tedious paperwork again. You can also make sure that your records are always up-to-date thanks to automated updates from vendors.
Commercial Real Estate Software
When you're beginning your journey to tracking certificates of insurance, it can be tempting, to begin with the commercial real estate software you already have. Most commercial real estate management software is fairly robust, but tracking certificates of insurance is something of a specialty activity that requires custom software. But, let's look at some common CRE tools just in case.
Commercial real estate analysis software is typically designed to give you answers to the questions you have about your CRE business. Feed it a dataset, run your reports, and it gives you good data visualization. But this usually can't help you with tracking COIs.
Commercial real estate accounting software is accounting software built for the unique needs of CRE businesses, but accounting software rarely works at all for tracking certificates of insurance.
Commercial real estate asset management software may offer a method of tracking COIs, but it's usually built to help you manage the operation of your CRE business. Tracking certificates is part of management, yes, but rarely does this software include that functionality.
Commercial real estate marketing software can be powerful software, but marketing has nothing to do with tracking certificates.
For tracking COIs, you want a dedicated and purpose-built application like myCOI.
Commercial Real Estate Valuation Software
Commercial real estate valuation software is critical to the success of any growing CRE business. Calculating the value and impact of different lease terms, lease amounts, expirations, commissions, along with more complex financial calculations for things like cash flow and depreciation, these software applications are powerful tools you buy because no other software can do what they do.
Expect the same rigor from the certificate of insurance tracking solution you choose.
Streamline your certificate of insurance tracking and protect your organization with the industry's leading COI tracking software and a team of insurance professionals. myCOI Central offers an easy-to-use, cloud-based solution to protect your organization and ensure end-to-end compliance. It's smart technology that has our industry expertise built right in—designed to provide your company a single place to view your COIs, compliance, and risk reporting, for your vendors, suppliers, tenants, subcontractors, franchisees, and carriers.
Free Coi Tracking Software
Running a business is expensive, and sometimes the last thing you want to add is another expense, even when you have a need. We can't tell you how many times we've heard companies tell us that they were doing their best: they knew about COI tracking software, but the budget was just too tight, so they did it with Excel or a free COI tracking software. For a while, they did okay.
But their compliance percentage slipped down a little every month, as their business grew and more and more certificates were received. Each of those certificates had to be tracked and verified. Each month, more certificates than the last.
At a certain point, the amount of unnecessary risk they were assuming got to be too much, and they had to look for a more professional solution. Sometimes it's because their risk management team or general counsel audits and realizes the exposure. Sometimes a new hire discovers a distressing reality that had gone unnoticed.
Unfortunately, sometimes it's because the company just had to pay a damaging claim that they should have been covered for.
Free COI tracking software is not inherently bad, and almost no one sets out to make bad software. But it takes a dedication to customer service, a mission to erase worry, and a team of insurance professionals like the one we've assembled at myCOI to make sure your company is doing all it needs to with its certificates of insurance.
Certificate Of Insurance Tracking Template Excel
If you're looking for a simple and manual way to track the certificates of insurance in your business, then using a COI tracking spreadsheet is an option worth considering. Many companies begin with solutions like having their staff track insurance policies on Excel spreadsheets. And for smaller companies just starting out, that system works. For basic certificate of insurance tracking Excel is not a bad solution.
The drawbacks of using an Excel insurance tracker are that it can be time-consuming to maintain and often require constant updating. What began as a simple project one person could track and easily snowball into a time-intensive process that's impossible to scale as a company grows. Instead, companies might add more people and more spreadsheets, which leads to paperwork being lost or misplaced, which leads to increased chances for errors in the data.
That is exactly the worry that myCOI erases. Our systems are industry-leading. Our insurance professionals are top-notch. If you're tracking hundreds of certificates of insurance, we'd love the chance to show you just how much time and effort we can save you.