Best Certificate of Insurance Tracking Software
Protect Your Business From Costly Claims
Ask your CFO or Risk Manager just how much claims and lawsuits can cost your business. If you are collecting certificates just to confirm they were received, you have no guarantee that your requirements are being met. myCOI Central is built on a foundation of insurance industry logic to ensure you remain protected with the appropriate coverage.
Automate Your COI Tracking
There's no more need to worry about stacks of certificates cluttering up your office or hours of frustrating phone calls and emails to chase down certificates. myCOI Central provides your company with a solution to automate your insurance certificate requests, collection, and compliance resolution, while also giving your team a single, centralized repository to view compliance.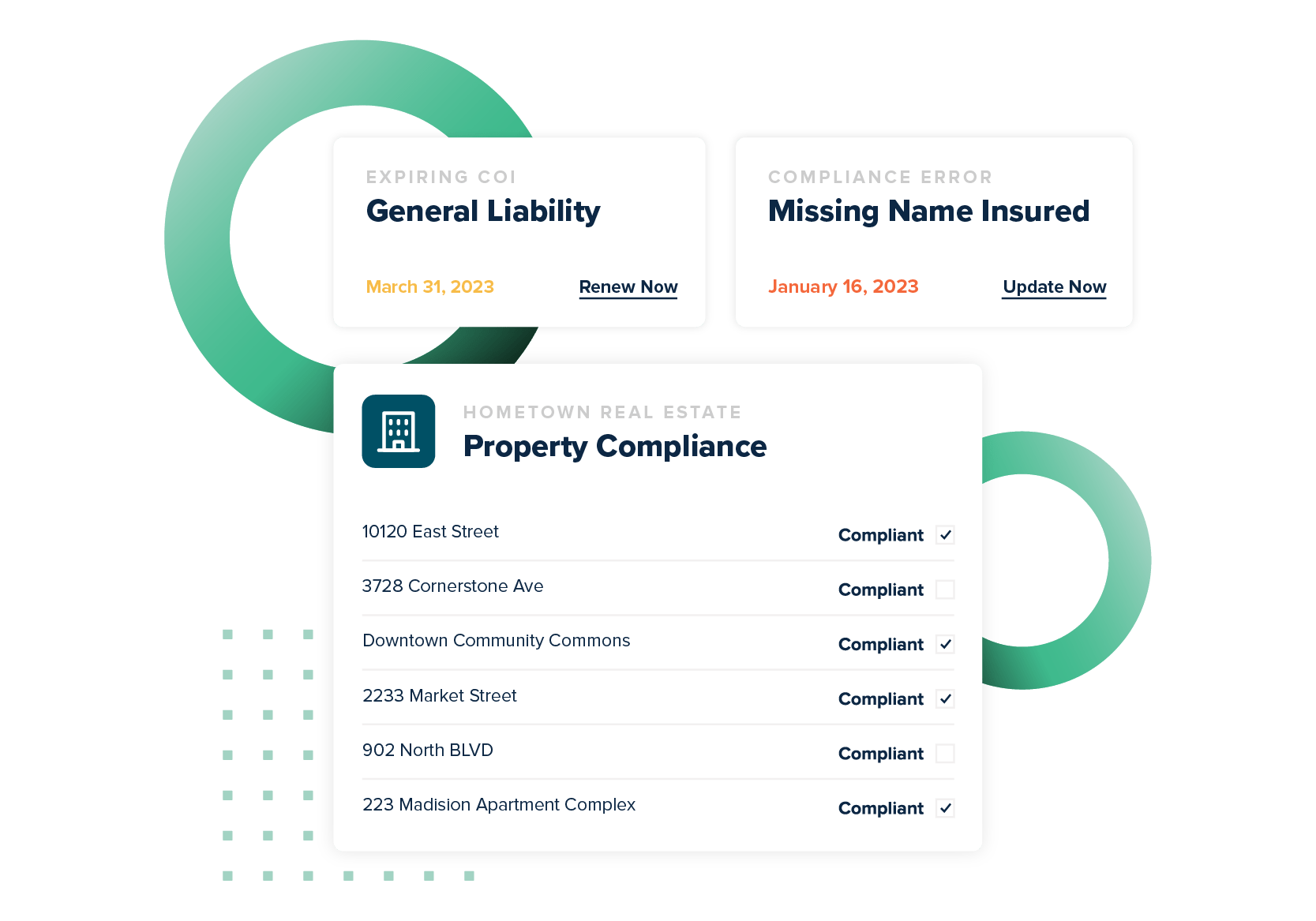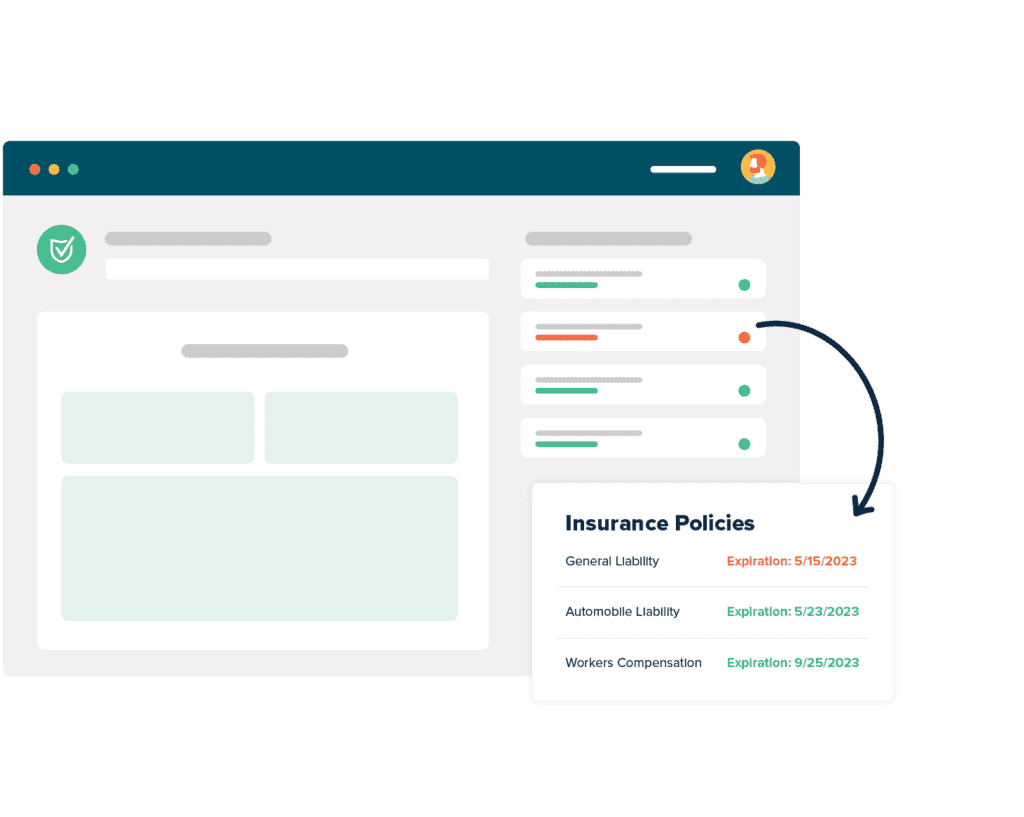 For Agents & Brokers
Win business and boost retention by providing agency branded, industry leading insurance tracking software to your insureds. Offer software only or add on your own compliance review services.
What Our Customers Say
OUTSTANDING!! In my opinion, this has been the best program I've had the pleasure of using. From all the services provided within the program and the exceptional customer service, this has made my job duties very manageable. I cannot say enough good things about this program. I highly recommend it!
Having one place for our customers to upload their insurance certificate makes tracking insurance certificates much easier. We use to internally file and collect insurance certificates from customers and it was a challenge to collect all of that paper and to effectively track the insuarnce certificates.
We switched to myCOI from another insurance tracking system because we were looking for a more involved vendor that could do more for us than just track certificates. We needed help with compliance and having a system that could contact vendors and keep on them until they became compliant with insurance. myCOI does this for us and we have very few non-compliant vendors compared to the number we had in our last system.
The product has met our expectations in that it has allowed us to regain some time that was previously spent doing all of the administration of insurance cert requests, reviews and acceptance. With that, we have been able to reallocate resources to more pressing business needs rather than insurance certificate management.
Our clients are thrilled with myCOI and how their compliance levels have been elevated beyond expectations. The reports and analytics are so valuable in measuring activity and compliance achievements. The system functionality is easy to use. The team are true partners.
MyCOI is a very great portal, a space where to keep organized all our certificate of insurance for our vendors. With the advantage that are online, always accessible and no paper backup is needed.Once you learned how to navigate into the portal and how to use the report tab you will have a world opening to you. In just one place you can access all the vendor information, policy expiration date, non-compliant policy line and see the last date when a document was updated.Our Senior Client Success Manager, [sensitive content hidden], she is always on top of our requests, and she replies promptly.
MyCOI has been a fantastic partner for our company. With frequent meetings with our dedicated account manager, ongoing communication, and the ability to customize our insurance needs with precision, we've seen exceptional outcomes throughout our portfolio. [sensitive content hidden] has provided invaluable assistance, and the review team is exceptionally competent and amicable, even when we inundate them with urgent requests. Overall, it's been an excellent experience, and we're eagerly anticipating our continued collaboration with them.
myCOI has helped our company go from drowning in unreviewed cois to getting our insurance review under control. Their team has been an amazing support and resource, and helped us to navigate the Essentials program, later transitioning to Concierge service as the workload was more than our team was able to manage. The beauty of this platform is that it provides a single, central hub for clients, agents and vendors to access, update and communicate. Every myCOI team member with whom I have worked has provided excellent service, been pleasant, knowledgeable, and provided quick response times. The quarterly meetings are beneficial to recap what is going well, where we need to improve and have questions answered. I highly recommend myCOI.
myCOI provides amazing custom support and they make the platform very easy to navigate. The myCOI team is always very helpful and quickly responds to my questions or goes out of her way to direct me to the correct team member who is able to assist me.
myCOI has amazing customer support. Our account representative meets with us quarterly to keep up-to-date on how our group is feeling about utilizing the system and interfaces with us day-to-day, as needed, to address any issues we encounter with agent notes, reviews, etc. It has been an incredibly efficient and beneficial relationship since day 1.
The myCOI platform has been so easy to work with from multiple angles. Because there are multiple stakeholders, we are all notified and kept in the loop if there are any COI tracking issues that need to be revised.
Employers Liability Insurance Vs Workers Compensation
If you run a business in today's complicated commercial insurance environment, then you need to make sure that your company is properly protected. To begin with, this means having the right insurance policy—and it usually entails more than one kind of insurance, too. For example, depending on your industry, your company might have commercial auto insurance to protect a fleet of commercial vehicles. Two other common examples are workers' compensation insurance and employers liability insurance, which often sound similar to new business owners. So if you are wondering about the difference between employers liability insurance vs workers compensation, here are a few important points to keep in mind.
When taking a look at employers liability insurance vs workers' compensation, workers' compensation is designed to cover the medical expenses of an employee who gets sick or injured on the job as a direct result of that job. Even though you might be wondering about workers' compensation per statute vs others, in each state it is important to understand that workers' compensation insurance does not take blame into account. So even if your employee is injured on the job through no fault of your own, workers' compensation insurance is going to need to cover their medical expenses. Because of this feature, you need to look closely at any workers' compensation policy sample in order to understand what kinds of incidents will be covered by it. It might also be helpful to take a closer look at a workers' compensation policy and procedures manual.
Despite this, there could be other damages that your company gets hit with as well. For example, a worker could decide to sue the company for pain and suffering as well as the actual injury. This is not something that your worker's compensation insurance policy is going to cover, so in this case, you would need another form of coverage, such as employer liability insurance.
Employer liability insurance is designed to pay for legal expenses that could be related to a lawsuit filed by an employee who gets sick or injured on the job. For example, your employer could get in a motor vehicle accident and break their leg. This incident is probably not the fault of your company. On the other hand, if your employee develops a wrist injury from repetitive typing, then they could decide to sue the company, and this is a situation where having employer liability insurance could be very helpful. By having this type of coverage, you can protect your company against the legal expenses related to this sort of lawsuit, which otherwise can get expensive quickly, even to the point of bankrupting the company.
With all of this on the line, make sure you protect your company and yourself against these kinds of risks.
Employers Liability vs General Liability
Another key difference between coverage types to be aware of involves employers liability vs general liability. This is worth mentioning because employers liability coverage is quite different from general liability. For example, if a customer comes into your place of business and slips, falls, and breaks their leg, that customer could decide to sue your company. That is where general liability insurance is helpful. Because that person is not an employee of the company, employer liability insurance will not cover the expense in this case.
On the other hand, you still need to have protection in place in the event that one of your employees ends up getting hurt on the job. This is where employers' liability coverage can be helpful. Based on the laws such as the Employers' Liabilities Act in the UK and similar regulations in the US, you need to make sure your company is adequately protected. Otherwise, you could end up having to pay for any injuries, medical costs, and other related expenses using company money—and this, of course, could drain capital from other important areas of the business.
At the same time, you do need to take a closer look at elements such as employers' liability insurance costs when you are trying to find the right policy for your company. That way, you can make sure you are not overpaying for this protection either. This is a fine line to walk: you need to have the right protection but it also needs to come at the right price. This way, your employees will feel better about the level of protection your company has as well, and this can be handled without breaking the bank.
Employers Liability Claim Examples
You may be wondering about a workers compensation and employers liability insurance policy form so you can view employers liability claim examples. Based on regulations such as the Employers' Liability (Compulsory Insurance) Act 1969, you need to make sure that your company has employers liability insurance. By looking at resources such as a workers' compensation insurance policy PDF, you should be able to view a sample workers compensation policy declaration page. However, even this might not give you enough information to protect your company.
This is why you need to understand a few common examples of claims that good employers' liability insurance can protect you against. For example, if an employee gets sick because your company does not have enough infection control measures in place, then that employee could decide to sue the company for pain and suffering. This is a specific situation where you may want to have employer liability insurance that can protect you against the ensuing legal expenses. Likewise, if your company ends up having to settle with an employee who got hurt on the job, this is another situation where your employers' liability insurance policy could be helpful.
Even though not all policies will cover these kinds of settlement expenses, it is still important for you to take a look at the limits of your insurance protection. That way, you understand which sorts of situations and incidents will be covered.
Finally, if an employee gets hurt on the job and decides to sue the company, your employers' liability insurance might be able to help pay your lawyers' bills as well. In this kind of case, you need to make sure your company has enough protection. This is why it is so important to understand the limits of your insurance coverage. And if you have any questions or concerns about the limits of your insurance protection, you should reach out to your insurance company for clarification. That way, you understand how much protection you have against any potential lawsuits that could be filed by current or former employees.
Employers Liability Insurance Limits
Before you decide to purchase liability insurance for your company, you should take a closer look at your employers liability insurance limits. In this case, you might be wondering, "is there a cap on workers compensation premiums?" Well, that differs: based on the workers' compensation policy PDF you have received, you might find that this is not the case. If you have questions about the caps on your worker's compensation insurance policy, this is something that you should be clarifying with the insurance company before you move forward. That way, you will understand how much money you are paying and how much protection you will have in return. In general, the more protection you get, the more expensive the policy is going to be.
In addition, you should also take a closer look at your employee liability insurance cost. Then, compare this cost to the employers liability insurance limits you might be facing. You also need to understand the employers' liability statutory limits. In general, there is a limit to the time that an employee has in which to bring a claim against the company. Then, if an employee tries to bring a claim against the company outside this window, it might not be heard by the court system. Finally, you should take a closer look at the limits of your employers liability insurance. If your company is responsible for expenses beyond the limit of your insurance company's liability, then you could be responsible for 100% of the remaining costs—an amount that could be substantial.
What Does Employers' Liability Insurance Cover?
Ultimately, one of the most important things you need to understand is the coverage provided by your employer's liability insurance policy. Here you may be wondering, "what does employers' liability insurance cover?" According to the standard workers compensation and employer liability policy form, this is an insurance policy designed to protect you against expenses that may arise from an employee getting hurt on the job. If someone who works for your company gets hurt on the job while performing within the scope of their assigned duties, then the company is probably going to be responsible for the resulting medical bills. That is where workers' compensation insurance can be helpful.
At the same time, some specific injuries or illnesses may also result in a lawsuit filed by the employee against the company. If that is the case, then your company could be held responsible for additional expenses, such as employee pain and suffering. In addition, your company will also need to pay to hire a legal team to try and defend itself against these accusations. Taken together, these expenses can be substantial, and this is where employers' liability insurance is helpful.
These are the main differences between the coverage provided by employers' liability insurance and the coverage provided by workers' compensation insurance.
Employers Liability vs Employment Practices Liability
Finally, there is also a difference between employers liability vs employment practices liability, as evidenced by taking a look at any sample workers' compensation policy and procedure. When looking at employers' liability vs workers' compensation, you will quickly see that employment practices liability insurance is completely different. For instance, employment practices liability insurance is designed to protect your company against lawsuits that may be related to your hiring practices. For example, if someone brings a lawsuit against your company, claiming that your company is discriminating against certain minorities, the resulting expenses here are not something that will be covered by employers liability insurance. Instead, this is something that could be covered by employment practices liability insurance. So there will certainly be situations where this type of insurance protection is helpful for your company.
Ultimately, your company is probably going to have a lot of insurance policies that will each play a role in providing you with the protection you require. Because of this, you need to make sure that you have tools or processes that can track all of these insurance policies. By doing this, you can tell when they are about to expire, and you can renew them before they lapse and leave your company vulnerable to certain financial pitfalls. Being vigilant here is critically important for protecting your company moving forward.