Best Certificate of Insurance Tracking Software
Protect Your Business From Costly Claims
Ask your CFO or Risk Manager just how much claims and lawsuits can cost your business. If you are collecting certificates just to confirm they were received, you have no guarantee that your requirements are being met. myCOI Central is built on a foundation of insurance industry logic to ensure you remain protected with the appropriate coverage.
Automate Your COI Tracking
There's no more need to worry about stacks of certificates cluttering up your office or hours of frustrating phone calls and emails to chase down certificates. myCOI Central provides your company with a solution to automate your insurance certificate requests, collection, and compliance resolution, while also giving your team a single, centralized repository to view compliance.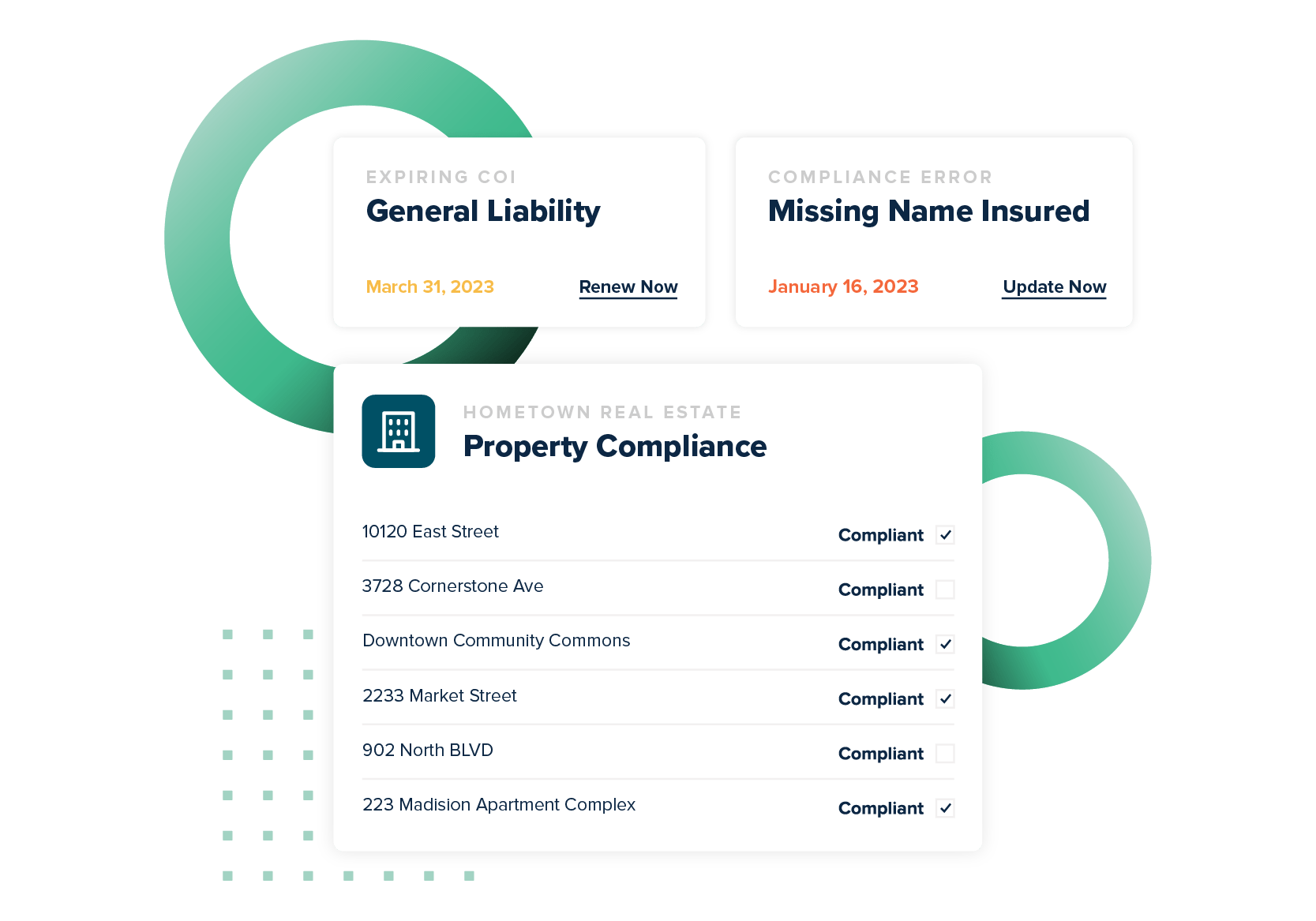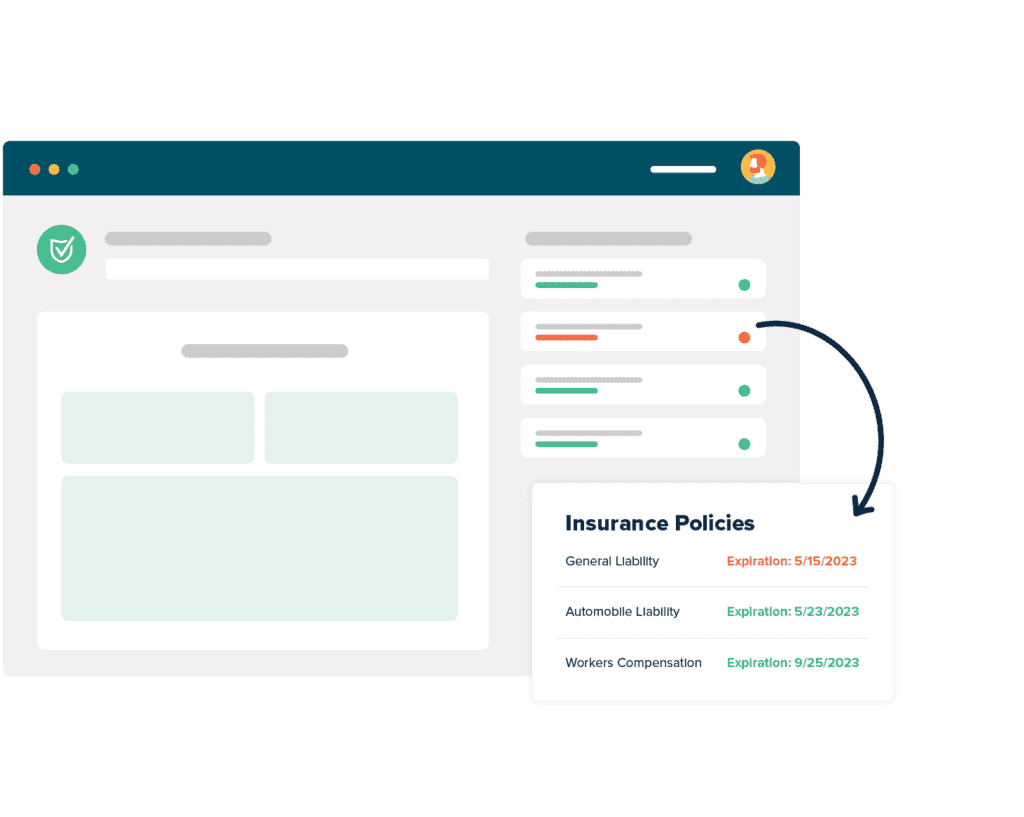 For Agents & Brokers
Win business and boost retention by providing agency branded, industry leading insurance tracking software to your insureds. Offer software only or add on your own compliance review services.
What Our Customers Say
OUTSTANDING!! In my opinion, this has been the best program I've had the pleasure of using. From all the services provided within the program and the exceptional customer service, this has made my job duties very manageable. I cannot say enough good things about this program. I highly recommend it!
Having one place for our customers to upload their insurance certificate makes tracking insurance certificates much easier. We use to internally file and collect insurance certificates from customers and it was a challenge to collect all of that paper and to effectively track the insuarnce certificates.
We switched to myCOI from another insurance tracking system because we were looking for a more involved vendor that could do more for us than just track certificates. We needed help with compliance and having a system that could contact vendors and keep on them until they became compliant with insurance. myCOI does this for us and we have very few non-compliant vendors compared to the number we had in our last system.
The product has met our expectations in that it has allowed us to regain some time that was previously spent doing all of the administration of insurance cert requests, reviews and acceptance. With that, we have been able to reallocate resources to more pressing business needs rather than insurance certificate management.
Our clients are thrilled with myCOI and how their compliance levels have been elevated beyond expectations. The reports and analytics are so valuable in measuring activity and compliance achievements. The system functionality is easy to use. The team are true partners.
MyCOI is a very great portal, a space where to keep organized all our certificate of insurance for our vendors. With the advantage that are online, always accessible and no paper backup is needed.Once you learned how to navigate into the portal and how to use the report tab you will have a world opening to you. In just one place you can access all the vendor information, policy expiration date, non-compliant policy line and see the last date when a document was updated.Our Senior Client Success Manager, [sensitive content hidden], she is always on top of our requests, and she replies promptly.
MyCOI has been a fantastic partner for our company. With frequent meetings with our dedicated account manager, ongoing communication, and the ability to customize our insurance needs with precision, we've seen exceptional outcomes throughout our portfolio. [sensitive content hidden] has provided invaluable assistance, and the review team is exceptionally competent and amicable, even when we inundate them with urgent requests. Overall, it's been an excellent experience, and we're eagerly anticipating our continued collaboration with them.
myCOI has helped our company go from drowning in unreviewed cois to getting our insurance review under control. Their team has been an amazing support and resource, and helped us to navigate the Essentials program, later transitioning to Concierge service as the workload was more than our team was able to manage. The beauty of this platform is that it provides a single, central hub for clients, agents and vendors to access, update and communicate. Every myCOI team member with whom I have worked has provided excellent service, been pleasant, knowledgeable, and provided quick response times. The quarterly meetings are beneficial to recap what is going well, where we need to improve and have questions answered. I highly recommend myCOI.
myCOI provides amazing custom support and they make the platform very easy to navigate. The myCOI team is always very helpful and quickly responds to my questions or goes out of her way to direct me to the correct team member who is able to assist me.
myCOI has amazing customer support. Our account representative meets with us quarterly to keep up-to-date on how our group is feeling about utilizing the system and interfaces with us day-to-day, as needed, to address any issues we encounter with agent notes, reviews, etc. It has been an incredibly efficient and beneficial relationship since day 1.
The myCOI platform has been so easy to work with from multiple angles. Because there are multiple stakeholders, we are all notified and kept in the loop if there are any COI tracking issues that need to be revised.
GC Certificate Of Insurance Tracking Tools
GC certificate of insurance tracking tools (the GC stands for general contractor) are the tools large companies use to keep track of the hundreds of thousands of certificates of insurance they receive from general contractors. Each of those GCs needs to carry their own individual insurance protection, whether they're a one-person company that insures only the sole proprietor, or a firm of dozens or hundreds of contractors. The risk generated by construction is not trivial, and it's critical to the success of most construction companies that the contractors it hires assume the correct amount of risk.
A lot of young companies try to track insurance policies on Excel spreadsheets. If you're looking for a certificate of insurance tracking template Excel is a good place to start. For a while, that can work, but the sheer complexity being tracked on those certificates of insurance means that most companies outgrow Excel very quickly. That's where solutions like myCOI come in.
At myCOI we offer the industry-leading certificate of insurance tracking solution, in a self-service SaaS solution as well as a concierge, managed service solution. We pioneered the COI tracking industry, you might say. And our team of insurance specialists, coupled with our commitment to customer service, makes us unmatched. Whether you need a certificate of insurance for business protection or a certificate of insurance for contractors that you're hiring to help out, we know the ins and outs.
Anyone can download a certificate of insurance template and fill it in, make it look presentable, and deliver to a requestor. Yes, that's dishonest and oftentimes illegal but it happens. Can your contracting business absorb the risk of not tracking for things like that? Or hiring full-time staff to hand-verify each one?
If you can't, then a tracking solution may be a smart move.
Certificate Of Insurance Sample
The concept of a certificate of insurance is not a new one. In a very basic form, you probably have a certificate of your auto insurance in your car or your wallet. The form is a bit more complex for business general liability insurance, but the concept is the same: a document issued by an insurer saying that the bearer is insured against certain actions to certain levels of protection.
Most agents or brokers will give you a certificate automatically, or offer you a way to request your certificate of insurance online via their website.
Now that we've talked about how important certificates of insurance are, let's look at a certificate of insurance sample. By far the most common general liability form is the ACORD 25 general liability insurance form, and you can see an example of this form from almost anywhere that provides certificate of insurance templates.
All of the fields are clearly labeled, and your agent or broker should provide it to you already filled out, but let's look at the high points. The Insured box should have your name or your company's name in it since it's certifying your insurance. Depending on your coverage, you may see values in the General Liability box, the Automobile Liability box, or the Umbrella/Excess Liability box, and so on. These details matter, because you can trust then that the certificate of insurance explained your coverage to the certificate holder.
Knowing how to get an insurance certificate online is only useful if you're carrying the correct kind and amount of coverage for your situation. Knowing what is correct is a conversation you have with your hiring entity and your agent or broker.
How To Request A Certificate Of Insurance From A Vendor
If you're a contractor or business asking which vendors need a certificate of insurance, the answer is pretty simple: any vendor that enters your business premises and takes any actions that may generate any risk at all needs to give you a certificate of insurance.
That sounds pretty vague, we know, but it's a simple reality. Risk exists all around us, whether we generate it or not, and the last thing you want to do is assume the burden of risk your vendor opened you to because you failed to secure a certificate of insurance.
Now you may ask "what is a certificate of insurance for vendors?" and the answer is, the same thing you provide to other entities that you do work on behalf of. It should show the vendor's coverage, any limitations or exclusions, and all the usual information.
Knowing how to request a certificate of insurance from a vendor likely comes down to how your business works with vendors. In many cases, COIs with the required coverages are required as part of the vendor application process or were specified in the RFP, or in an agreement or contract. If not, it's often a requirement before the vendor can begin working.
If you deal with a lot of vendors, you can often save a lot of time by having a sample letter requesting certificate of insurance from vendors on hand.
Certificates Of Insurance Best Practices
Certainly the phrase "certificate of insurance best practices" is a loaded term. There are so many angles to come from that any list of best practices that aims to be complete is almost sure to miss the mark. We can make an attempt, though, from our experience, but you need to be reminded at the outset that best practice can, and should be, modified to suit your company's specific needs.
First, certificates of insurance should be created by insurance agents and brokers. The ease with which anyone can download fillable PDFs of certificates now means that the potential for COI fraud from third parties has never been higher, which makes keeping your verified compliance rating high is more critical than ever. This is basic certificate of insurance 101 stuff.
Certificate of insurance management, and knowing how to track certificates of insurance, are skills and tasks best suited to a risk management team, or sometimes a small group or person in the counsel's legal department. There's a lot involved in this kind of tracking, as we'll cover below, and the distance between the work that needs to be done, and the amount of time and headcount often assigned to do it is what makes COI tracking solutions like myCOI so critical.
Certificates Of Insurance Issues And Answers
We know this can be a complicated topic because we get asked about certificate of insurance issues and answers all the time. Insurance is a complicated field with nuances around every corner, and almost every situation has some kind of unique aspect. Understanding coverage, understanding what the certificates of insurance actually say—and what they don't say—can be, and often is, a full-time job, and it often takes more than glancing at a certificate of insurance template.
There are two parties you want to check within almost any instance of questions around certificates of insurance. First, for questions like which vendors need a certificate of insurance, check with your company's risk management department, or when that doesn't exist, your company's general counsel about what your vendor insurance requirements are. In many cases, these departments or people can give you a certificate of insurance review checklist to help you ensure that the COIs you review have all the necessary coverage.
The other party will be the agent or broker who issued the certificate of insurance. When you have questions about the coverage, exclusions, or limitations shown on a certificate of insurance you receive, the only safe source of information is the agent or broker itself. Don't ask the third party who provided you with the certificate; not only does this give them the opportunity to be dishonest, it also sets you up to be taken advantage of out of ignorance or a mistaken belief about coverage. Go to the source. Ask the agent or broker. Certificate of insurance compliance is complicated enough without adding more chances for mistakes.
Certificates Of Insurance For Subcontractors
If you're a subcontractor, or you hire subcontractors and have to track the certificates of insurance you receive from them, you may see a few oddities. Depending on what state you're working in, certificates of insurance for subcontractors may sometimes lack evidence of workers' compensation coverage. This is because several states do not require workers' compensation coverage for what are called sole proprietorships, where the individual worker is the only employee of their one-person company. If you're unsure whether or not there should be a workers comp policy by statute, consult with your state's workers compensation board.
Even in states where it is not legally required, however, many companies that hire subcontractors still request proof of insurance from contractors as a necessity for employment. In that case, a workers' compensation certificates of insurance for subcontractors will show the minimum necessary coverage required by the hiring entity.
What's fun about these one-person plans is that often they're what are called ghost policies: they are workers' compensation plans, but they have exclusions disallowing coverage for the single employee. They allow subcontractors to satisfy the requirement of needing workers' compensation, but since they are excluded, the coverage only covers a ghost.
Or in reality, no one.
If you need to request a certificate of insurance from a subcontractor, check with your risk management team. They may have a certificate of insurance request form template you can use. Alternatively, you can reach out to the subcontractor and remind them many insurance brokers and agents offer ways to request a certificate of insurance online.
Certificate Of Insurance Management
Certificate of insurance management software is one of the most important purchases your risk management team can make, and that importance only scales up as the number of COIs you need to track goes up. At myCOI, we're devoted to erasing the worry of certificate tracking, by using our industry-leading software and services to make sure your COIs are compliant when you accept them and across the lifetime of your contract with your third-party.
There are other solutions, of course. And many of them may be the right choice for your business, but myCOI has spent more than a decade ensuring that we're the right choice for almost any company. We offer the best technology backed up by the very best team of insurance professionals.
And no one—no one—cares more than we do.
If you're comparing a couple of COI management systems against each other, pay attention to things like this:
Can the solution verify compliance against certificate of insurance requirements by state?
Can it read both typed and handwritten COIs?
Is it backed by a team of insurance professionals, or are you putting all of your faith (and your risk) in a machine?
Does it meet all the individual needs you have for your business and your compliance team?
Will it know how to get insurance certificate online, or help you with a COI request form?
Take demos from all of them. Go in with a list of questions. And don't leave that demo until you have your questions answered.