Best Certificate of Insurance Tracking Software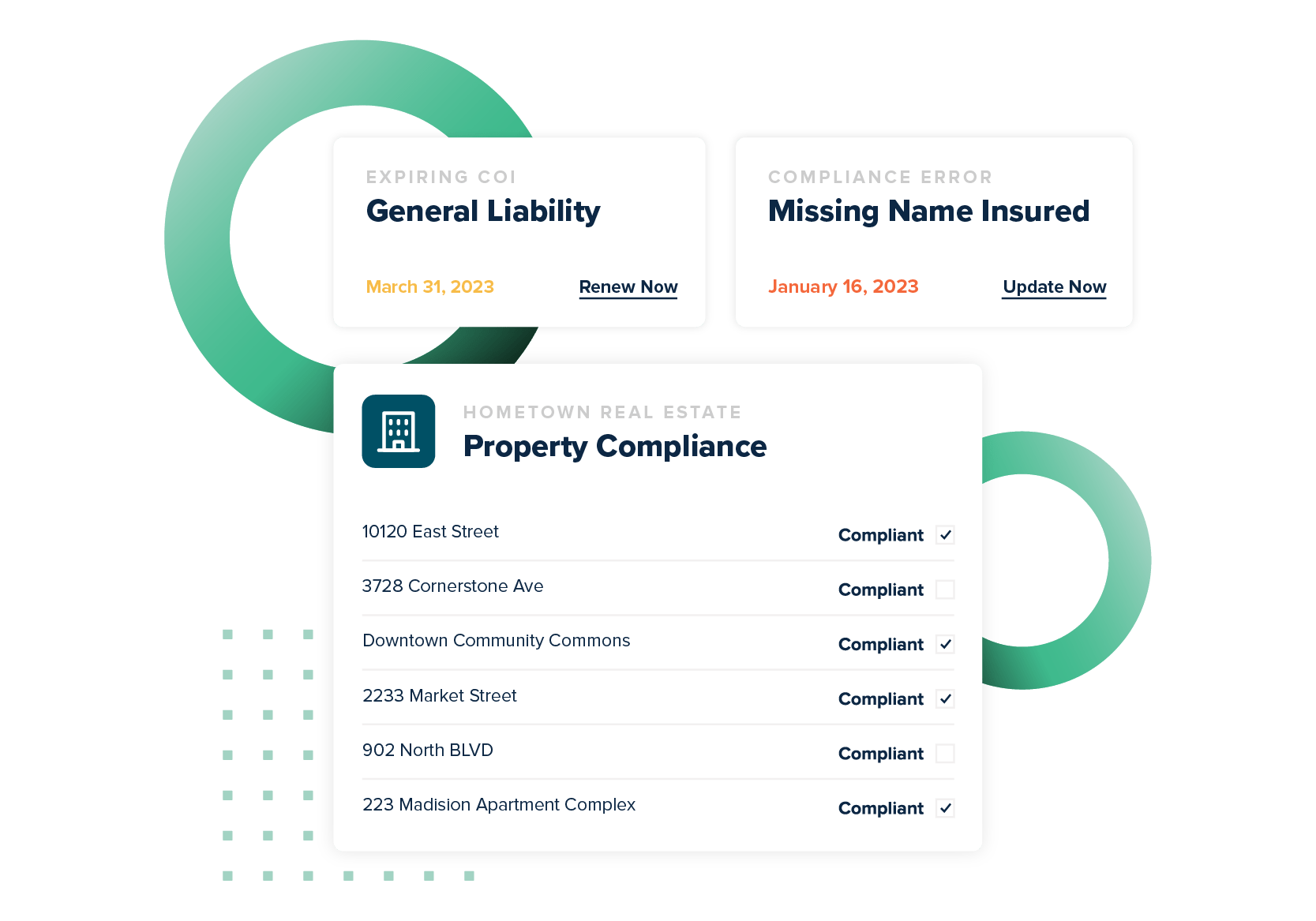 Automate Your COI Tracking
There's no more need to worry about stacks of certificates cluttering up your office or hours of frustrating phone calls and emails to chase down certificates. myCOI Central provides your company with a solution to automate your insurance certificate requests, collection, and compliance resolution, while also giving your team a single, centralized repository to view compliance.
Protect Your Business From Costly Claims
Ask your CFO or Risk Manager just how much claims and lawsuits can cost your business. If you are collecting certificates just to confirm they were received, you have no guarantee that your requirements are being met. myCOI Central is built on a foundation of insurance industry logic to ensure you remain protected with the appropriate coverage.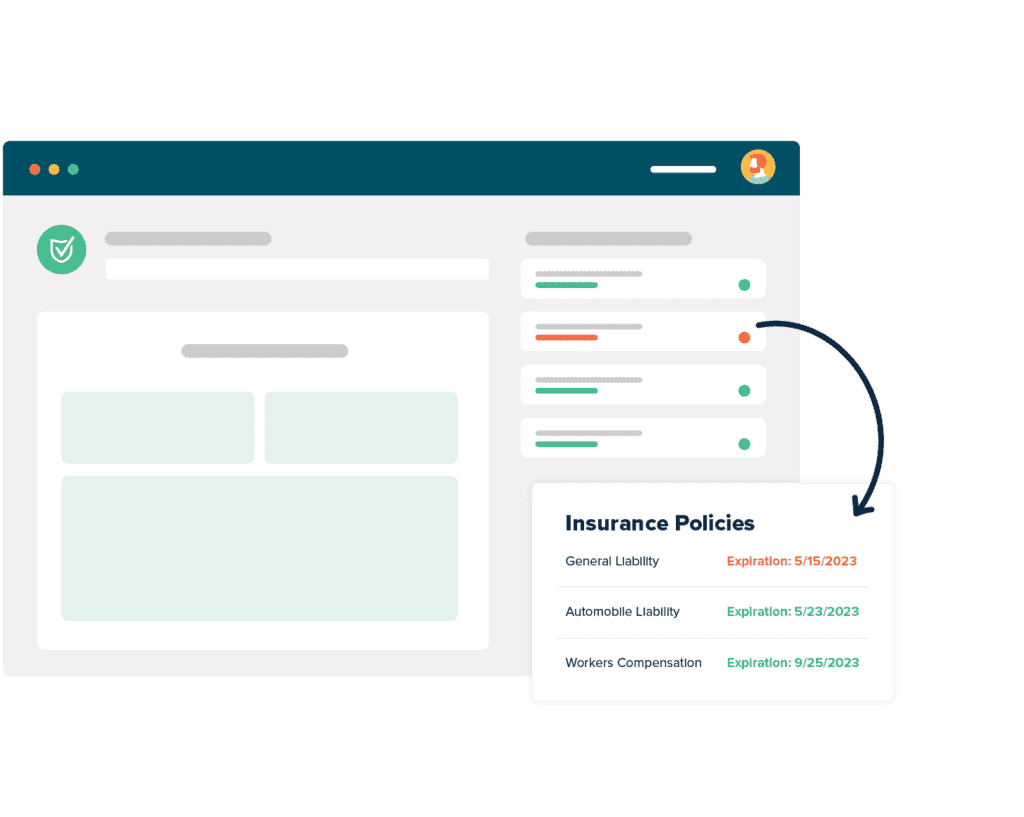 For Agents & Brokers
Win business and boost retention by providing agency branded, industry leading insurance tracking software to your insureds. Offer software only or add on your own compliance review services.
What Our Customers Say
OUTSTANDING!! In my opinion, this has been the best program I've had the pleasure of using. From all the services provided within the program and the exceptional customer service, this has made my job duties very manageable. I cannot say enough good things about this program. I highly recommend it!
Having one place for our customers to upload their insurance certificate makes tracking insurance certificates much easier. We use to internally file and collect insurance certificates from customers and it was a challenge to collect all of that paper and to effectively track the insuarnce certificates.
We switched to myCOI from another insurance tracking system because we were looking for a more involved vendor that could do more for us than just track certificates. We needed help with compliance and having a system that could contact vendors and keep on them until they became compliant with insurance. myCOI does this for us and we have very few non-compliant vendors compared to the number we had in our last system.
The product has met our expectations in that it has allowed us to regain some time that was previously spent doing all of the administration of insurance cert requests, reviews and acceptance. With that, we have been able to reallocate resources to more pressing business needs rather than insurance certificate management.
Our clients are thrilled with myCOI and how their compliance levels have been elevated beyond expectations. The reports and analytics are so valuable in measuring activity and compliance achievements. The system functionality is easy to use. The team are true partners.
MyCOI is a very great portal, a space where to keep organized all our certificate of insurance for our vendors. With the advantage that are online, always accessible and no paper backup is needed.Once you learned how to navigate into the portal and how to use the report tab you will have a world opening to you. In just one place you can access all the vendor information, policy expiration date, non-compliant policy line and see the last date when a document was updated.Our Senior Client Success Manager, [sensitive content hidden], she is always on top of our requests, and she replies promptly.
MyCOI has been a fantastic partner for our company. With frequent meetings with our dedicated account manager, ongoing communication, and the ability to customize our insurance needs with precision, we've seen exceptional outcomes throughout our portfolio. [sensitive content hidden] has provided invaluable assistance, and the review team is exceptionally competent and amicable, even when we inundate them with urgent requests. Overall, it's been an excellent experience, and we're eagerly anticipating our continued collaboration with them.
myCOI has helped our company go from drowning in unreviewed cois to getting our insurance review under control. Their team has been an amazing support and resource, and helped us to navigate the Essentials program, later transitioning to Concierge service as the workload was more than our team was able to manage. The beauty of this platform is that it provides a single, central hub for clients, agents and vendors to access, update and communicate. Every myCOI team member with whom I have worked has provided excellent service, been pleasant, knowledgeable, and provided quick response times. The quarterly meetings are beneficial to recap what is going well, where we need to improve and have questions answered. I highly recommend myCOI.
myCOI provides amazing custom support and they make the platform very easy to navigate. The myCOI team is always very helpful and quickly responds to my questions or goes out of her way to direct me to the correct team member who is able to assist me.
myCOI has amazing customer support. Our account representative meets with us quarterly to keep up-to-date on how our group is feeling about utilizing the system and interfaces with us day-to-day, as needed, to address any issues we encounter with agent notes, reviews, etc. It has been an incredibly efficient and beneficial relationship since day 1.
The myCOI platform has been so easy to work with from multiple angles. Because there are multiple stakeholders, we are all notified and kept in the loop if there are any COI tracking issues that need to be revised.
Insurance Risk Management
Majoring in risk management is the proper first step in pursuing a career in the field. A life filled with risk management and insurance notes and exams can yield career opportunities that can benefit employers across every industry. Students who take the right risk management notes might find themselves in a better position when they must demonstrate their knowledge.
Professionals who obtain an insurance risk management degree should know the various risk management techniques in project management and other industries and be able to apply them wherever they gain employment. For example, they should be able to incorporate 5 methods of handling risk in insurance. They should also know about all the shortcuts that make insurance risk management easier.
Since insurance is a risk management techniques involving transferring risk from a named insured to their policy issuer, the named insured might have to prove to the company that hired them they have adequate coverage. The named insured will probably be required to submit a certificate of insurance. At this point, the company that hired them must validate the certificate throughout the named insured's tenure.
Risk management teams can utilize a shortcut like myCOI to process each certificate of insurance quickly and accurately. myCOI can help reduce the time and mistakes that sometimes occur during insurance tracking. Developed and supported by insurance experts, this shortcut can help risk management teams fulfill their companies' insurance requirements. Shortcuts are not bad things when it comes to streamlining and strengthening workflows.
What is risk management techniques?
A risk management program graduate should know the answer. They should be able to tell people what risk management is, how to obtain a risk management in insurance PDF, and list the major types of risk management in insurance. Their knowledge can increase the chances of excelling in any number of insurance risk management jobs.
What Is Risk Management
Searching for risk management and insurance jobs requires information. Candidates who have a risk management and insurance degree should use each risk management and insurance job description to determine whether or not they possess the right amount of education and experience. They can go after a job with an entry-level risk management salary if that aligns with their insurance risk management salary expectations.
More importantly, job seekers should be able to concisely and correctly answer this question: What is risk management?
Risk management is the collection of processes that assess, manage, and mitigate a company's losses. Understanding the major risk management techniques in business can help job seekers further their careers and aid the companies that hire them. With many approaches available, risk management professionals must choose the most applicable ones. They must also know how best to integrate the approaches into current climates so everyone gets on board with minimum reluctance. They should also know how to integrate approaches into a company's existing practices to promote a seamless transition. Open communication is key during times like these. Clearly presenting a risk management plan to every level of an organization can increase its chances for success. An effective presentation relies on information and it all comes down to what a risk management professional knows.
Employees who do not support a risk management plan should be taught that risk management keeps their company safe from all of its liabilities. Some companies have only a few risks to worry about. Some have hundreds or more. Not addressing any of the risks jeopardizes a company's fortunes. One claim or lawsuit can end a company's operations. Employees who did not support risk management could be out of a job.
What is risk management?
It is the process of protecting a company and its employees from financial harm.
Risk Management In Insurance PDF
Sometimes the most educated person needs to refresh what they already know. If they are constantly busy, they might push certain things to the back of their mind. If they do not regularly handle certain issues, then they can forget what they have learned.
A risk management in insurance PDF can help professionals sustain their expertise. An insurance management PDF can also educate outsiders about the intricacies risk management teams must contend with every day.
Anyone can search for a risk management and insurance questions and answers PDF online. Easy availability is one of the perks of the digital world. However, anyone can create and upload a PDF that has erroneous information. You have to consider the source if you want to download good information. You should obtain information from reputable sources, including industry leaders and educational institutions. You can also typically rely on governmental sources.
While downloading a risk management in insurance PDF from a dubious source does not sound like it could pose a problem, using one to find facts to support a risk management plan can limit the plan's success. This can prove detrimental when presenting a new plan for potential adoption. Who can believe data from a source that can not be trusted?
Types Of Risk Management In Insurance
Types of risk in insurance PDF documents can be useful for several reasons. A risk management techniques PDF can answer questions like "what is risk in insurance?" It can also list the various types of risk management in insurance. Risk management techniques in insurance PDF documents can also help companies execute their risk strategies.
For instance, a new risk management professional can refer to a PDF to learn more about 4 risk management techniques that can help their company. They can find out that risk avoidance shuns actions that create and drive risk. Risk reduction can keep losses at a minimum, acceptable level. Risk transfer passes the risk to another entity. Risk retention involves accepting a risk if it is financially viable to do so. You can find all of this information and more in a PDF download.
Companies that know the primary types of risks in insurance can incorporate them into their risk management plans to add protection. Companies can follow any or all of the risk management techniques in insurance to better control their liability exposure. Some organizations might focus on certain techniques over others. The decision depends on their specific risks and respective threat levels.
Learning and executing different techniques can seem overwhelming, especially if a company does not have a robust risk management team or one at all. Not having a proper team is a huge risk in itself. Every business carries some element of risk. Creating a risk management team that has experience and expertise is essential in any setting.
The next crucial step is to create a risk management plan. Companies can use this system to list possible risks and the procedures to handle them according to any technique.
The next step is to activate the plan. Policies are no good if they are not enforced. Initiating the plan can help companies maintain their fortunes and reputations.
Insurance Risk Management Jobs
If you are interested in helping companies overcome their risks, then you can apply for risk management jobs. You can also apply for insurance risk management jobs if insurance is your specialty. Insurance jobs can be found nearly everywhere. Risk management positions are also plentiful. You just have to set some time aside to search for the opportunities that best suit your education, experience, and salary expectations.
Risk management and insurance entry level jobs can be beneficial in introducing you to the field. If you like the work, then you can evolve your skill set and request a higher insurance risk management jobs salary. Your interest alone will not guarantee a promotion and pay increase. You have to produce results.
Some positions allow you to work outside of an office. If you insert "insurance risk management jobs remote" into either a search engine or an employment website, you can sort through the different jobs that let you work from home. You can use this benefit as another reason to apply for a particular job.
Once you are hired, your work has only begun. You have to confirm your employer's confidence in you. You must do all the things you listed on your resume.
Risk Management And Insurance Practice
You can recite the difference between risk management and insurance management and answer risk management in insurance sector questions. Maybe your company asked you to write a risk management and insurance questions and answers PDF or prepare a risk management in insurance PPT. No risk and insurance SlideShare presentation or types of risk in insurance PPT can substitute actual risk management and insurance practice. You have to do more than talk about the best risk management techniques.
What if you find yourself struggling to back up your credentials?
If you are tasked with your company's insurance tracking, then you can partner with myCOI to manage all of your certificates of insurance. You could manually verify and monitor each certificate. You could use spreadsheets and other clunky tools to keep track of coverage types and expiration dates. What if your manual methods are plagued with mistakes? Can your company withstand a lawsuit because you incorrectly thought a third party was insured? myCOI can help you eliminate all doubt. The automated solution is a shortcut you can take when you prove to your company that you know what you are talking about. You can show everyone that you can back up your knowledge with real-world actions.
Subscribe to the newsletter