Best Certificate of Insurance Tracking Software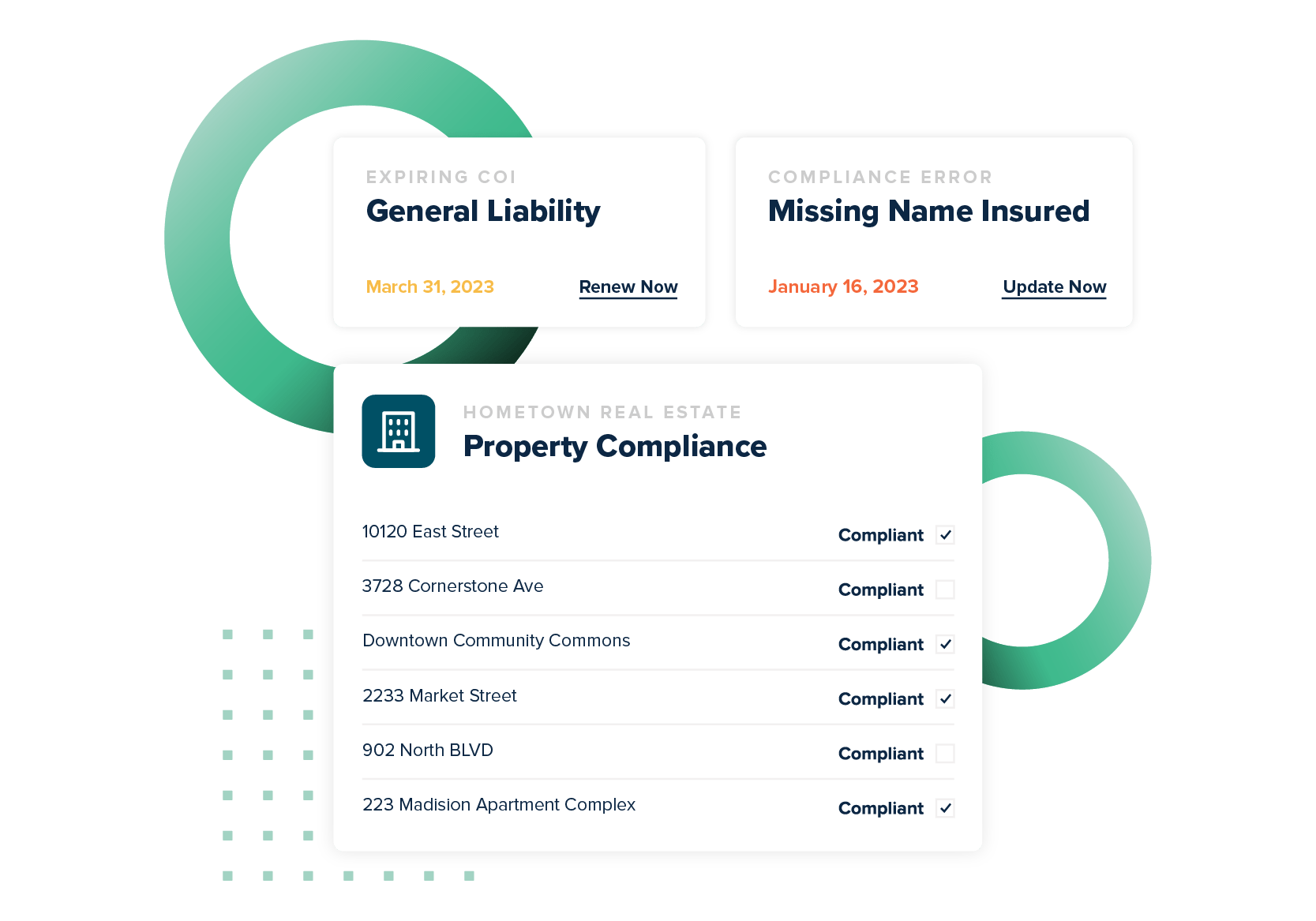 Automate Your COI Tracking
There's no more need to worry about stacks of certificates cluttering up your office or hours of frustrating phone calls and emails to chase down certificates. myCOI Central provides your company with a solution to automate your insurance certificate requests, collection, and compliance resolution, while also giving your team a single, centralized repository to view compliance.
Protect Your Business From Costly Claims
Ask your CFO or Risk Manager just how much claims and lawsuits can cost your business. If you are collecting certificates just to confirm they were received, you have no guarantee that your requirements are being met. myCOI Central is built on a foundation of insurance industry logic to ensure you remain protected with the appropriate coverage.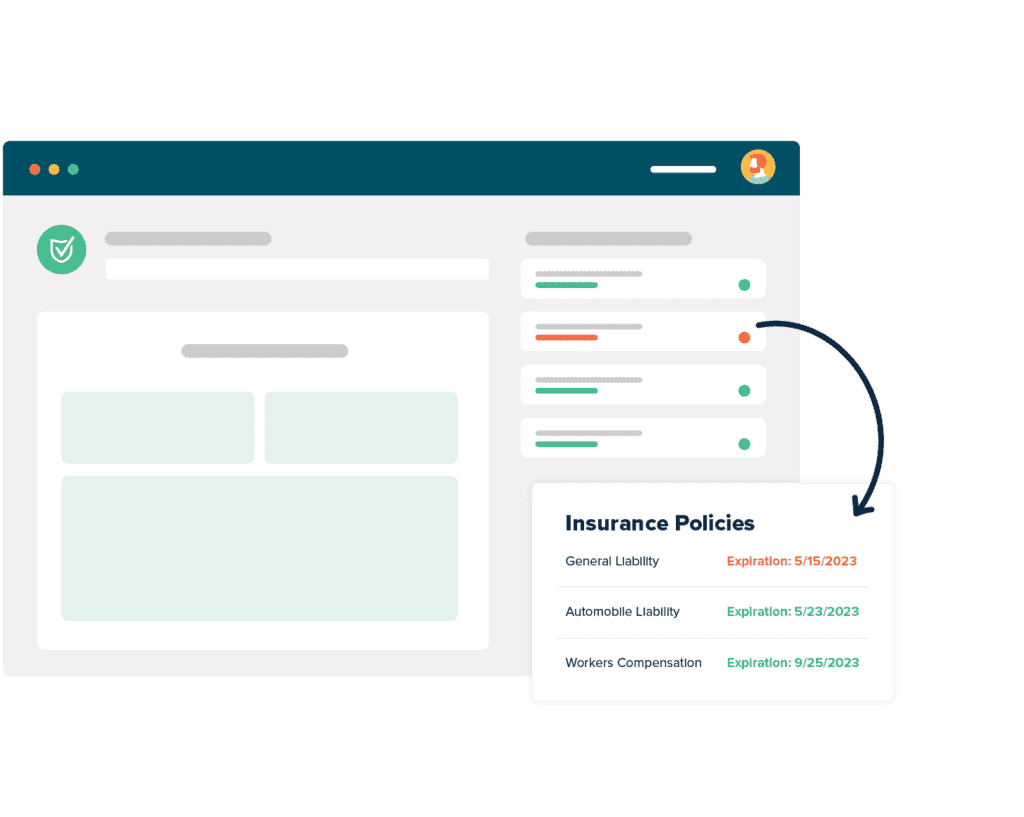 For Agents & Brokers
Win business and boost retention by providing agency branded, industry leading insurance tracking software to your insureds. Offer software only or add on your own compliance review services.
What Our Customers Say
OUTSTANDING!! In my opinion, this has been the best program I've had the pleasure of using. From all the services provided within the program and the exceptional customer service, this has made my job duties very manageable. I cannot say enough good things about this program. I highly recommend it!
Having one place for our customers to upload their insurance certificate makes tracking insurance certificates much easier. We use to internally file and collect insurance certificates from customers and it was a challenge to collect all of that paper and to effectively track the insuarnce certificates.
We switched to myCOI from another insurance tracking system because we were looking for a more involved vendor that could do more for us than just track certificates. We needed help with compliance and having a system that could contact vendors and keep on them until they became compliant with insurance. myCOI does this for us and we have very few non-compliant vendors compared to the number we had in our last system.
The product has met our expectations in that it has allowed us to regain some time that was previously spent doing all of the administration of insurance cert requests, reviews and acceptance. With that, we have been able to reallocate resources to more pressing business needs rather than insurance certificate management.
Our clients are thrilled with myCOI and how their compliance levels have been elevated beyond expectations. The reports and analytics are so valuable in measuring activity and compliance achievements. The system functionality is easy to use. The team are true partners.
MyCOI is a very great portal, a space where to keep organized all our certificate of insurance for our vendors. With the advantage that are online, always accessible and no paper backup is needed.Once you learned how to navigate into the portal and how to use the report tab you will have a world opening to you. In just one place you can access all the vendor information, policy expiration date, non-compliant policy line and see the last date when a document was updated.Our Senior Client Success Manager, [sensitive content hidden], she is always on top of our requests, and she replies promptly.
MyCOI has been a fantastic partner for our company. With frequent meetings with our dedicated account manager, ongoing communication, and the ability to customize our insurance needs with precision, we've seen exceptional outcomes throughout our portfolio. [sensitive content hidden] has provided invaluable assistance, and the review team is exceptionally competent and amicable, even when we inundate them with urgent requests. Overall, it's been an excellent experience, and we're eagerly anticipating our continued collaboration with them.
myCOI has helped our company go from drowning in unreviewed cois to getting our insurance review under control. Their team has been an amazing support and resource, and helped us to navigate the Essentials program, later transitioning to Concierge service as the workload was more than our team was able to manage. The beauty of this platform is that it provides a single, central hub for clients, agents and vendors to access, update and communicate. Every myCOI team member with whom I have worked has provided excellent service, been pleasant, knowledgeable, and provided quick response times. The quarterly meetings are beneficial to recap what is going well, where we need to improve and have questions answered. I highly recommend myCOI.
myCOI provides amazing custom support and they make the platform very easy to navigate. The myCOI team is always very helpful and quickly responds to my questions or goes out of her way to direct me to the correct team member who is able to assist me.
myCOI has amazing customer support. Our account representative meets with us quarterly to keep up-to-date on how our group is feeling about utilizing the system and interfaces with us day-to-day, as needed, to address any issues we encounter with agent notes, reviews, etc. It has been an incredibly efficient and beneficial relationship since day 1.
The myCOI platform has been so easy to work with from multiple angles. Because there are multiple stakeholders, we are all notified and kept in the loop if there are any COI tracking issues that need to be revised.
Software For Insurance Agents
Insurance agents often benefit from high-quality software tailored specifically to the needs of their job. Because of this, the call for software for insurance agents has grown in recent years. Insurance agents benefit from high-quality insurance systems and software to ensure constant protection of the insured. Because of the critical nature of insurance software, agents must seek the best insurance software companies to partner with before investing in specific software. To be a successful insurance agent, you will need to work with insurance software companies to implement a system that is fast, efficient, accessible, and accurate.
If you are learning about the top insurance software companies, you need to look closely at the specific features a specific company offers for insurance agents. With the right software, your job as an insurance agent becomes much more straightforward. Health insurance software companies, life insurance software companies, and insurance SaaS companies are critical for any insurance agents looking to integrate technology into their work. Software companies like myCOI serve a variety of customers, including agents seeking tools like health insurance tracking software. For example, one of myCOI's many benefits for insurance agents is the Insurance Agent Portal feature. This feature allows agents to receive essential and personalized emails and reports to simplify the process of taking action on behalf of the insured. Furthermore, myCOI's Insurance Agent Portal guarantees that agents provide compliant COIs that can be directly uploaded to myCOI for a comprehensive review.
Insurance companies must prioritize software for their agents to provide critical support when agents are dealing with customers and claims. Navigating your job as an insurance agent is straightforward when implementing the right insurance agent software. Software for insurance agencies such as myCOI's Insurance Agent Portal includes various essential features, such as:
Real-time access to view contact insurance requirements, renewal status, and pending non-compliance
Personalized emails and reports for insurance agents to take action on behalf of their insured and provide compliant COIs
Directly upload certificates and endorsements online, eliminating your paper trail and manual processes
Remove manual touch points with crucial notifications and simplified online interaction
Insurance Software
Finding insurance software that is suited to your agency and work is essential to improving your workflow and eliminating unnecessarily complex tasks. Because your work as an insurance agent is vital to the livelihoods of many insured individuals, you must use the best insurance agency management software available to you to continue providing high-quality care. Additionally, using insurance software is critical not only to how well you serve customers but to how efficiently you can solve issues from insured individuals as they arise. The best agency management system for insurance agents will provide a comprehensive overview of an agent's performance and efficiency, along with tools to promptly address any client-related issues.
If you are concerned about the general insurance agency management systems cost, then it is important to invest time into researching different management systems to compare prices and features. While the best insurance agency management software isn't always the cheapest, it isn't necessarily the most expensive software either. This comes down to a variety of factors across various health insurance agency management system tools. However, myCOI is a cost-effective, advanced, platform that offers custom pricing for insurance agencies. myCOI differs from other insurance management systems because it offers a unique level of personalization that is essential to performing well as an insurance agent.
Insurance agencies and independent insurance agents both benefit from platforms like myCOI for insurance software. Using myCOI as your primary insurance tracking software allows you to help customers have a better experience with your agency, allowing you to earn new business and develop a positive relationship with your customers.
Tools For Insurance Agents
Insurance agents can benefit from specific tools for insurance agents found in software like myCOI and insurance management systems. The top insurance agency management systems will have numerous tools that help agents streamline workflows and efficiently complete tasks. When selecting the software for your work as an insurance agent, you should evaluate the areas in your agency that you will target through the software. Those seeking insurance agency management systems will want to evaluate software based on a detailed, unbiased insurance agency management systems comparison. Along with having tools catered toward your needs, you will also want to consider an insurance agency management system's cost before selecting software.
Insurance agents also select software based on agency size. An insurance agency management system for small agencies may not require all of the features and tools that larger agencies would look for, and vice versa. However, whether or not you are looking into small insurance agency management systems, some features are especially important in an agency management system. Some of the most significant ways that management system tools can help insurance agents are:
Automating repetitive tasks, saving you time to generate leads, and eliminating manual error
Managing sales leads to help you nurture prospects
Monitoring analytics to accurately assess your strengths and weaknesses
Tracking current customers to remain informed
Cloud-based technology to access essential data, resources, and tools anywhere in the world
Ultimately, those seeking a health insurance agency management system, a life insurance system, or any other type of insurance management system will have different requirements for the software. However, having the aforementioned capabilities is essential to helping insurance agents navigate and utilize custom tools.
Insurance Agency Software
Finding the best agency management software is essential to making your day-to-day tasks straightforward. As you look into potential options for insurance agency software, you should educate yourself on the various features and tools offered by different software options. While many people using management system software work for a larger agency, finding high-quality software is critical to agents seeking an independent insurance agent platform. Once you have analyzed the basic features of a specific system, you will want to learn about the average insurance agency management systems cost, as this will likely factor into your final decision.
You might be asking: "what software do insurance brokers use?" While there is no exact platform that must be used, one of the most critical aspects of an agency management system is Customer Relationship Management (CRM) software. CRM for insurance agents is vital to managing various insured customers within your system. Without CRM software, insurance agents may get caught up in lengthy tasks when manually handling and tracking clients. By using the best agency management software, you can simplify your own workload and manage all of your work tasks with ease. Without CRM software for insurance agents to streamline their workflow, agents struggle with unorganized operations that are a disadvantage to both the agent and the insured. Using insurance agency software that excels in areas like options, scalability, integrations, hardware compatibility, and ease of use is imperative to improving your overall performance as an insurance agent. All of these factors must be considered when you are deciding on the right insurance agency software for you.
CRM Software For Insurance Agents
CRM software for insurance agents is critical to streamlining a hectic workflow and managing various insured clients. As an insurance agent, you will want to analyze multiple insurance CRM features before selecting software to aid you in your daily tasks. As an insurance agent, CRM systems are vital for going above and beyond the standard performance of other agents. By selecting the right insurance CRM software, you will be able to manage various insured clients at once.
Among some of the most notable insurance CRM features, you should prioritize in software are tools that help you not only manage relationships with insureds but strengthen these relationships as well. Whether you are seeking the best CRM for life insurance agents or the best CRM for Medicare agents, your CRM software should be able to achieve some of the following features found with myCOI's software:
Automated certificate renewal requests while eliminating time-consuming processes like large quantities of emails and phone calls
Automated non-compliance notices
Up-to-date information with necessary alerts
CRM for agents makes it possible for you to manage different policies across insureds. Additionally, the right CRM software will allow you to attract new prospective clients through simple strategies that improve customer relations.
Best Insurance Software
Ultimately, the best insurance software depends on numerous factors that influence how you navigate daily tasks as an insurance agent. t is crucial that you take the time to seek out high-quality software that suits your needs. Regardless of the different insurance software platforms, you consider for your agency's needs, platforms like myCOI can provide extra benefits for you as an agent. myCOI has insurance agency management tools to automate your tasks and save you time to target and generate leads to keep your work progressing.
myCOI is advanced and effective, with tools for insurance agents that offer added benefits to an agency's current management software. myCOI simplifies the process of handling certificates of insurance while simultaneously protecting your company from potential dangers due to claims, litigation, and audits. myCOI offers industry expertise to insurance agents that guarantee success without manual error. By using myCOI, your agency can take advantage of high-quality software and tools to provide the best experience to your insured clients. myCOI makes it easier to navigate your daily work tasks, making it an essential tool for your work as an agent and those insured under you.