Best Certificate of Insurance Tracking Software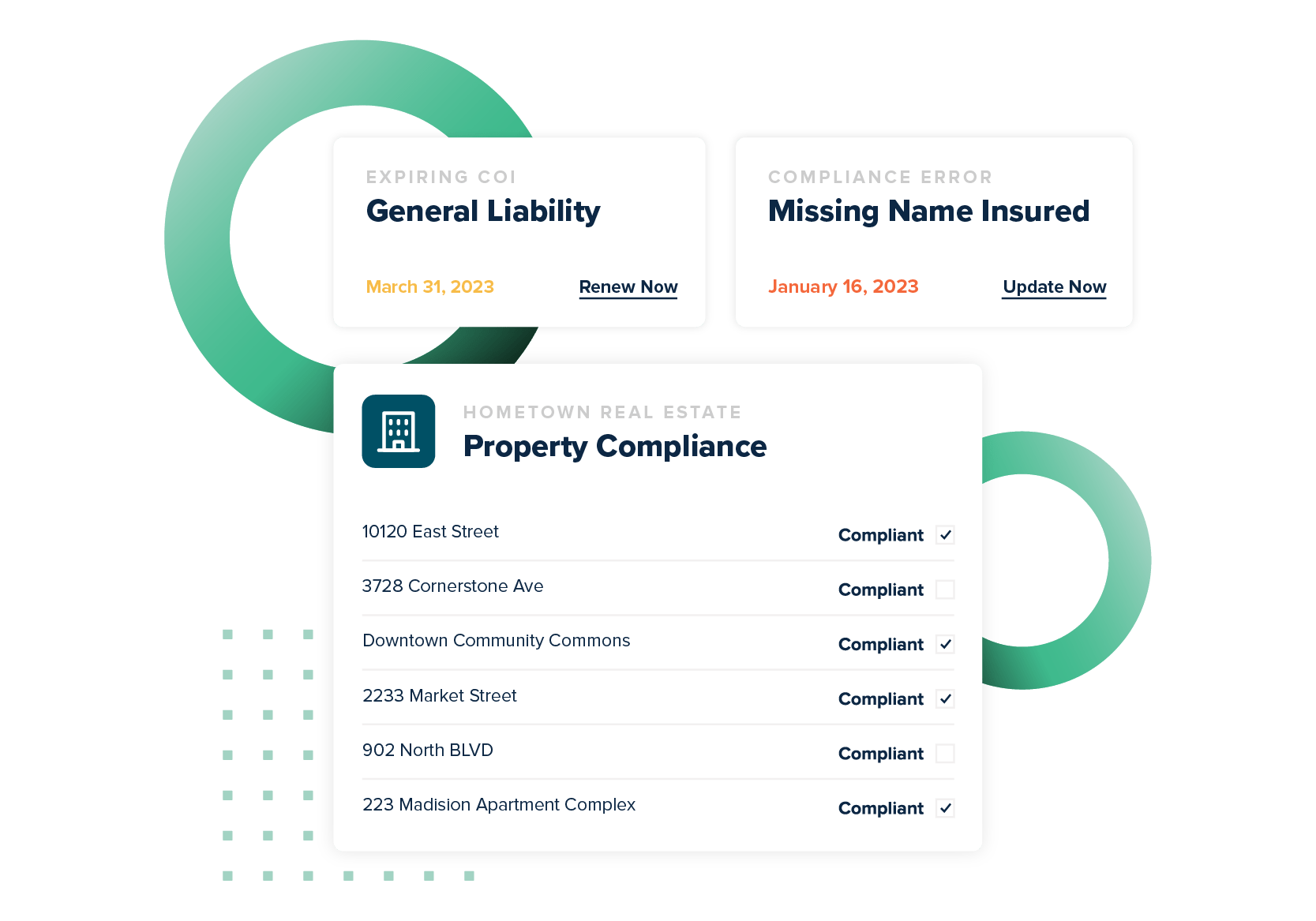 Automate Your COI Tracking
There's no more need to worry about stacks of certificates cluttering up your office or hours of frustrating phone calls and emails to chase down certificates. myCOI Central provides your company with a solution to automate your insurance certificate requests, collection, and compliance resolution, while also giving your team a single, centralized repository to view compliance.
Protect Your Business From Costly Claims
Ask your CFO or Risk Manager just how much claims and lawsuits can cost your business. If you are collecting certificates just to confirm they were received, you have no guarantee that your requirements are being met. myCOI Central is built on a foundation of insurance industry logic to ensure you remain protected with the appropriate coverage.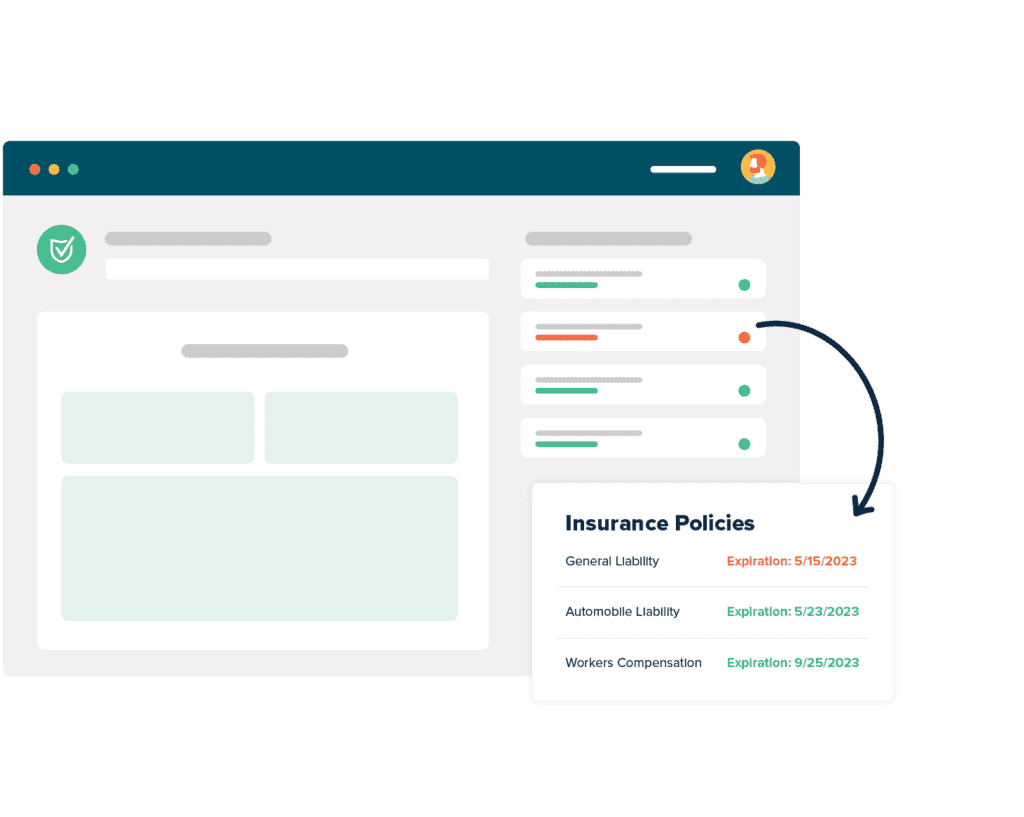 For Agents & Brokers
Win business and boost retention by providing agency branded, industry leading insurance tracking software to your insureds. Offer software only or add on your own compliance review services.
What Our Customers Say
OUTSTANDING!! In my opinion, this has been the best program I've had the pleasure of using. From all the services provided within the program and the exceptional customer service, this has made my job duties very manageable. I cannot say enough good things about this program. I highly recommend it!
Having one place for our customers to upload their insurance certificate makes tracking insurance certificates much easier. We use to internally file and collect insurance certificates from customers and it was a challenge to collect all of that paper and to effectively track the insuarnce certificates.
We switched to myCOI from another insurance tracking system because we were looking for a more involved vendor that could do more for us than just track certificates. We needed help with compliance and having a system that could contact vendors and keep on them until they became compliant with insurance. myCOI does this for us and we have very few non-compliant vendors compared to the number we had in our last system.
The product has met our expectations in that it has allowed us to regain some time that was previously spent doing all of the administration of insurance cert requests, reviews and acceptance. With that, we have been able to reallocate resources to more pressing business needs rather than insurance certificate management.
Our clients are thrilled with myCOI and how their compliance levels have been elevated beyond expectations. The reports and analytics are so valuable in measuring activity and compliance achievements. The system functionality is easy to use. The team are true partners.
MyCOI is a very great portal, a space where to keep organized all our certificate of insurance for our vendors. With the advantage that are online, always accessible and no paper backup is needed.Once you learned how to navigate into the portal and how to use the report tab you will have a world opening to you. In just one place you can access all the vendor information, policy expiration date, non-compliant policy line and see the last date when a document was updated.Our Senior Client Success Manager, [sensitive content hidden], she is always on top of our requests, and she replies promptly.
MyCOI has been a fantastic partner for our company. With frequent meetings with our dedicated account manager, ongoing communication, and the ability to customize our insurance needs with precision, we've seen exceptional outcomes throughout our portfolio. [sensitive content hidden] has provided invaluable assistance, and the review team is exceptionally competent and amicable, even when we inundate them with urgent requests. Overall, it's been an excellent experience, and we're eagerly anticipating our continued collaboration with them.
myCOI has helped our company go from drowning in unreviewed cois to getting our insurance review under control. Their team has been an amazing support and resource, and helped us to navigate the Essentials program, later transitioning to Concierge service as the workload was more than our team was able to manage. The beauty of this platform is that it provides a single, central hub for clients, agents and vendors to access, update and communicate. Every myCOI team member with whom I have worked has provided excellent service, been pleasant, knowledgeable, and provided quick response times. The quarterly meetings are beneficial to recap what is going well, where we need to improve and have questions answered. I highly recommend myCOI.
myCOI provides amazing custom support and they make the platform very easy to navigate. The myCOI team is always very helpful and quickly responds to my questions or goes out of her way to direct me to the correct team member who is able to assist me.
myCOI has amazing customer support. Our account representative meets with us quarterly to keep up-to-date on how our group is feeling about utilizing the system and interfaces with us day-to-day, as needed, to address any issues we encounter with agent notes, reviews, etc. It has been an incredibly efficient and beneficial relationship since day 1.
The myCOI platform has been so easy to work with from multiple angles. Because there are multiple stakeholders, we are all notified and kept in the loop if there are any COI tracking issues that need to be revised.
Insurance Agent Software
Insurance agent software serves various purposes for agents working in an agency or independently. The best insurance software will provide several benefits for agents and insured customers. If you are seeking health insurance software, then it is important to find software that suits your needs and the needs of your clients. By choosing the best insurance agency software available, you and your fellow insurance agents can confidently deliver care to clients while protecting your organization, automating time-consuming tasks, and eliminating the potential for manual error.
However, while you may be aware of the need for health claims software and other forms of insurance software, there are specific benefits that you should seek when deciding which software is right for you. A high-quality health insurance management system and similar insurance systems are accessible to all insurance agents. Insurance agents are often caught up in a variety of time-consuming tasks, including tracking policies across multiple clients. For this reason, you will want to implement genius insurance software for agents, along with insurance agency certificate tracking software like myCOI. myCOI is a platform that benefits insurance agents in various ways, including protection from costly claims and automated COI tracking.
Additionally, for insurance agents seeking P&C insurance software, having flexible and accessible tools is vital to streamlining your workflow and efficiently completing tasks throughout your day. It is important to remember that your needs from insurance software will come down to the area of insurance you work in and the customers you serve. For instance, health insurance agents will want a high-quality health insurance management system as opposed to a system for life or auto insurance.
While insurance agents should seek software suited to their specific needs, using insurance agent software in conjunction with myCOI can make a vast difference in the quality of work you are producing. myCOI can partner with insurance agents to craft solutions that have a real impact on the insured individuals that you serve. myCOI understands the importance of building solid relationships between insurance agents and insured clients and strives to deliver high-quality experiences for customers by working with partners such as referral partners, reseller partners, and technology partners.
Insurance Software Companies
Insurance agents can find numerous insurance software companies by searching online. While there are various companies available to help you meet the needs of your work and of your insured clients, it is essential to remember that not all insurance systems are the same. Because of this, it is vital that you don't choose insurance software without thoroughly looking into the company and completing research on its policies and features. Insurance agency management systems often focus on specific areas of insurance instead of insurance as a whole. Therefore, you should seek software based on the type of insurance you specialize in, such as health, auto, or life insurance.
The top insurance software companies will offer specialized software for your area of insurance. Additionally, the software will provide you with tools to efficiently manage various clients and policies with secure access to essential documents and reports relevant to your work. Depending on your needs as an insurance agent, you might seek some of the following types of insurance software companies:
Health insurance software companies
Life Insurance software companies
Auto insurance software companies
Insurance SaaS companies
Regardless of the type of insurance software you are seeking, it is essential to take your time and compare different platforms before selecting software. You can also benefit from tools offered for insurance agents and brokers by myCOI's cloud-based solution that streamlines tracking for insurance agents while ensuring end-to-end compliance. myCOI provides insurance agents with a specialized Insurance Agent Portal which facilitates renewals and guarantees timely responses to insured clients.
Insurance Software Platforms
Given the various essential tasks that insurance agents complete on a day-to-day basis, finding the right insurance software platforms is a challenge for many. Though all platforms for insurance management software hold their own merit, it is crucial to base your decision on various factors. For example, the top insurance software for you should be determined by a comparison of features such as tools, reviews, and cost. Additionally, you must consider the features that you will need for your specific area of insurance. The best P&C insurance software, for instance, will not necessarily be the best software for insurance agents working in health, auto, or life insurance.
As you seek the right insurance platform for you, it is essential that you look into myCOI and the various features that this software offers. While there are many insurance platform providers available, myCOI stands out because it is cost-effective and led by a team of insurance experts. Furthermore, myCOI makes it easy for agents to review multiple certificates of insurance at once, making it possible to manage various policies and insured clients. myCOI takes away the most overwhelming aspects of working as an insurance agent, streamlining and automating processes to ensure that you can confidently meet the needs and expectations of your insured clients. Manually managing your insured clients leaves room for error, and even tiny mistakes can have a large impact on the future of your work as an insurance agent. For this reason, myCOI should be considered a viable insurance software platform to help you navigate your work.
CRM Software For Insurance Agents
One of the most valuable assets for insurance agents is high-quality customer relationship management software or CRM software. CRM software for insurance agents serves a variety of purposes and makes it easier for agents to build strong relationships with their insured clients. As an insurance agent, CRM software is vital to protecting yourself and your insured clients and providing high-quality, attentive care. When looking for insurance CRM software, it is crucial that you consider various factors in your decision. For instance, the best CRM for life insurance agents might be different from the best CRM for Medicare agents. myCOI values relationships between insurance agents and insured clients and has many features aimed at strengthening these relationships. For example, myCOI has features like its Certificate Hub, Communications Director, Insurance Agent Portal, Risk Insights, and Compliance Manager. myCOI is led by insurance experts, and myCOI care experts offer constant support to insurance agents.
As you seek CRM software, you should look closely at different insurance CRM features that could benefit your work. The best CRM software will help you work efficiently while managing clients with various policies. For example, CRM for health insurance agents is vital to maintaining integrity within your work and continuously meeting the needs of your insured customers. Some CRM features to look for when finding CRM software include high-quality management systems, cost-effective solutions, customization features, document centers, and tools to easily communicate with other agents and insured clients. While CRM software has traditionally been used in sales, finding CRM software for insurance agents is still essential to overall job performance.
Top Insurance Agency Management Systems
Finding the best agency management system for your agency or for your work as an independent agent is crucial to providing the best care to the insured. If you are curious about the top insurance agency management systems, then you should conduct research to compare the different features of each system. By conducting an insurance agency management systems comparison, you can confidently determine which system is right for you. While you may be interested in finding free insurance agency management software, this is not always the best option. While free software can reduce costs, it doesn't always provide the best quality and often lacks extensive features.
If you are concerned about the insurance agency management systems cost, then you should prioritize cost-effectiveness when comparing different agency management systems for insurance. Regardless of whether you are seeking a health insurance agency management system or one of the P&C insurance agency management systems, a high-quality system packed with various features is essential. As you seek the right software, begin by prioritizing features and identifying which elements are crucial to your work. Then, consider cost-effectiveness and how the cost will factor into your final decision. Additionally, speaking with insurance experts like the team at myCOI can help you make the right decision.
General Insurance Software
While there are various options for specialized insurance software, many insurance agents will also benefit from general insurance software. Some of the top insurance software options available cover a variety of general needs for agencies and agents, regardless of what area of insurance you prioritize. Given the vast array of insurance systems available to agents, finding the best agency management system for insurance is crucial. CRM for insurance agents is vital to providing high-quality care and fostering healthy, trusting, beneficial relationships between you and your insured clients.
Whether you are seeking health, life, or auto insurance software, finding a platform for general insurance is still essential. Again, while you may be drawn to free insurance agency management software, it is important to remember that this will not always be the best option. Free insurance software programs, even for general insurance agents, do not always have the highest quality features and tools that you will need to succeed at work. Insurance broker software is crucial regardless of what area of insurance you work for. No matter what you need, using platforms like myCOI can help you navigate insurance software and make smart decisions that benefit you and your insured clients. myCOI's team of experts understands the importance of strong relationships between agents and customers and provides tools to agents seeking to strengthen this bond.