Best Certificate of Insurance Tracking Software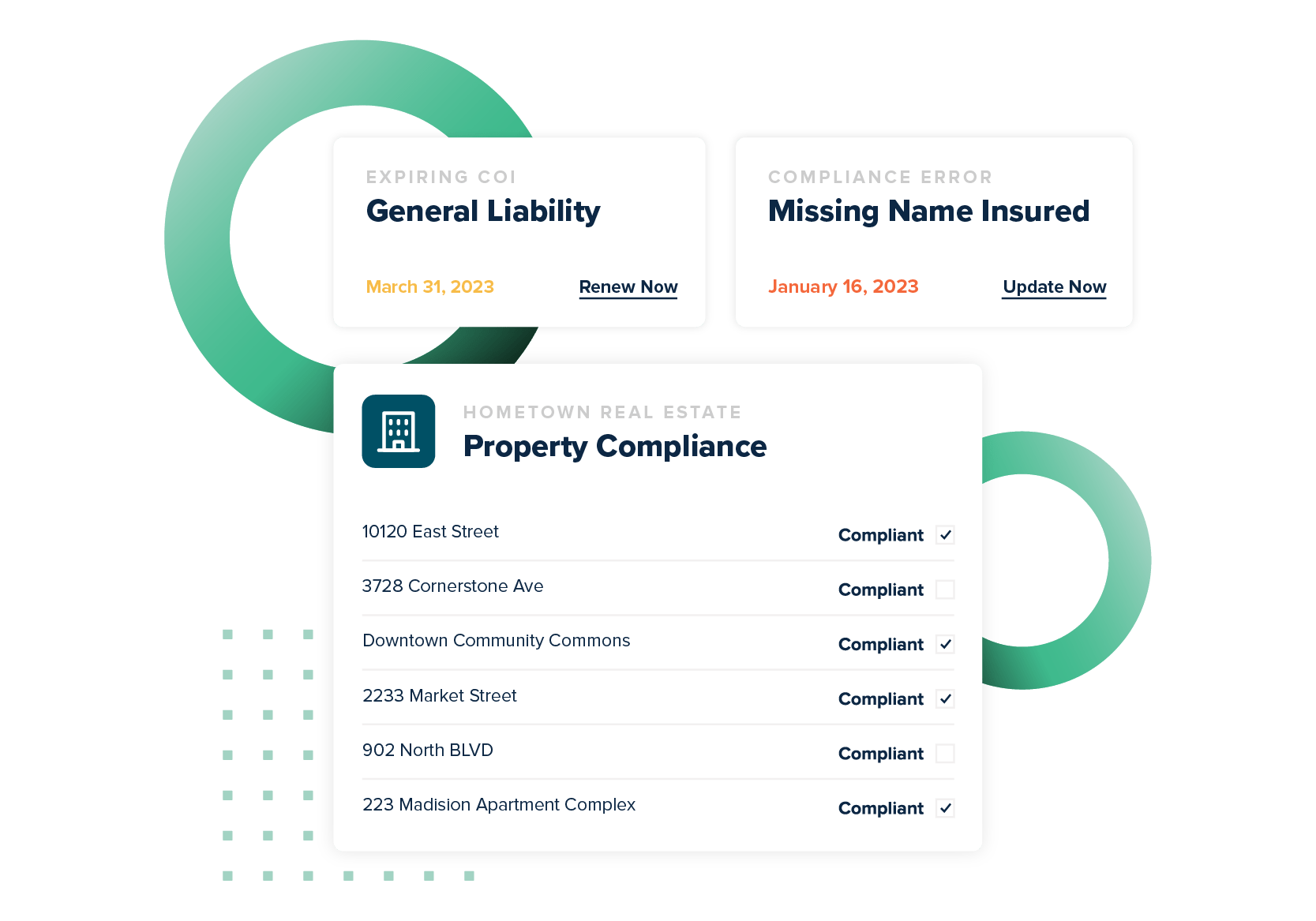 Automate Your COI Tracking
There's no more need to worry about stacks of certificates cluttering up your office or hours of frustrating phone calls and emails to chase down certificates. myCOI Central provides your company with a solution to automate your insurance certificate requests, collection, and compliance resolution, while also giving your team a single, centralized repository to view compliance.
Protect Your Business From Costly Claims
Ask your CFO or Risk Manager just how much claims and lawsuits can cost your business. If you are collecting certificates just to confirm they were received, you have no guarantee that your requirements are being met. myCOI Central is built on a foundation of insurance industry logic to ensure you remain protected with the appropriate coverage.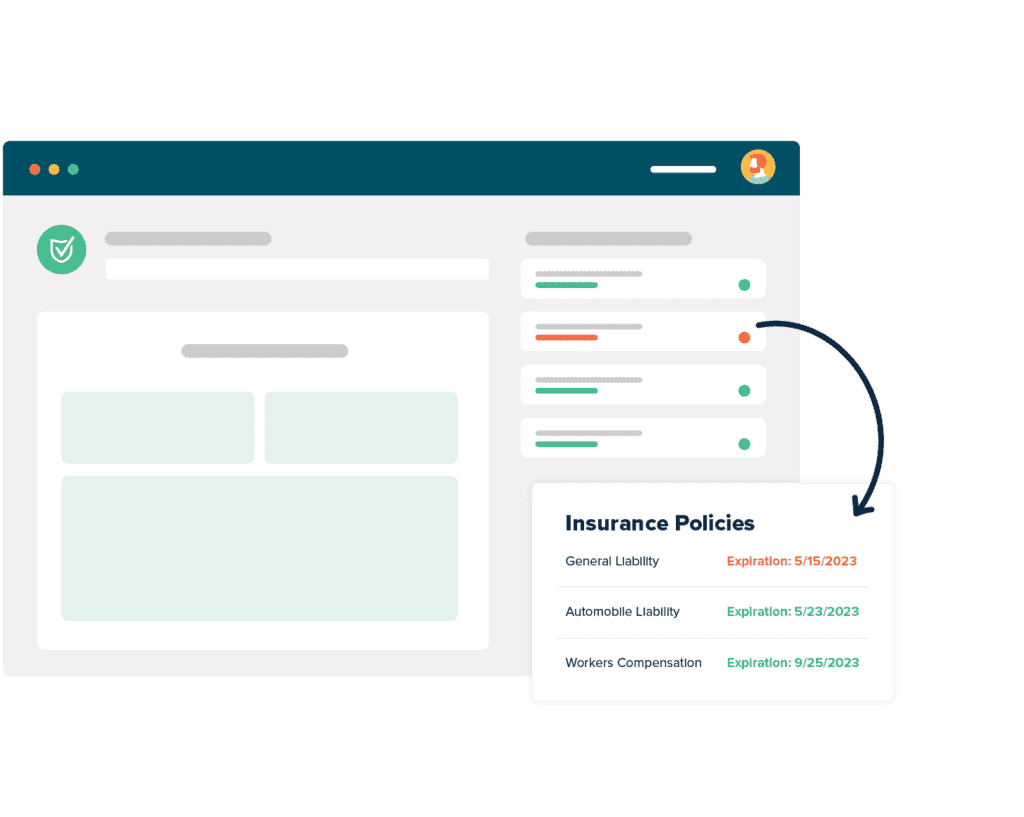 For Agents & Brokers
Win business and boost retention by providing agency branded, industry leading insurance tracking software to your insureds. Offer software only or add on your own compliance review services.
What Our Customers Say
OUTSTANDING!! In my opinion, this has been the best program I've had the pleasure of using. From all the services provided within the program and the exceptional customer service, this has made my job duties very manageable. I cannot say enough good things about this program. I highly recommend it!
Having one place for our customers to upload their insurance certificate makes tracking insurance certificates much easier. We use to internally file and collect insurance certificates from customers and it was a challenge to collect all of that paper and to effectively track the insuarnce certificates.
We switched to myCOI from another insurance tracking system because we were looking for a more involved vendor that could do more for us than just track certificates. We needed help with compliance and having a system that could contact vendors and keep on them until they became compliant with insurance. myCOI does this for us and we have very few non-compliant vendors compared to the number we had in our last system.
The product has met our expectations in that it has allowed us to regain some time that was previously spent doing all of the administration of insurance cert requests, reviews and acceptance. With that, we have been able to reallocate resources to more pressing business needs rather than insurance certificate management.
Our clients are thrilled with myCOI and how their compliance levels have been elevated beyond expectations. The reports and analytics are so valuable in measuring activity and compliance achievements. The system functionality is easy to use. The team are true partners.
MyCOI is a very great portal, a space where to keep organized all our certificate of insurance for our vendors. With the advantage that are online, always accessible and no paper backup is needed.Once you learned how to navigate into the portal and how to use the report tab you will have a world opening to you. In just one place you can access all the vendor information, policy expiration date, non-compliant policy line and see the last date when a document was updated.Our Senior Client Success Manager, [sensitive content hidden], she is always on top of our requests, and she replies promptly.
MyCOI has been a fantastic partner for our company. With frequent meetings with our dedicated account manager, ongoing communication, and the ability to customize our insurance needs with precision, we've seen exceptional outcomes throughout our portfolio. [sensitive content hidden] has provided invaluable assistance, and the review team is exceptionally competent and amicable, even when we inundate them with urgent requests. Overall, it's been an excellent experience, and we're eagerly anticipating our continued collaboration with them.
myCOI has helped our company go from drowning in unreviewed cois to getting our insurance review under control. Their team has been an amazing support and resource, and helped us to navigate the Essentials program, later transitioning to Concierge service as the workload was more than our team was able to manage. The beauty of this platform is that it provides a single, central hub for clients, agents and vendors to access, update and communicate. Every myCOI team member with whom I have worked has provided excellent service, been pleasant, knowledgeable, and provided quick response times. The quarterly meetings are beneficial to recap what is going well, where we need to improve and have questions answered. I highly recommend myCOI.
myCOI provides amazing custom support and they make the platform very easy to navigate. The myCOI team is always very helpful and quickly responds to my questions or goes out of her way to direct me to the correct team member who is able to assist me.
myCOI has amazing customer support. Our account representative meets with us quarterly to keep up-to-date on how our group is feeling about utilizing the system and interfaces with us day-to-day, as needed, to address any issues we encounter with agent notes, reviews, etc. It has been an incredibly efficient and beneficial relationship since day 1.
The myCOI platform has been so easy to work with from multiple angles. Because there are multiple stakeholders, we are all notified and kept in the loop if there are any COI tracking issues that need to be revised.
Insurance Software Platform
Insurance software platforms can help insurers, agencies, and brokerages manage their day-to-day operations. Software can help track policies, improve productivity, and give employees easy and secure access to customer data. Optimizing existing processes can help these parties keep up with their workload and their competitors. In some cases, digital insurance systems can push companies past their competition.
Insurance software can show insurers how well they are performing. They might even be able to zone in on problematic areas that need improving. Analytics can indicate that either things are going right or, in some unfortunate instances, wrong. Knowing when to make beneficial changes before it is too late can turn a company's fortunes.
Automating repetitive tasks can free staff to focus on other revenue-generating duties. Since insurers can use insurance software to store and retrieve data about their customers, they can use this information to evaluate customers' risks and promote relevant products. They can save time marketing the right products to the right people.
An insurance software platform typically allows staff to manage leads from one location. Simple and unified access can create efficient workflows. No one has to struggle to search for particular files if they can go to one organized source.
Among insurance systems jobs is tighter data security. Most platforms allow documents to be scanned and uploaded where they can be accessed by authorized personnel. Physical paperwork, if any, can be locked away in storage or destroyed. Regardless, insurance software can protect sensitive information.
Most digital insurance systems group all of their features into one easy-to-access dashboard. Putting a list of functions at someone's fingertips can make jobs – and lives – easier. Leveraging technology to streamline processes can change the way you and your team work. If you partner with an insurance software platform, you can take advantage of what it offers to improve your business.
Insurance Software Companies
The insurance software market can be intimidating. You have an overwhelmingly large number of options to research and eventually choose from. How can you begin?
First, you have to keep in mind that your company should use software that is relevant to its industry. For example, health insurance issuers should see a platform from any number of health insurance software companies. You should use the right tools for your specific field.
Second, you should assess what you want the platform to do for your company. Will you need a comprehensive suite of tools or just the basics?
You also have to know if your company's budget has room for another expense. Although free alternatives exist, an insurance software platform that costs money can be better supported and functional than its cheaper counterparts. For example, free insurance agency management software could help a small agency save money. However, it could also hurt the company if it does not work as advertised. Plus, you have to trust that a free option is legitimate and will not steal information for illegal use.
Finding the best software from a sea of offerings can take time. Addressing your company's needs and researching insurance software companies is an investment that could pay off in the long run. You want the best solution to all of your company's concerns. You want a trusted partner as you fight your way to the top of your competition.
The top insurance software companies can help you and your team work faster and smarter. For instance, myCOI automates certificate of insurance (COI) tracking. The platform strives to relieve risk management professionals of all the meticulous work that goes into confirming COIs, freeing them of the hassles of manually verifying each piece of paper that hits their desks.
What is the top insurance platform for your company?
Only you can answer that question and proceed from there.
Top Insurance Software
The top insurance software for a financially struggling agency could be free insurance agency management software. The top software for health insurance issuers could come from one of many health insurance software companies. The top choice depends on your specific circumstances.
For example, a company that hires contractors should require them to have their own insurance coverage. Doing this transfers liability risk to the contractors and their insurance issuers. This act can protect the company against claims and lawsuits stemming from personal injury, property damage, and failure to complete a job.
If a company requires their contractors to have their own coverage, they should also require proof of coverage. Certificates of insurance prove the named insured's coverage is active, valid, and appropriate per the company's requirements.
Now the company has to collect, verify, and monitor every certificate it receives. This can be daunting even if they do have a risk management team. The company has to deal with a COI for each contractor it hires.
The top platform for this company can manage COIs with minimal input from a human. Automating COI tracking can reduce the time and effort that goes into the process as well as decrease the number of mistakes that sometimes happen during manual processing. This company can also save money by increasing how well it is protected against claims and litigation. It can make sure its contractors have the right coverage via a certificate of insurance platform.
Although various insurance software platforms have different features, they all aim to make life simpler. Companies can take advantage of a digital solution to sustain their businesses. They only have to dive into the deep pool of the insurance software market to find what can work best for them.
Insurance Software Companies In USA
If you insert the phrase "insurance software companies in USA" into your preferred search engine, you will probably be met with a long list of results. From COI tracking software companies to health insurance software companies, the insurance software market is as wide as it is deep.
You have to know what your company needs. If your company does not deal with property and casualty insurance, then you probably do not need P&C insurance software. Choose the insurance platform that applies to your situation.
Once you have decided what software your company needs and can afford, then you have to wade through all of the insurance software vendors that want your attention. You could directly search for the top insurance software companies by searching for that particular phrase. However, nearly every company claims to be the best. You should look for real-world results, not carefully crafted ad copy.
Reviews can make or break any company. Once you have a smaller, more manageable list of candidates, you should look for reviews for each one. Online reviews can be found on numerous websites. If you only read the best and worst reviews, then you are limiting your scope. You should consider as many varying opinions as possible. You can then find common strengths and weaknesses and use those to help decide on the right choice.
You should also remember that the number of reviews might not dictate quality. If one insurance software platform has the most reviews, then at first glance it might be popular. However, the majority of reviews could be critical of the platform, pointing out all of its flaws.
The opposite can be true. Insurance software platforms with the fewest reviews could actually be the best of the lot. Perhaps the platform is new and slowly gaining popularity. Also, people tend to only review products after having a negative experience.
General Insurance Software
Core insurance systems provide the foundation of an insurer's regular operations. Without a solid backbone, a company can struggle to maintain its footing within the industry. Insurance policy management software can strengthen an insurer's reputation with its customers and peers. Insurance policy administration software advances can take an insurer farther than ever before. Even a small agency that uses free insurance agency management software can streamline its workflows and optimize its growth potential.
Insurance software programs can empower their users to save time and increase revenue. Eliminating repetitive tasks is a time saver on its own. Reducing errors and misplaced information can save even more time. A company that runs efficiently with minimal mistakes can serve its customers better. Their customers' satisfaction can trickle down to prospective customers. Some people might be looking into your company the same you look into general insurance software options. Using the best option can enhance your company's reputation.
Shopping for any product or service can seem like a second job. Picking a digital solution is no different. You can put a lot of effort into finding an insurance software platform. If you balk at the undertaking, then you should imagine how your company would run if it used one. Would it make your company run smoother? Can you picture staff completing their duties on time and correctly? Can you see revenue figures climbing because your company offers people the most relevant products? Can you see your company being considered one of the best in its industry? Insurance software platforms can unlock your company's potential. You have the key.