Best Certificate of Insurance Tracking Software
Automate Your COI Tracking
There's no more need to worry about stacks of certificates cluttering up your office or hours of frustrating phone calls and emails to chase down certificates. myCOI Central provides your company with a solution to automate your insurance certificate requests, collection, and compliance resolution, while also giving your team a single, centralized repository to view compliance.
Protect Your Business From Costly Claims
Ask your CFO or Risk Manager just how much claims and lawsuits can cost your business. If you are collecting certificates just to confirm they were received, you have no guarantee that your requirements are being met. myCOI Central is built on a foundation of insurance industry logic to ensure you remain protected with the appropriate coverage.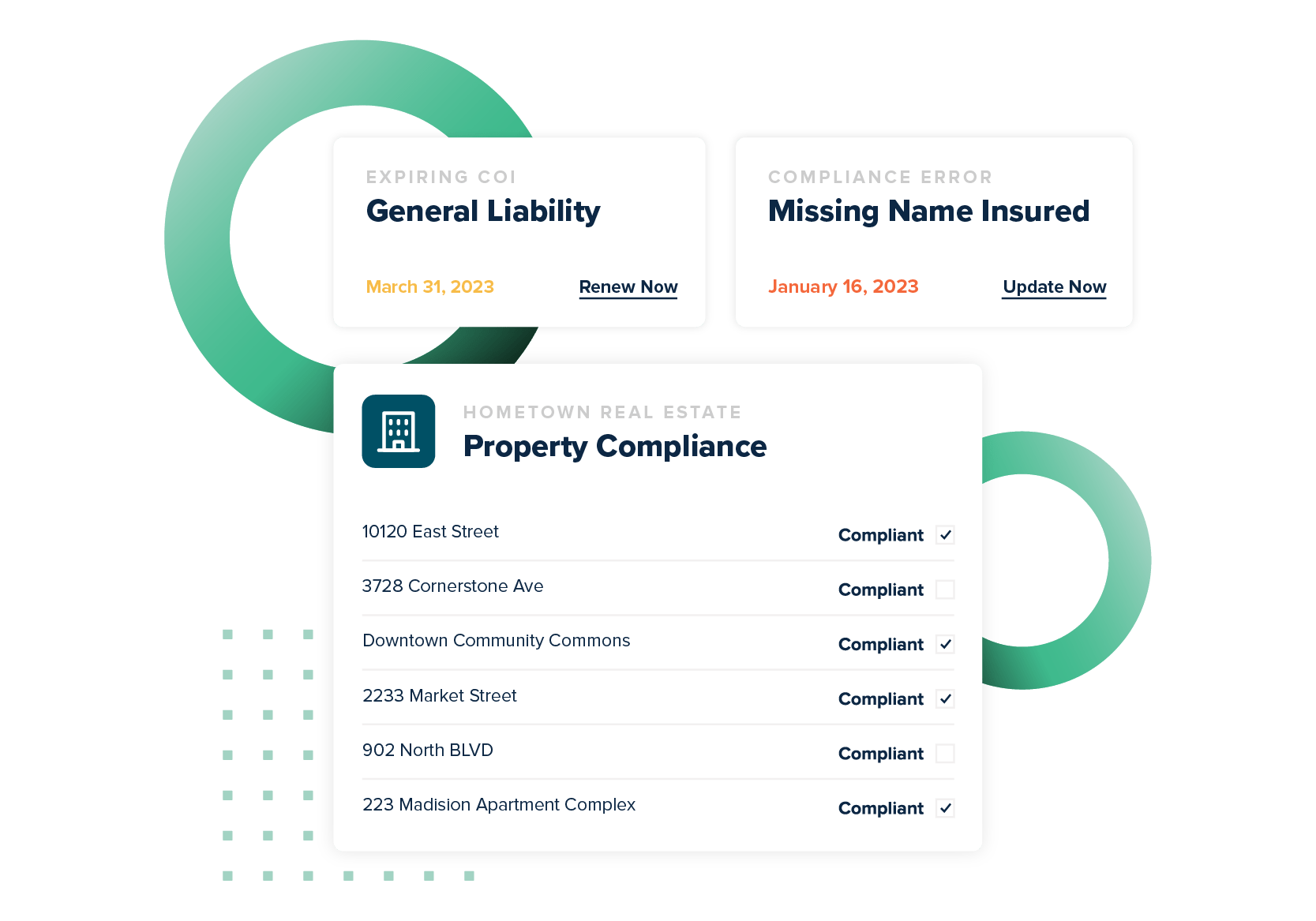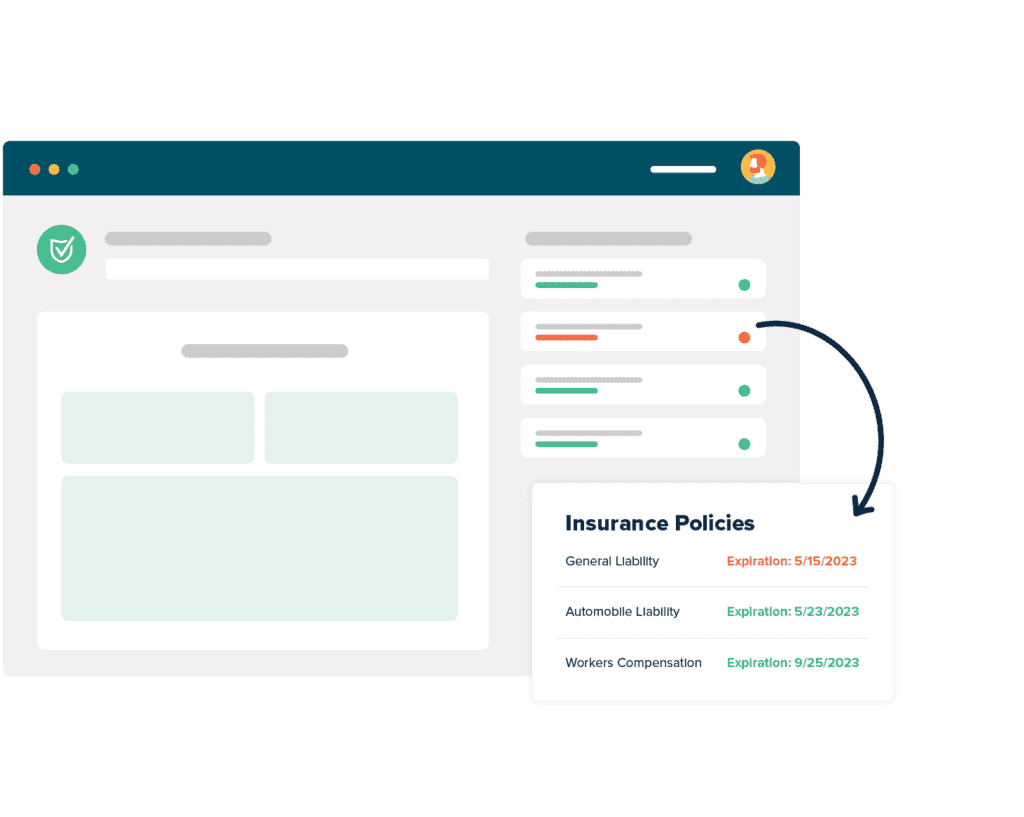 For Agents & Brokers
Win business and boost retention by providing agency branded, industry leading insurance tracking software to your insureds. Offer software only or add on your own compliance review services.
What Our Customers Say
OUTSTANDING!! In my opinion, this has been the best program I've had the pleasure of using. From all the services provided within the program and the exceptional customer service, this has made my job duties very manageable. I cannot say enough good things about this program. I highly recommend it!
Having one place for our customers to upload their insurance certificate makes tracking insurance certificates much easier. We use to internally file and collect insurance certificates from customers and it was a challenge to collect all of that paper and to effectively track the insuarnce certificates.
We switched to myCOI from another insurance tracking system because we were looking for a more involved vendor that could do more for us than just track certificates. We needed help with compliance and having a system that could contact vendors and keep on them until they became compliant with insurance. myCOI does this for us and we have very few non-compliant vendors compared to the number we had in our last system.
The product has met our expectations in that it has allowed us to regain some time that was previously spent doing all of the administration of insurance cert requests, reviews and acceptance. With that, we have been able to reallocate resources to more pressing business needs rather than insurance certificate management.
Our clients are thrilled with myCOI and how their compliance levels have been elevated beyond expectations. The reports and analytics are so valuable in measuring activity and compliance achievements. The system functionality is easy to use. The team are true partners.
MyCOI is a very great portal, a space where to keep organized all our certificate of insurance for our vendors. With the advantage that are online, always accessible and no paper backup is needed.Once you learned how to navigate into the portal and how to use the report tab you will have a world opening to you. In just one place you can access all the vendor information, policy expiration date, non-compliant policy line and see the last date when a document was updated.Our Senior Client Success Manager, [sensitive content hidden], she is always on top of our requests, and she replies promptly.
MyCOI has been a fantastic partner for our company. With frequent meetings with our dedicated account manager, ongoing communication, and the ability to customize our insurance needs with precision, we've seen exceptional outcomes throughout our portfolio. [sensitive content hidden] has provided invaluable assistance, and the review team is exceptionally competent and amicable, even when we inundate them with urgent requests. Overall, it's been an excellent experience, and we're eagerly anticipating our continued collaboration with them.
myCOI has helped our company go from drowning in unreviewed cois to getting our insurance review under control. Their team has been an amazing support and resource, and helped us to navigate the Essentials program, later transitioning to Concierge service as the workload was more than our team was able to manage. The beauty of this platform is that it provides a single, central hub for clients, agents and vendors to access, update and communicate. Every myCOI team member with whom I have worked has provided excellent service, been pleasant, knowledgeable, and provided quick response times. The quarterly meetings are beneficial to recap what is going well, where we need to improve and have questions answered. I highly recommend myCOI.
myCOI provides amazing custom support and they make the platform very easy to navigate. The myCOI team is always very helpful and quickly responds to my questions or goes out of her way to direct me to the correct team member who is able to assist me.
myCOI has amazing customer support. Our account representative meets with us quarterly to keep up-to-date on how our group is feeling about utilizing the system and interfaces with us day-to-day, as needed, to address any issues we encounter with agent notes, reviews, etc. It has been an incredibly efficient and beneficial relationship since day 1.
The myCOI platform has been so easy to work with from multiple angles. Because there are multiple stakeholders, we are all notified and kept in the loop if there are any COI tracking issues that need to be revised.
What Is Business Compliance
Without rules, systems can run less optimally than usual and increase the rate of adverse incidents like injuries and lawsuits. Rules can create safe working conditions that promote productivity. Business and corporate compliance can protect companies and their employees from a range of risks.
What is business compliance? What is corporate compliance?
Compliance is the act of meeting rules or standards. Applied to a business setting, compliance is simply making sure companies and their employees follow the regulations and guidelines that apply to their particular industry. Compliance covers internal policies and state and federal laws.
Corporate compliance is the responsibility of management and all members of an organization. One employee's compliance does not mean much in an organization of a hundred rulebreakers.
Business compliance services can help companies steer clear of fines, violations, and workplace discontent. If you are unfamiliar with some of the common compliance issues in business, then searching online for compliance issues examples could help you understand them better.
Examples of corporate compliance violations can facilitate a deeper comprehension and appreciation of following your industry's standards.
Additionally, corporate compliance examples can help your company create its own. You can search for samples that are relevant to your industry. For example, corporate compliance in healthcare examples could better serve medical organizations than contracting examples.
Once you address how your company can use a compliance program, you can seek services that assist with fulfilling the program's mission. A notable example is insurance compliance. If your company hires contractors or vendors and you require them to possess their own insurance policies, then you should also require them to submit certificates of insurance to prove their coverage statuses. A service like myCOI can verify and monitor each third party's certificate of insurance, which will help them comply with your company's insurance requirements.
Another useful tool is a business compliance checklist.
Business Compliance Checklist
A few items you should keep in mind while you create and implement your company's compliance checklist include:
Establishing your company's compliance policies
Your compliance program needs a defined code of conduct. It can govern your program's mission and help create the actual policies.
Conducting frequent assessments
Addressing your risks once can be effective for that particular time. Compliance is an ongoing process. Plus, regulations can change. Your company should conduct frequent assessments to maintain compliance.
Training all employees
Once your company sets its compliance policies and procedures, each staff member must be trained on them. They can not follow rules they do not know exist or understand. As with assessments, training should be ongoing so everyone stays up to date with laws and standards.
Other Considerations
At its core, compliance is about managing risk. To create a business compliance checklist, you have to know what risks your company faces. Once you have identified these risks, you can focus your efforts on mitigating them.
You can refer to legal compliance examples to help draft your business compliance checklist. A compliance checklist template can also prove useful to the uninitiated.
A small business compliance checklist can be used to draft one for larger enterprises. Small business rules and regulations for employees might apply to companies of different sizes.
You should also be aware that some companies must file an annual compliance report that offers information regarding their level of compliance.
What is annual compliance for LLC?
Once you have set up a corporation or LLC, you may have to meet requirements that vary from state to state. An LLC compliance checklist can help these entities meet the requirements both annually and year-round.
Some items you could add to a checklist of your own include:
Determining staff access to work locations and/or data.
Educating staff on safety measures.
Requiring contractors and vendors to have insurance that meets your company's demands.
What Is Legal Compliance In Business
What is compliance in business? What is legal compliance in business? What is legal compliance in HR?
Although this article answers some questions about business compliance, you might have to research the topic yourself. The Internet can be a great source to find examples of compliance in business and tips on how to make a small business compliance checklist.
A legal compliance checklist based on legal compliance examples can aid your company's compliance efforts. Although legal compliance requirements might differ depending on where your company is based, preparing for various circumstances can speed up the creation process so your policies can get off the ground as soon as possible.
You can also research different compliance services that can make compliance easier for your company to achieve. Meeting certain requirements can take a lot of time that could be spent pursuing revenue-generating avenues. Compliance services like myCOI can help save time and strengthen compliance. As previously mentioned, myCOI can make sure the contractors and vendors your company hires adhere to its insurance requirements, which protects your company against liability risk. It also helps your company follow any regulations. myCOI is just one example of a compliance tool. You can search for more online.
Business Compliance Examples
Examples can help companies in any industry be the best they can be. There is no shame in following examples if you use authoritative and reputable sources. Business compliance can overwhelm the best risk management professionals if they or their company is just starting. Working off an established template can ensure compliance from the beginning. As time goes on, you can make your policies and procedures that better align with your company's demands.
Those seeking a definitive business compliance definition can look online for one or contact a compliance specialist. The Internet can be a useful resource to find business compliance examples that can help you form a small business compliance checklist for your company's employees to follow.
Strong legal compliance examples can help your compliance efforts just as effectively as business license compliance services. You can search for a business compliance services annual report to help you choose the best solutions. All of these methods can help your company comply with regulations and standards. In turn, your company can create notable examples other companies can use. Your company can be a compliance model. It just needs a firm foundation.
Importance Of Compliance In Business
You and your company's leaders must recognize the importance of compliance in business. Compliance enforcement can prevent rule violations that could bring about fines and lawsuits. An ongoing compliance program can help your company during litigation.
Your company's compliance can also show the public that it operates safely and within the law. This can enhance its brand image and its reputation among its competitors.
Compliance can also create a safe working environment if employees follow safety procedures. This can reduce injuries and increase productivity.
Equally important to compliance programs is the need to enforce them at all levels from the top of your company to the bottom. Unbiased policies and procedures can strengthen work environments, increasing morale and how people view your company.
What is compliance in business? What is the importance of compliance?
These two basic questions can be followed by other questions that are industry-relevant. Banking institutions might need the answer to this question: Why compliance is important in banking? Medical organizations could ask: Why is compliance important in healthcare? The examples of compliance in business also depend on the field. If you are researching this topic, you can fine-tune your search results by adding whichever industry your company is in.
What Is Compliance In The Workplace
Business compliance aims to protect your business. The return on investment, meaning all of the time, energy, and manpower that goes into crafting and enforcing a compliance program, can have long-lasting, significant effects. Your company could see a decline in waste, fraud, abuse, discrimination, and other disruptive practices. As such, your business compliance program should cover internal and external issues in order to provide comprehensive protection against violations.
What is compliance in the workplace? What is compliance in business? Why is compliance important in the workplace? How do you ensure compliance with policies and procedures?
Addressing non-compliance in the workplace should be your company's utmost concern. Your first step could involve looking at compliance examples to gain a better footing at the start. Compliance in the workplace examples can drive the importance of fostering proper legal and ethical behavior. Examples of non compliance in the workplace can show you what not to do. Once you and your company learn how to ensure compliance in the workplace, it can begin to support a workplace culture that values integrity and honesty.
Once your company's compliance program is established, you can take the next major step and employ solutions that make the program easier to consistently enforce. This step can prove just as overwhelming as making the program in the first place. You will have to know what compliance program areas would be best served by a digital solution. myCOI is a notable example of a business compliance service that can fulfill insurance compliance requirements. Built for the end-user, myCOI is powered by insurance experts who can provide superior compliance management. Its simple usability and deep functionality make it a viable option for companies that must manage their contractors' and vendors' certificates of insurance.